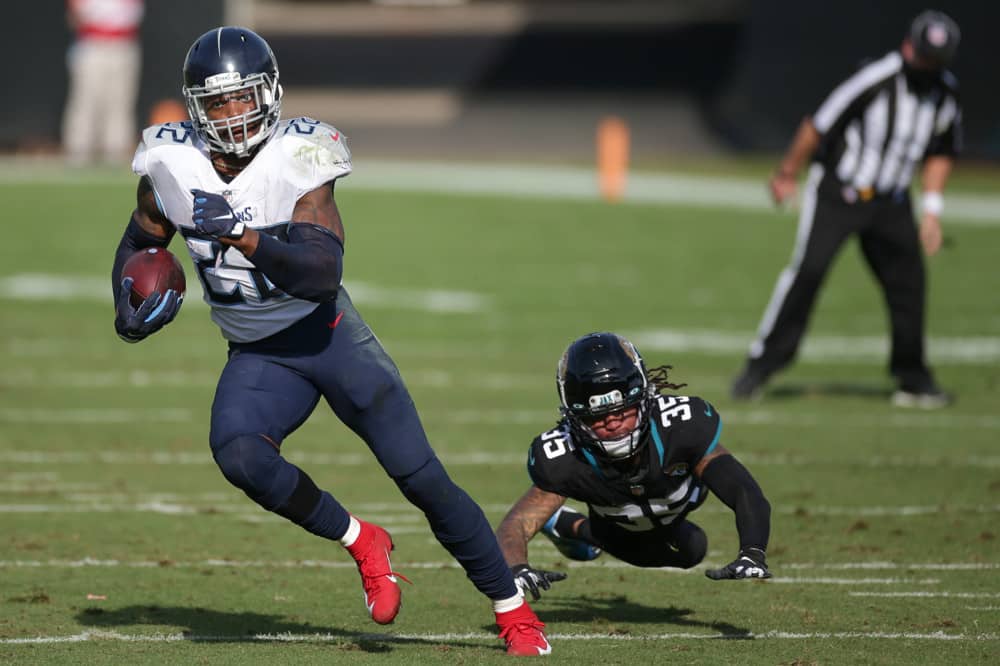 In this article, I will take a look at the 2021 NFL Offensive Player of the Year Odds and see if a winner can be found to make us some money later at the end of the season. Make sure you check out some of our other articles on potential award winners, including the 2021 NFL Rookie of the Year Odds.
As we know, the NFL is now an offensively-driven league. With the great wealth of riches on the offensive side of the ball, the NFL has plenty of candidates to win this award. Let's take a look and see who has the best chance to bring home the bacon.
2021 NFL Offensive Player Of The Year Odds Analysis
---
To put this in simpler terms, we're looking for the best fantasy football player out there — the guy who will gain the most yards and score the most touchdowns. For the Offensive Player of the Year award, Derrick Henry leads the way at +600 while Patrick Mahomes (+700) and Christian McCaffrey (+800) aren't too far behind.
From there, the odds get a lot more uncertain. George Kittle is the tight end with the highest odds (+1200), much higher than the best wide receiver, Davante Adams (+2000). Sandwiched somewhere in between there, is RB Dalvin Cook (+1400), who could very well win the award.
Key Trends of Past NFL OPOY Winners
---
Quarterbacks don't win the Offensive Player of the Year award as often as you'd think. Instead, it's a good mix of them and running backs that tend to win. Since 2000, only one wide receiver has won the award, and that was Michael Thomas recently in 2019.
Expert Pick To Win This Year's NFL OPOY
---
Josh Allen (+1600)
I didn't get a chance to mention Allen in the intro, but I figured now would be the perfect time to do so. Last season, Allen basically was the Bills' offense since there is really no threat of a running game from their offense. A lot of people believe Buffalo can take that gigantic next step, and if that happens Allen will have everything to do with it.
Full 2021 NFL OPOY Odds List
---