After a topsy turvy week 1, we're back in with more NFL player props for week 2.
In this week's NFL player props article, we will take a look at the best NFL value props in week 2. Matchups include the 49ers at the Jets, the Giants at the Bears, as well as the Rams at the Eagles with odds from PointsBet Sportsbook.
Without further ado, let's dive and take a look.
---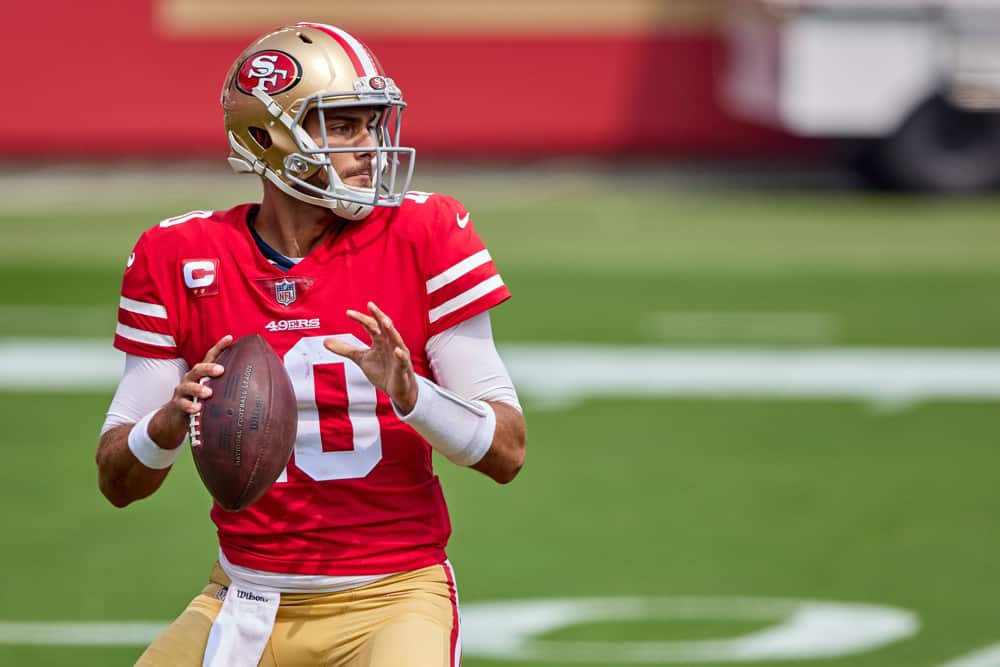 San Francisco 49ers at New York Jets
Sunday, 1:00 p.m. EST | Watch: FOX
Kendrick Bourne – Over 100+ Receiving Yards (+320)
WR Brandon Aiyuk is making his NFL debut this week, but are we really expecting him to be the top dog? Probably not, and he might not even get a ton of snaps in this situation. I'm relying more on Bourne, who has already shown to be quite a capable WR when given the chance. Adding to the hopefulness of a good day is the fact that TE George Kittle could wind up missing this game. With the 49ers traveling across the country for a 1 p.m. EST game (essentially a 10 a.m. game for them), I don't expect this to be a blowout by any means – and that could mean more throwing opportunities for Jimmy Garoppolo.
Tevin Coleman – Under 32.5 Rushing Yards (-115)
In these cross-country games, the team at a disadvantage will always need to have all hands on deck. Unfortunately, that's not going to be good news for the RBs – particularly, Coleman. Last week, he only got four carries and two targets which turned into only one catch. Obviously, the latter stat isn't important to this bet, but it does show how you lightly involved he was in Week 1. Now that Jerrick McKinnon is involved in the mix, in addition to starter Raheem Mostert, it makes things that much more difficult for Coleman to separate himself in this RB rotation.
Claim $1000 in Risk-Free Bets from PointsBet
---
---
More NFL Articles
[articles ids="9648″]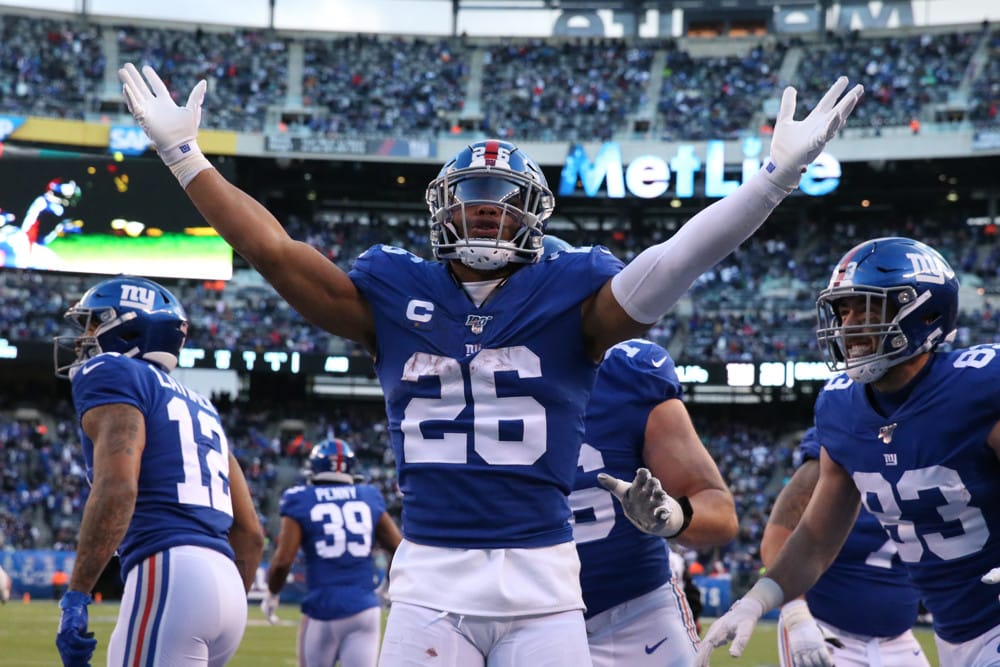 New York Giants at Chicago Bears
Sunday, 1:00 p.m. EST | Watch: CBS
Will There be a Defensive TD? Yes: +230
We have two of the most turnover-prone QBs in the NFL, so what could possibly go wrong? Well, everything… and we love that for this bet of a defensive TD happening! Daniel Jones and Mitchell Trubisky both know the route of walking back to the bench with their heads down. If I had to pinpoint where the TD is coming from, it'll like be the Bears taking one away and running to the end zone. After all, they do have the better defense.
Anthony Miller – Over 46.5 Receiving Yards (-115)
This seems like an absolute steal at this price, considering fellow WR Allen Robinson almost had a complete meltdown with Bears management this week. If A-Rob's head isn't in the game, Miller will gladly be there to take his targets. In Week 1 against the Lions, Miller turned six targets into four catches for 76 yards and a touchdown. The Giants really don't have any capable CBs that can hang with A-Rob or Miller, so I'm loving this prop bet a lot more than any other.
Claim $1000 in Risk-Free Bets from PointsBet
---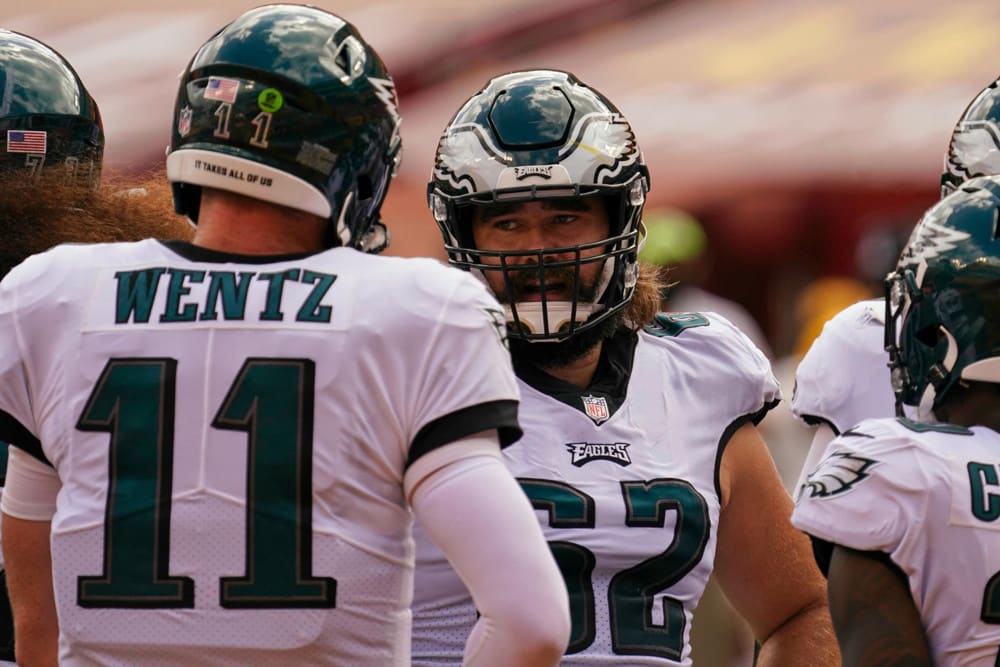 Los Angeles Rams at Philadelphia Eagles
Sunday, 1:00 p.m. EST | Watch: FOX
Cooper Kupp – Over 58.5 Receiving Yards (-115)
For both teams, the middle of the field is going to be open all day. Enter in Kupp, who had a bit of an underwhelming performance in Week 1 with four catches on five targets for 40 yards. I fully expect QB Jared Goff to reconnect with one of his all-time favorite WRs and get things going in Philly. The Rams are projected to have one of the best offensive performances this week, so taking Kupp here is a bit of a calculated play.
Dallas Goedert – over 42.5 Receiving Yards (-115)
Goedert went B-A-N-A-N-A-S against the Redskins last week, with eight catches on nine targets for 101 yards and a touchdown last week. We should all expect a repeat performance in Week 2, considering the Rams have one of the worst LB units in the entire. Based on LA's defensive scheme, there should be a lot of easy throws in the short to intermediate passing game for QB Carson Wentz. That will allow not only Goedert but fellow TE Zach Ertz, to have a big statistical day. Of course, Ertz is always going to draw more coverage than Goedert, and I'm more than ok with that for this prop bet.
PointsBet NFL Betting Offer