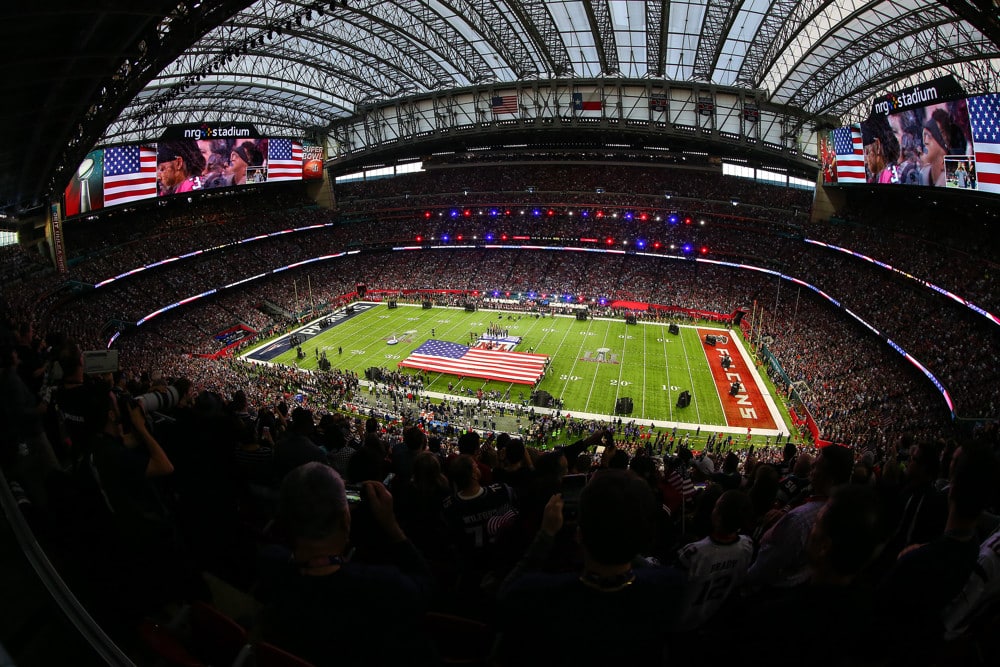 With the NFL season kicking off this week, we'll take a look ahead to the best Super Bowl Bets on teams that could realistically win it this season. Not to mention, there are always teams that could potentially cash bettors out with amazing odds, as well as some that could disappoint us even with a favorable outlook on paper.
Let's take a look at three different tiers of teams that'll either win the Super Bowl or fall way short…

(All odds courtesy of BetMGM Sportsbook)
Realistic Chances
New England Patriots: +700
How could we not love us some Patriots? The last time New England wasn't in the AFC Championship Game was the 2010 season – that alone is worthy of putting some of your hard-earned money on the line. Not to mention, this is one of the easier divisions to win in all of football.
The Patriots may wind up having more of a rushing attack than in previous years, but that doesn't mean we should look down upon them. Sony Michel showed that he was more than capable of handling that role at different times in 2018, and it appears like they'll lean on him a bit more this season.
Heck, if that doesn't work, they always have Tom… Freaking… Brady!
Like the Pats? Bet with BetMGM Now
Kansas City Chiefs: +800
As we saw last season, the Chiefs will always have a chance with quarterback Patrick Mahomes under center. They did lose superstar running back Kareem Hunt at the end of last season due to a league suspension, but Tyreek Hill and Travis Kelce are still doing their thing for this offense.
KC does have a tough end of the schedule, with trips to New England and Chicago and home games against Denver and Los Angeles (Chargers), in the final four matchups but if they take care of business early none of that should matter.
Is Mahomes your man? Bet with BetMGM Now
Philadelphia Eagles: +1400
When we look at rosters top to bottom, the Eagles may have the most talent. It does go without saying, however, that Carson Wentz needs to stay healthy in order to make this Super Bowl winning bet a reality. It is good, though, that team acquired veteran journeyman quarterback Josh McCown in case anything happens to Wentz.
Nonetheless, the Eagles defense and plethora of running-back depth will put them in position to win most of their games, and potentially the NFC East. Their final four games of the season are all against divisional opponents, with two of them coming against the Giants, so that's when their outlook could really become appealing.
Will the Eagles fly? Bet with BetMGM Now

Surprise Up-and-Comers
Pittsburgh Steelers: +1800
Look, it might not be much of a surprise, but when you consider the Steelers lost Le'Veon Bell and Antonio Brown, the argument can be made. The latter of these two has been an absolute pain in the rear end with his new team, so it's possible that Pittsburgh gets a renewed sense of focus and finally takes it to the next level this season.
With the way the NFL is going, in terms of schematics, not many other teams in the NFL throw the ball than the Steelers. Not to mention, they've got a solid 1-2 punch at running back that can run the rock and catch it out of the backfield as well. This is shaping up to be a big season for the Steelers, and we could see it sooner than later if they can upset the Patriots in Foxborough during that Week 1 mega-battle.
Is Big Ben your Bet? Bet with BetMGM Now
Dallas Cowboys: +2200
Sure, plenty has been made of the Cowboys' tumultuous offseason with trying to sign Ezekiel Elliott to a new contract. But don't you think the other players see that, and it makes them even hungrier to do their jobs? It very well should, whether they're playing in Dallas next year or not.
This could go one of two ways – the Cowboys either don't make the playoffs, or they rally together and make this a memorable season. At +2200 odds, we'd rather take our chances on the latter. Dallas will likely find itself battling around .500 all season, but this roster does have the makeup to play ground-and-pound ball in December and January. Not to mention, the defense has that country-strong vibe that many Cowboys' fans have been desiring for a while.
Don't believe that Cowboys curse? Bet with BetMGM Now
Atlanta Falcons: +3300
13 of the Falcons' 16 games will be played indoors – that's a huge advantage for a team that thrives on those elements. While Atlanta's schedule is much tougher at the beginning, it could certainly benefit by keeping its collective head above water; because later in the season it gets much easier.
2019's version of the Falcons had its defense torn apart by injuries, and that's not a true indicator of who this team is. Matt Ryan and the boys have a lot to look forward to with Steve Sarkisian out as offensive coordinator and Dirk Koetter stepping back in to fill that role after a brief absence to coach the Buccaneers.
Considering the odds, this is probably the best bet on the board. And don't forget, the Falcons were in the Super Bowl back in 2017 and almost won if it weren't for some questionable coaching decisions. Wouldn't that be a feel-good story – especially at +3300?
Fan of the Falcons? Bet with BetMGM Now
Doomed For Disappointment
New Orleans Saints: +800
It'll be weighing on the Saints to have of the more disappointing (pun intended) missed-calls in NFL history hanging over their heads. And how could it not? It's not often that a team gets so close to a Super Bowl berth and then have it taken away in an instant.
Nonetheless, the entirety of New Orleans' schedule is one it'll have to battle throughout the whole season. Trips to Los Angeles (Rams), Seattle and Jacksonville early in the season. Not only will the Saints have trouble winning the always-versatile NFC South, they might struggle to make the playoffs.
Are we unholy to diss the Saints? Bet with BetMGM Now
Cleveland Browns: +1400
Way too much is being made of the offseason acquisition of wide receiver Odell Beckham Jr. and there are plenty of warts to point out on a team that hasn't even been winning many games over the last few seasons.
For one, Baker Mayfield is going to be one of the best when it's all said and done, but he only won one game outside the state of Ohio last season. Also, no other team missed more tackles in all football than the Browns last season. In the rough-and-tough AFC North, that just won't work.
Will OBJ seize the day? Bet with BetMGM Now
Houston Texans: +1800
Sure, the Texans have plenty of firepower, but this is a team that has serious offensive-line issues. Deshaun Watson tore his ACL in practice back in 2017, and last year's season under duress probably doesn't help his longevity either. If Watson goes down once again or at least takes another pounding, there's no chance for the Texans to go anywhere in 2019.
Losing Jadeveon Clowney via trade certainly doesn't help matters for the defense, but they did add a couple of pieces in wide receiver Kenny Stills and offensive lineman Jeremy Tunsil from the Dolphins. Still, it's not enough to win the Super Bowl, and placing your bets on the Texans would be a big mistake.
Clowns without Clowney? Bet with BetMGM Now