Now that it's Tuesday, we can start digging in on the Week 2 schedule of NFL games. This is usually a challenging week, considering some of these teams can pull a complete 180 and look nothing like they did the week beforehand.
However, I think this week is going to be spectacular, with so many matchups to watch out for.
It all gets kicked off on Thursday night, as the rookie Joe Burrow and the Cincinnati Bengals head up north in their own state to face the Cleveland Browns. Other high-profile matchups include the Los Angeles Rams at Philadelphia Eagles, New England Patriots at Seattle Seahawks on Sunday Night Football, and the New Orleans Saints at Las Vegas Raiders on Monday Night Football.
Without further ado, let's dive into the early week 2 betting lines to exploit.
Note: All lines shown in bold are where the line opened. All lines, are brought to you via DraftKings.
---
NFL Week 2 Betting Lines We Like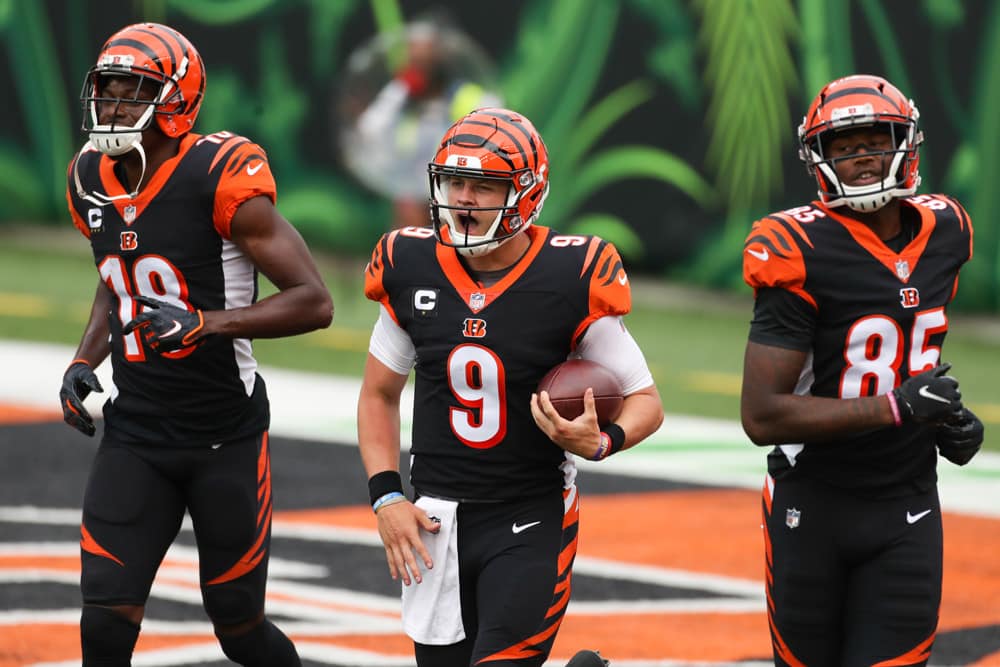 Cincinnati Bengals at Cleveland Browns (-6.5) – Total: 44
Thursday, 8:20 p.m. EST | Watch: NFL Network
CIN | Spread: +6 (-110) | Moneyline: +210
CLE | Spread: -6 (-110) | Moneyline: -265
On FanDuel, you can actually get this line at -5.5 – so I took it. You're going to need to shop around in different places in order to take advantage of the Browns playing at home. This will be the first short-week NFL game for Bengals QB Joe Burrow. That, coupled with the fact that Cincy's offense looked quite paltry, leads me to believe that it'll be a tough night for the road team – it usually is on a Thursday night.
---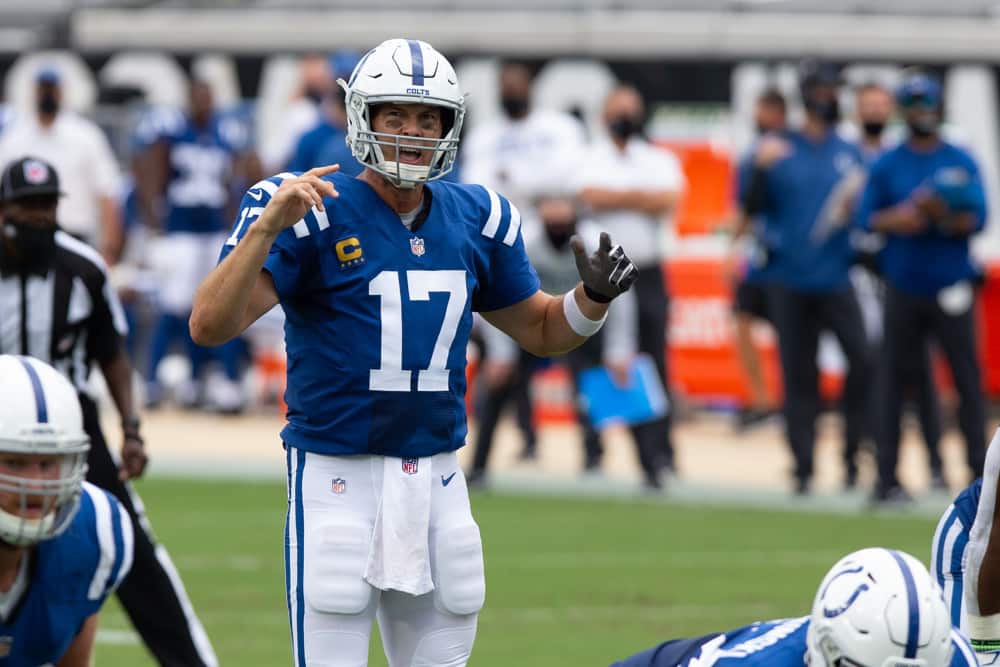 Minnesota Vikings at Indianapolis Colts (-3.5) – Total: 47.5
Sunday, 1:00 p.m. EST | Watch: FOX
MIN | Spread: +3 (-110) | Moneyline: +135
IND | Spread: -3 (-110) | Moneyline: -165
The spread in the Colts-Vikings matchup will undoubtedly shift gears a few times this week; if you're taking the Vikings, you certainly want to get them somewhere at +3.5. In my opinion, I don't believe the Colts are such a slam dunk in this matchup. After all, the Vikings tend to play much better indoors, which is exactly where this game will be played.
---
Baltimore Ravens (-7) at Houston Texans – Total: 52.5
Sunday, 4:25 p.m. EST | Watch: CBS
BAL | Spread: -6.5 (-114) | Moneyline: -315
HOU | Spread: +6.5 (-107) | Moneyline: +250
Something smells fishy here, and I can see things going surprisingly well in the Texans' favor. After all, Houston had an extra three days off to prepare for Sunday's game against Baltimore and is sitting comfortably at home. In order to feel comfortable taking this line in the Texans' favor, I will need to see it at +7 better.
---
New England Patriots at Seattle Seahawks (-4) – Total: 45
Sunday, 8:20 p.m. EST | Watch: NBC
NE | Spread: +4.5 (-110) | Moneyline: +180
SEA | Spread: -4.5 (-110) | Moneyline: 225
Hats off to NBC for making this the Sunday Night Football game of the week. Although many of the faces have changed from the last time these two met in the Super Bowl, the head coaches are still there doing extraordinary things. Bill Belichick just lost his mother on Tuesday, and that's probably going to be a soft spot for some bettors this week. Not to be an asshole, but I really liked the Seahawks in this spot before the unfortunate news. Cam Newton is still very new to the Patriots and this week of preparation will likely be an awkward one. I'd love to see Seattle move all the way down to -3 before eagerly pulling the trigger.
---
New Orleans Saints (-5.5) at Las Vegas Raiders – Total: 50.5
Monday, 8:15 p.m. EST | Watch: ESPN
NO | Spread: -5.5 (-110) | Moneyline: -235
LV | Spread: +5.5 (-110) | Moneyline: +190
Monday Night Football gives us our first chance to see the Silver and Black in Sin City. Both of these teams are coming off Week 1 victories, making this a fun battle to see who gets that second victory of the season. The big news out of Saints camp is that star WR Michael Thomas is set to miss a few weeks with an ankle injury. Meanwhile, the Raiders are still sitting at +6? I will take that all day and twice on Monday.
---
DraftKings Betting Offer
---
The Rest of the NFL Week 2 Betting Odds
San Francisco 49ers (-6.5) at New York Jets – Total: 42.5
Sunday, 1:00 p.m. EST | Watch: FOX
SF | Spread: -7 (-110) | Moneyline: -315
NYJ | Spread: +7 (-110) | Moneyline: +255
Los Angeles Rams at Philadelphia Eagles (-1) – Total: 46
Sunday, 1:00 p.m. EST | Watch: FOX
LAR | Spread: +1 (-110) | Moneyline: -103
PHI | Spread: -1 (-110) | Moneyline: -118
---
Buffalo Bills (-4) at Miami Dolphins – Total: 42
Sunday, 1:00 p.m. EST | Watch: CBS
BUF | Spread: -5.5 (-110) | Moneyline: -245
MIA | Spread: +5.5 (-1100 | Moneyline: +200
---
Detroit Lions at Green Bay Packers (-6) – Total: 47.5
Sunday, 1:00 p.m. EST | Watch: FOX
DET | Spread: +6 (-110) | Moneyline: +205
GB | Spread: -6 (-110) | Moneyline: -265
---
Atlanta Falcons at Dallas Cowboys (-5) – Total: 52
Sunday, 1:00 p.m. EST | Watch: FOX
ATL | Spread: +5 (-110) | Moneyline: +190
DAL | Spread: -5 (-110) | Moneyline: -235
---
Carolina Panthers at Tampa Bay Buccaneers (-7.5) – Total: 49
Sunday, 1:00 p.m. EST | Watch: FOX
CAR | Spread: +9 (-110) | Moneyline: +340
TB | Spread: -9 (-110) | Moneyline: -435
---
Jacksonville Jaguars at Tennessee Titans (-9.5) – Total: 43
Sunday, 1:00 p.m. EST | Watch: CBS
JAX | Spread: +10.5 (-110) | Moneyline: +420
TEN | Spread: -10.5 (-110) | Moneyline: -560
---
New York Giants at Chicago Bears (-5.5) – Total: 43
Sunday, 1:00 p.m. EST | Watch: CBS
NYG | Spread: +5.5 (-110) | Moneyline: +195
CHI | Spread: -5.5 (-110) | Moneyline: -245
---
Denver Broncos at Pittsburgh Steelers (-6.5) – Total: 43
Sunday, 1:00 p.m. EST | Watch: CBS
DEN | Spread: +6.5 (-110) | Moneyline: +240
PIT | Spread: -6.5 (-110) | Moneyline: -305
---
Washington Redskins at Arizona Cardinals (-7) – Total: 46
Sunday, 4:05 p.m. EST | Watch: FOX
WSH | Spread: +6.5 (-110) | Moneyline: +235
ARZ | Spread: -6.5 (-110) | Moneyline: -295
---
Kansas City Chiefs (-7.5) at Los Angeles Chargers – Total: 48.5
Sunday, 4:25 p.m. EST | Watch: CBS
KC | Spread: -8.5 (-110) | Moneyline: -385
LAC | Spread: +8.5 (-110) | Moneyline: +300
Best NFL Betting Offers