With the majority of the summer behind us, we're closer than ever to the settings, sights, and sounds of the fall yet again—cool nights, colorful leaves, and NFL football. And while the season opener is still several weeks away, the NFL betting market never sleeps. This is especially true for the league's most prestigious award: MVP. With plenty of time before the kickoff of Week 1, there remain plenty of overvalued and undervalued picks for who will win NFL MVP.
In this article, we'll take a look at the 2021 NFL MVP Odds as well my top NFL MVP predictions for the award. So without further ado, let's dive right in.
---
Table of contents
---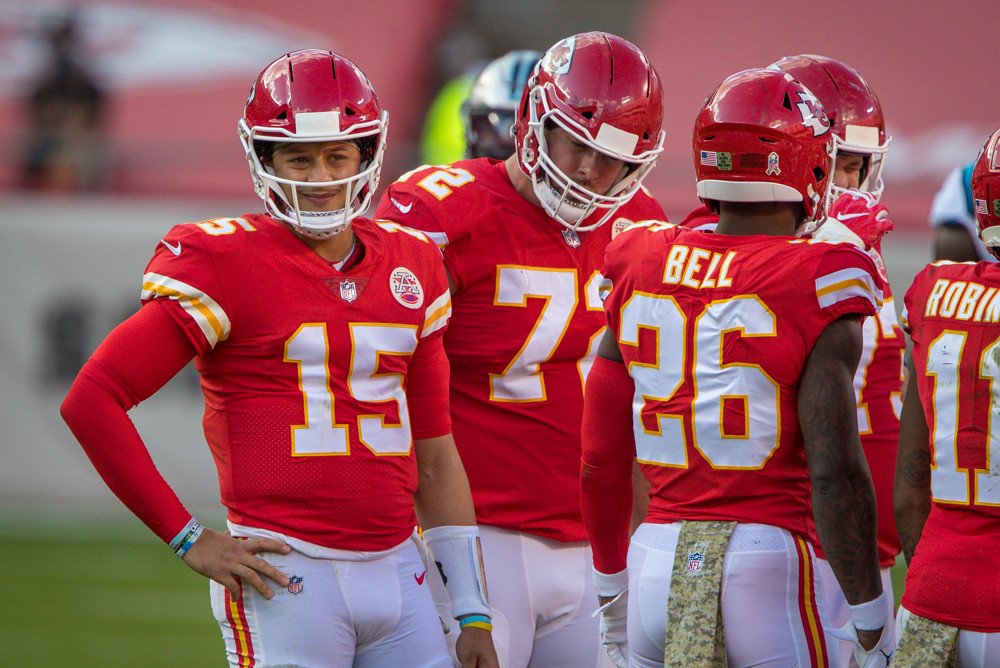 2021 MVP Favorites
---
One glance at the MVP odds this year shows a relatively spread-out field. Aside from Patrick Mahomes at +475 and Aaron Rodgers at +800 (the 2019 and 2021 winners), no other player has odds better than +1200. And for good reason: being so violent yet so brief, an NFL season is loaded with volatility and surprises. That's why a betting favorite may not return value, and conversely, why a long shot (like Rodgers at +2500 last year) may make sense.

This year, however, the situation is slightly different, as the NFL has added a 17th game to the schedule. On the one hand, this increases the odds that a frontrunner gets injured, which would spread out the field even more.
On the other hand, however, it gives frontrunners a chance to extend their lead in the race. Additionally, it gives players with early-season injuries a chance to make up ground.
Altogether, the difference will likely be minimal, but it does reinforce one common theme: don't get too cute. Sure, betting on a former MVP winner like Aaron Rodgers made sense at +2500 last year, but an extra game will make it even more difficult for a fresh-on-the-scene player to outduel the Rodgers' and Mahomes' of the league for a whole season.
Now that we've hashed out the landscape, here's a look at players of note.
NFL MVP Predictions
---
Undervalued: Patrick Mahomes, +475 (17% implied odds)
For as long as he's young and healthy, the MVP conversation will always start with Kansas City superstar Patrick Mahomes. Hence, why he leads the 2021 NFL MVP odds.
Despite only having 1 MVP thus far, the ketchup fanatic remains the gold standard at QB. For his career, Mahomes averages 44.2 total touchdowns per 17 games played. Better yet, his 6.8% touchdown rate is the best all-time since 1970. Oh, and as icing on the cake, Mahomes had the lowest qualified interception rate in football last year (1%). The Texas Tech product truly has no weaknesses in his game. This year, it will again take an elite season to wrestle the award away from him. In 2019, Mahomes lost to Lamar Jackson, who amazingly led the league in passing TD and rushed for 1200 yards—a feat unlikely to be repeated. In 2020, Aaron Rodgers tossed 48 touchdowns to only 5 interceptions—the best since Mahomes threw 50 in 2018. Even in an average year for him, Mahomes would still receive plenty of MVP consideration.
Plus, there's reason to believe things will be even better in 2021. After seeing his franchise QB constantly under siege in the Super Bowl, GM Brett Veach has worked to make Mahomes' life easier going forward.
Since their loss to Tom Brady and the Buccaneers, the KC front office invested a first-round pick and nearly $90 million into shoring up the offensive line while returning virtually all WR, RB, and TE of consequence. Granted health, Mahomes is a much stronger bet than 17% to take the crown once again.
Overvalued: Any Non-QB
As another logical extension of the "don't get too cute" takeaway from the intro, it makes even less sense to bet money on any sort of RB, WR, or defensive player to win MVP this year.
Even before considering the changed NFL landscape, only one non-QB (RB Adrian Peterson in 2012) has won in 14 years! Now, you may think, players such as Derrick Henry (+3000) and Christian McCaffrey (+4000) may make sense, as their implied odds are still much lower than 1 in 14. Given the alluded-to changes, however, even those odds are unlikely to return you a profit.
First off, the NFL has collectively become much more analytically-oriented over the past several years. As many cutting-edge analysts now proclaim, great running backs (and other non-QBs) are much less valuable than even decent QBs. This is further supported by rising QB salaries, rising QB draft capital, and the increased reliance on passing in modern football. It's simply a quarterback's league.
Plus, now with the 17th game (which exposes players at the more violent positions to even more injury risk and gives QBs a chance to get off even more attempts), that value gap will likely widen even more.
Instead of throwing money on a Derrick Henry or Christian McCaffrey, perhaps take a chance on a young, high-ceiling QB such as Joe Burrow (+5000), or pony up for a player who's posted MVP-level production before, such as Dak Prescott (+1800).
However, if you fancyChristian McCaffrey to have a big season as we do. Check out our NFL Comeback Player of the Year Award preview.
Odds To Win NFL MVP 2021
---