After another intense and thrilling NFL season, the Wild Card Playoffs have arrived. In this article, we'll provide you with our top NFL Computer Picks for the Wild Card Round. The NFL Playoff picks include matchups of the Buffalo Bills at Houston Texans, Tennessee Titans at New England Patriots, Minnesota Vikings at New Orleans Saints and Seattle Seahawks at Philadelphia Eagles.
Our NFL Computer Picks are chosen using an algorithm that analyses historical sports data to give you the bets that offer the best value bets to beat the New Jersey sportsbooks.
Get a Sign-Up Bonus up to $1,000* For Wild Card Weekend
Make the most of our NFL Computer Picks with this January offer from DraftKings Sportsbook. New customers can get a sign up bonus up to $1000 when they create a new account and deposit. Offer ends 2/2/20

NFL Wild Card Weekend Computer Picks
Buffalo Bills at Houston Texans (-2.5/ML:-141) – Total: 43
Saturday, Jan. 4, 2020 – 4:35 p.m. EST
NFL Wild Card Computer Pick: Texans cover the spread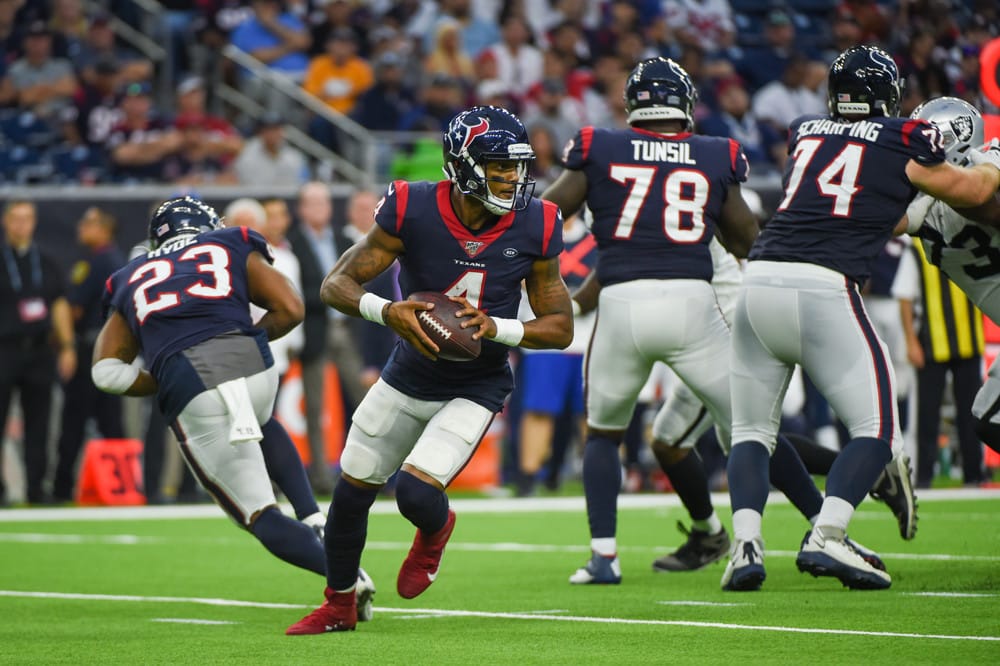 Once again, the Houston Texans find themselves in a home game starting off the NFL Playoff schedule, and this time they'll face the Buffalo Bills. Both teams are certainly worthy of being in this spot, but we've got a particular side to like in this game. Our Computer Pick is for the Texans to cover the 2.5-point spread. Let's dive into the numbers to see why we're leaning in this direction.
NFL Wild Card Betting Line: Bills at Texans
The line opened with the Texans favored by -3.5 and -3,
depending on where you place wagers. Since then, we've seen a decent number of
Bills' backers that have moved this game under a field goal to -2.5. Most
notably, the biggest move is on the total, going from 41.5 to 43.5. We do like
the total going over in this one, but the Texans covering the -2.5 is where our
hearts are set on.
Bills Betting Form
The Bills coming limping into the playoffs, winning only one
of the last four games. It should be noted, though, that three losses against
the Ravens, Patriots and Jets – the latter of which came in Week 17 with
Buffalo resting its starters. Even with a non-competitive schedule for most of
the season, the Texans should not be taking the Bills lightly.
Buffalo could be able to move the ball against Houston,
considering its defense allowed an NFL-worst 6.1 yards per play. The Texans
will get their best defensive player back this week, and he could certainly
present some problems for the Bills offense. QB Josh Allen is the key to
victory, but it's his first postseason start. Houston is familiar playing in
this 4:35 p.m. EST time-slot to start off the playoffs, so look for them to adapt
to the situation once again.
Texans Betting Form
The Texans sat most of their important players in the
regular-season finale to fully rest for the playoffs. QB Deshaun Watson and WR
DeAndre Hopkins will be back are ready roll, and they've been one of the most
dynamic duos of our time. While the Bills defense is great statistically, they
did beat up on the bottom-feeders of the NFL. Playing indoors, this Texans
offense should be able to move the ball effectively and defeat an overrated
Bills team.
DE JJ Watt will make a triumphant return to the Texans
defense for this do-or-die situation. Watt hasn't played since leaving early in
the Week 8 matchup against the Raiders. His presence alone is enough to
energize a Texans defense that missed his severely. As we mentioned, Houston
allowed an NFL-high yards per play this season, but this is a much different
unit when Watt is causing havoc in the opposing team's backfield. When looking
at Buffalo's offense this season, it hasn't done much against the superpowers
of the NFL. In fact, the Bills scored more than 30 points only twice all
season, and those matchups were against the Dolphins and Redskins.
NFL Wild Card Computer Pick: Texans cover the spread
All in all, familiarity is the name of the game and the
Texans have plenty of it in this situation. Not to mention, the return of Watt
should have this team energized beyond belief. In order for the Texans to be
truly effective in this game, getting out to an early lead will be key. If this
team can put Buffalo's offense in desperation mode, we should be looking at an
easy cover on the 2.5-point spread.
Tennessee Titans at New England Patriots (-5/ML: -225) – Total: 44
Saturday, Jan. 4, 2020 – 8:15 p.m. EST
NFL Wild Card Computer Pick: Total goes under 44 points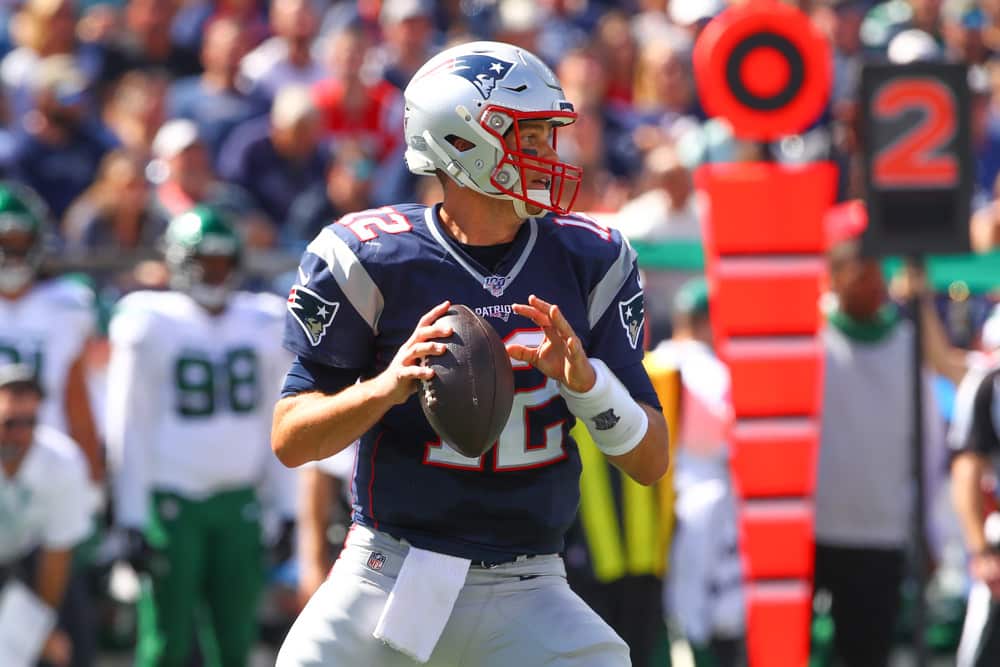 The New England Patriots could've had a first-round bye with an easy victory in Week 17, but here they are up against the Tennessee Titans. These teams met two postseasons ago, with the Patriots coming out victorious by the score 35-14 at Gillette Stadium. Our Computer Pick this time around is for the total to go under 44 points. Let's dive into the numbers to see why we're not expecting a high-flying shootout.
NFL Wild Card Betting Line: Titans at Patriots
Neither the Patriots -5 spread nor the 44-point total has
much movement since the open. And it makes sense, considering the public is split
right down the middle on the spread. However, 58 percent of public bets are on
the total going over which only rose a half-point since the open. Nonetheless,
we've got a few reasons to believe the Patriots' defense will show up and keep
the scoring to a minimum.
Titans Betting Form
While the Titans went 7-3 with QB Ryan Tannehill as the
starter, let's ease up on the praise. Of those seven wins, only two came
against a current playoff team – and one of those was in Week 17 against a
Texans team that was resting their key players. Heading into Foxborough will be
more of a learning experience for the Titans, rather than an opportunity to
pull the upset.
RB Derrick Henry will be a crucial part of the Titans' gameplan.
After all, we've seen plenty of teams run the ball right at the Patriots and
have plenty of success. Henry did win the NFL's rushing title on the strength
of 1,540 yards and 16 TDs during the regular season. It's also worth noting
that Patriots had the NFL's sixth-best run defense, allowing 97 yards per game.
Even if the Titans are successful in this matchup, it's going to run time off
the clock and we'll applaud that for betting on the under.
Patriots Betting Form
A lot of people are pessimistic about the Patriots' chances
heading into the postseason after that embarrassing Week 17 loss to the Dolphins.
And, in the long term, they're not wrong. However, Saturday's matchup certainly
gives them an opportunity to get back on the good foot. This is what the
Patriots do – win playoff football games.
QB Tom Brady has certainly taken a step back in his Hall-of-Fame
career. We can attribute a lot of this to old age, the lack of playmakers and the
health of those around him. Everything is adding up to another slow-moving type
of game, with plenty of short passes heading to RB James White and WR Julian
Edelman. RB Sony Michel has looked good in previous weeks, but he still lacks
that big-play ability. If the Patriots are going to move the ball slowly, it's
going to be great news for us betting the under.
Head coach Bill Belichick has always been known for taking
away the opposing team's main offensive threat, and he'll certainly do so once
again. The rookie WR AJ Brown was tearing up the NFL at the end of the season,
with four 100-yard receiving games over the last six. This is the perfect opportunity
for CB Stephon Gilmore to earn his paycheck.
NFL Wild Card Computer Pick: Total goes under 44 points
As we mentioned, both teams will have a hard time getting
big-play opportunities for their offenses. The Titans will run the ball – we know
this. But will they be able to get Henry off for a big play? The Patriots
defense probably won't allow that. As for New England's offense, we've got a
solid sample size of the team it currently is. There are no deep play threats
on this team, and Tennessee's talented safeties won't let it happen regardless.
Minnesota Vikings at New Orleans Saints (-8/ML: -385) – Total: 49.5
Sunday, Jan. 5, 2020 – 1:00 p.m. EST
NFL Wild Card Computer Pick: Saints to cover the spread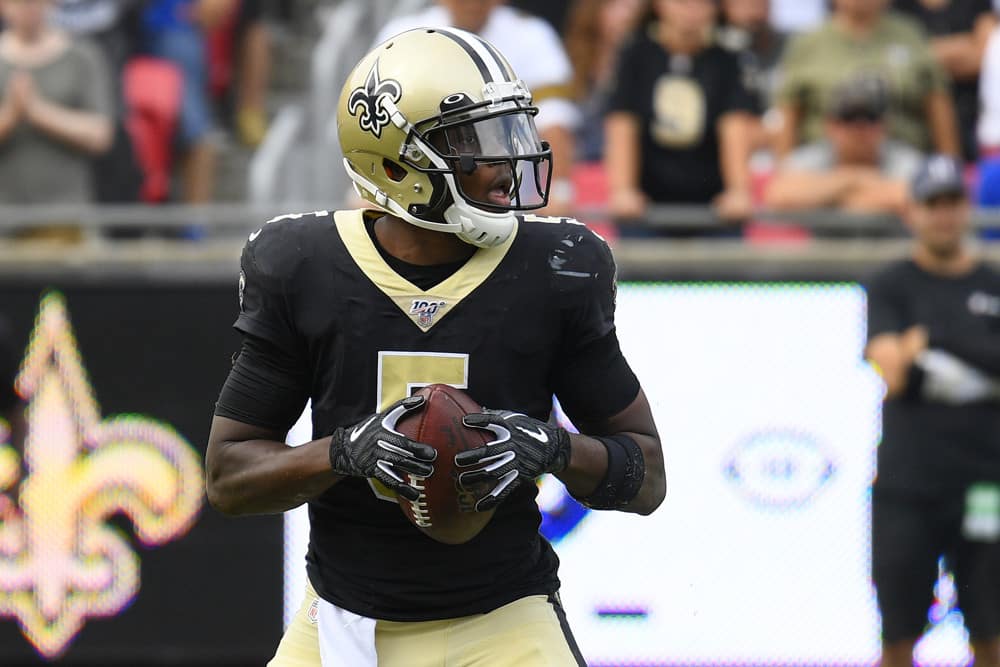 The New Orleans Saints start their Super Bowl run at home against the Minnesota Vikings. These teams last met in the playoffs two seasons ago, when the Vikings pulled off the Minnesota Miracle on a 61-yard TD pass as time expired. We believe the Saints still have that in the back on their minds. Our Computer Pick is for the Saints to cover the 7.5-point spread. Let's look at some information to see why we're going with the home favorite.
NFL Wild Card Betting Line: Vikings at Saints
DraftKings was one of the only sportsbooks where you could
get Saints -7.5 this week, so make sure you check them out for this game – it could
go back down to that number. If you do so, it wouldn't be a terrible idea to
buy it down to Saints -7 or -7.5, just to be safe. The Saints are getting two-thirds
of public bets, but it's the total that really stands out here. After opening
at 47, we've seen it shoot all the way up to 50 currently. Both teams are certainly
capable of scoring but we're more confident in the Saints lighting it up.
Vikings Betting Form
QB Kirk Cousins has been more comfortable playing in the
1:00 p.m. EST window over his career, but the time of the game might not matter
much this time around. He doesn't do well under pressure – not only from the
crowd and media but from the defense especially. Look for the Saints to bring multiple
blitzes Cousins' way and throw off his whole game. There's a scenario we like,
where New Orleans takes a big lead early on in this game. Only then, will
Cousins have a day that is viable on the stat sheet.
Everyone, say a prayer for the Vikings' defense on Sunday –
they're going to need it. The Saints' offense is pure money at home in the
Superdome and is firing on all cylinders. Even if Minnesota devises a plan to
double-team the opposition's best threat, New Orleans has a plethora of weapons
that can make this game ugly right off the bat.
Additionally, this Vikings team just isn't fully healthy at
the moment. RB Dalvin Cook has a lingering shoulder injury but will play and WR
Adam Thielen just hasn't looked right at all since returning to the lineup.
Saints Betting Form
With this game having the highest total of the playoff
weekend, it certainly bodes well for QB Drew Brees and the Saints offense. This
is a team that has been in business-mode since getting embarrassed at home to
the division-rival Falcons back in Week 10. The Saints were actually coming off
a bye that week, so perhaps it benefits them playing this weekend. After all,
they have won three straight Wild Card weekend matchups.
The key matchup is WR Michael Thomas against a shaky Vikings
secondary. The Vikings usually have a solid defense, but their outside CBs were
some of the worst in football. New Orleans loves to line up Thomas all over the
field, so that can certainly throw off Minnesota's defense. Brees has been phenomenal
at home with 332.8 passing yards per game, compared to 196.4 on the road.
RB Alvin Kamara has looked like a new man over the last
couple of weeks. In fact, four of his six total TDs have come in the last two
games. Look for Kamara to have that same level of importance
NFL Wild Card Computer Pick: Saints to cover the spread
The Saints were an NFL-best 11-5 ATS this season and will
tack onto that mark. This team is better at home, with their last four wins
coming by an average of 14.8 points. New Orleans has way too many weapons for
Minnesota to handle, and we'll also take advantage of that as well.
Seattle Seahawks (-2/ML: -125) at Philadelphia Eagles – Total: 45
Sunday, Jan. 5, 2020 – 4:40 p.m. EST
NFL Wild Card Computer Pick: Seahawks to win outright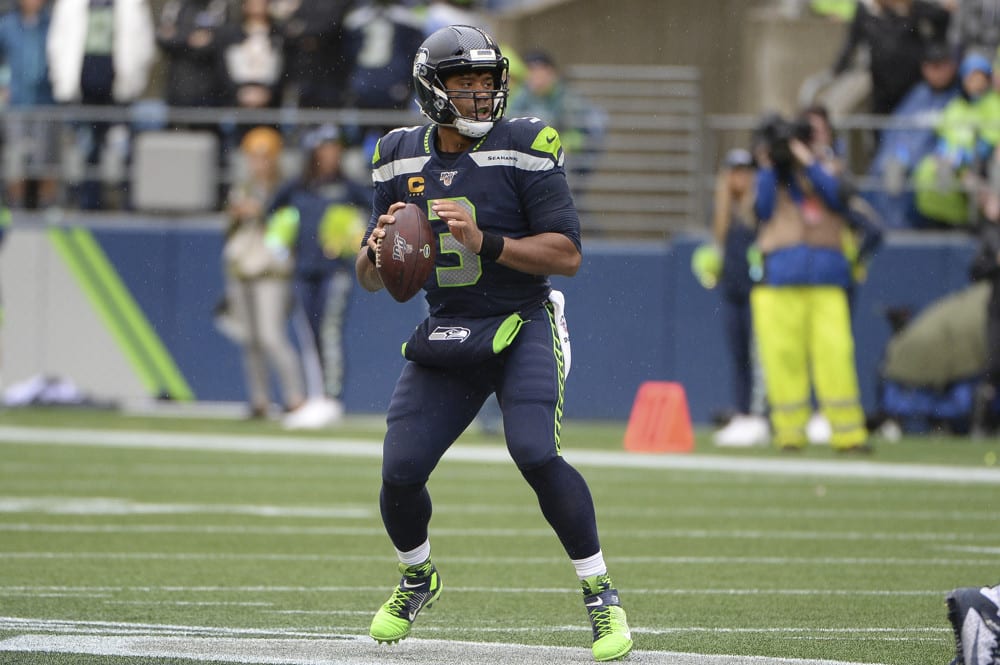 The playoff weekend finale concludes with the only rematch from the regular season, as the Seattle Seahawks hit the road to face the Philadelphia Eagles. This could very well be the most competitive game of the weekend, and we've got a particular lean. Our Computer Pick is for the Seahawks to win outright. Let's dive into the numbers to see why it'll be a repeat performance from Seattle.
NFL Wild Card Betting Line: Seahawks at Eagles
There hasn't been much change from the open, with the Seahawks
being slightly favored. A whopping 85 percent of public bets are on Seattle to
win – that's the highest of any team this week. Of course, that's always a
risky proposition going where the public is sitting heavily. Nonetheless, we
feel like there are enough factors that play into the Seahawks' favor to win
this game outright.
Seahawks Betting Form
The Seahawks nearly won that Week 17 thriller against the 49ers
which would've given them the No. 3 seed. Nonetheless, this is just simply a
better overall team than the Eagles.
QB Russell Wilson will undoubtedly have a tough matchup
against the Eagles, so it's up to the running backs to make some big plays.
While a lot was made of the Seahawks bringing back Marshawn Lynch and Robert Turbin,
it was actually rookie Travis Homer having the biggest impact last week. Look
for the Seahawks to use a couple of trick plays to their advantage.
In the Week 12 matchup against Philly, it was Seattle's
defense that came away with five turnovers. The Eagles have more injuries now,
making things uglier. Philly really only has WR Greg Ward as its top receiving
option, and that's not a recipe for success.
Eagles Betting Form
The Eagles were able to get by the Giants last week with all of their injuries, but this matchup will not be as easy to overcome. TE Zach Ertz is the key component here with his back and ribs injuries; he was limited in practice on Thursday and his status is up in the air for the game. OL Lane Johnson is in the same boat being limited in practice with his availability for the game uncertain. RB Miles Sanders, who was a huge boost to the Eagles getting into the playoffs, did not practice on Thursday and that leaves his chances for Sunday as doubtful. All of those key injuries could very well be the deathblow for Philly.
Luckily, RB Boston Scott has been fantastic when given the chance. Eagles coach Doug Pederson will certainly need to be even more creative than usual with QB Carson Wentz.
If the Eagles are going to keep this close, it'll be on
defense. Defensive coordinator Jim Schwartz has a gorgeous Wide-9 defensive scheme
that is designed to contain QBs like Wilson. While that scheme could be enough
to keep the Seahawks' scoring to a minimum, that doesn't necessarily help the
Eagles' offense score at all.
NFL Wild Card Computer Pick: Seahawks to cover the spread
The Seahawks are a perfect 5-0 (3-1-1 ATS) on the East coast
this season, with one of those wins/covers against the Eagles. Not to mention,
this usually-great home team was actually 7-1 away from Seattle this season. We
feel like Philly has way too many injuries on the offensive side of the ball to
overcome. This will be an ugly game but the Seahawks will find a way to win.