Looking for a more scientific approach to your hockey betting? In this article, we'll give you our top NHL Computer Pick for the New Jersey Devils at New York Rangers game on Thursday, Jan. 9, 2020.
Our NHL Computer Picks are chosen using an algorithm that analyses historical sports data to give you the bets that offer the best value bets to beat the New Jersey sportsbooks.

New Jersey Devils at New York Rangers
New Jersey Devils |
Money Line: +138 | Puck Line: +1.5 (-190)

at

New York Rangers | Money Line: -162 | Puck Line: -1.5 (+155)
7:00 p.m. EST

Madison Square Garden – New York, NY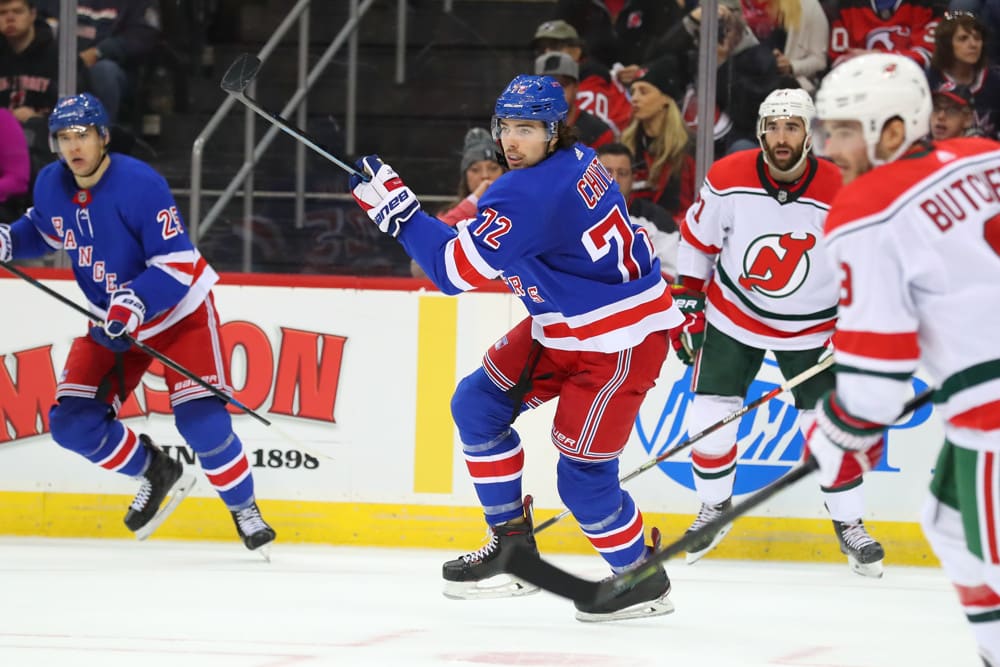 NHL Computer Pick: Rangers cover the puck line: -1.5 (+155)
One of the best rivalries in hockey renews as the New Jersey
Devils make the short trip to face the New York Rangers. With a new goalie in
net, New York is feeling a new sense of energy looking forward. That's why our betting
pick is for the Rangers to cover the puck line and win by two goals or more.
Let's dive into some numbers that can make this dream a reality.
NHL Betting Line: Devils at Rangers
This will be the first time the Rangers are favored since Dec.
22, a game they beat the Anaheim Ducks by a score of 5-1. In fact, it's only the
second time the Rangers have been favored by this much (at least -150) since
Nov. 6 – that was also a 5-1 win, with that one coming against the Detroit Red
Wings. Point in case, there's a pretty damn good reason why the Rangers are
favored by this much.
Devils Betting Line
MSG has been a house of horrors for the Devils of late, posting a 2-7-2 record in their last 11 trips there. It has been a total disaster for New Jersey this season, so making the short trip through the Holland Tunnel is one that this team could probably do without right now.
Jack Hughes, one of the best Devils prospects in their team's history, will miss another game for the Devils, his second in a row. That absence could hurt. However, Nico Hischier has been solid of late, with at least one point in five of the last six hockey games.
Mackenzie Blackwood will likely end up manning the pipes for
New Jersey. He is 14-11-6 this season with a 2.86 goals-against average and .907
save percentage. In Tuesday's night game against the Islanders, Blackwood lost
a few teeth and underwent three hours of dental work afterward. Despite all of
that, Blackwood is the Devils' best option – certainly not Louis Domingue. If
Domingue does get the start, that's even better news for those of us betting on
the Rangers' puck line.
Rangers Betting Line
The Rangers' offense has been strong, with at least three
goals in six of the last eight games. They have also scored five or more in
four of those games. Mika Zibanejad has been strong with 17 goals and 16
assists this season. Over the last 12 games, Zibanejad has a total of 16 points
(10 goals, 6 assists).
Igor Shesterkin made his NL debut on Tuesday night, a 5-3 victory over the Avalanche. Unfortunately, Shesterkin allowed a goal on his first shot but did rebound to make 29 saves. Prior to getting the call-up, he had a 15-4-3 record and 1.93 goals-against average for Hartford of the AHL. Rangers head coach David Quinn hasn't decided on a starting goalie for tonight's game. However, it looks likely that it'll be Shesterkin getting the honor.
If it's not Shesterkin in net, look for Henrik Lundqvist to
be in there. He is 9-9-3 this season with a 3.10 goals-against average in 24
games. Lundqvist's career is certainly on the back nine. Perhaps, a late-season
surge could get him traded to a contending team.
NHL Computer Pick: Rangers cover the puck line: -1.5 (+155)
The Devils are 6-3-2 over the last 11 games, a much better batch of results from how they opened the season. Nonetheless, the Rangers dominate this matchup in New York and we believe they'll be able to do so once again and win the game, this time by at least 1.5 goals. The team, and crowd, seemed to have a bit more energy with Shesterkin in the net. It could be a big night for the Rangers, maybe even getting a big total number of goals scored.