Looking for the best NHL Betting Picks? In this article, we'll give you our top NHL Computer Pick for the New York Islanders at New York Rangers game on Tuesday, Jan. 21, 2020.
Our NHL Computer Picks are chosen using an algorithm that analyses historical sports data to give you the bets that offer the best value bets to beat the New Jersey sportsbooks.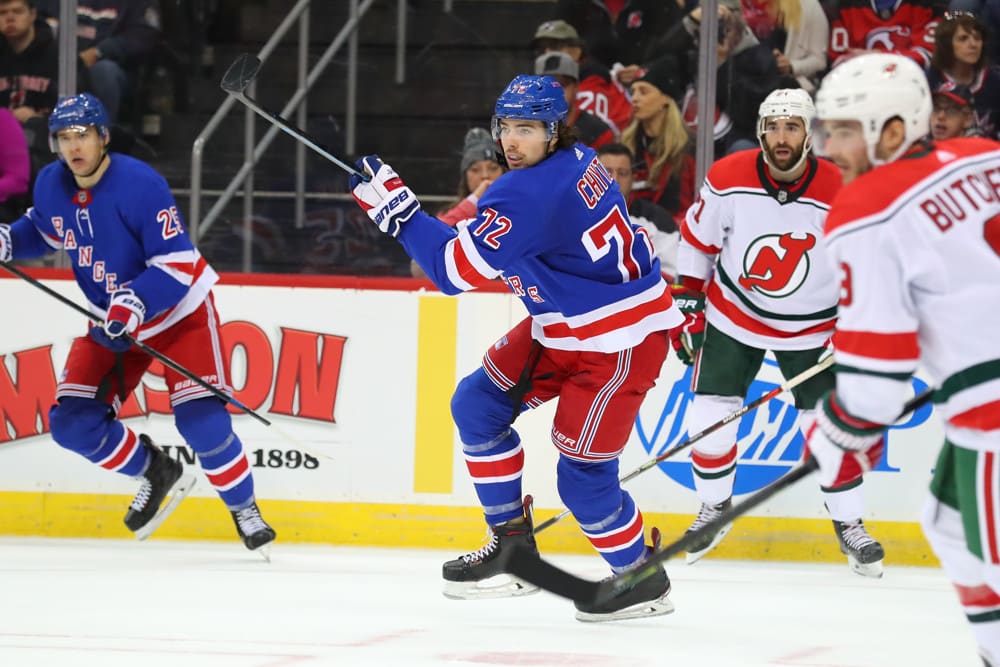 New York Islanders at New York Rangers
7:00 p.m. EST
Madison Square Garden – New York, NY
New York Islanders | Money Line: -113 | Puck Line (-1.5): +215
at
New York Rangers | Money Line: -104 | Puck Line (+1.5): -275
Total: 6 goals
NHL Computer Pick:
Islanders Money Line (-113)
This will be the third meeting between the
New York Islanders at New York Rangers over the last eight days. The Rangers
took the first two meetings by the scores of 6-2 and 3-2. This time, we believe
the other team will finally get their revenge. Our top betting pick is for the
Islanders to get the outright win. Let's dive into the numbers to see why we'll
see a different story from last week.
NHL Betting Line:
Islanders at Rangers
Since the Rangers won both of last week's
meetings, it's no surprise to see this game have a tight spread attached to it.
However, the Islanders have a fantastic record when the money line is in
between -125 and +125. In that scenario, they are 18-7 this season. It'll be
very tough for the Rangers to beat the Islanders three times within a span of
eight days. Look for the Islanders to finally get their revenge.
Islanders Betting Form
As we mentioned, the Islanders have
conventional odds on their side. Beating a team repeatedly over the course of a
week is very tough to do, especially when that team is better. Granted, the Islanders
have lost five of their last six games, but a win against the Rangers at MSG
could certainly get their season back on track.
The Islanders didn't announce a starter for tonight's game early like the Rangers. Of course, you have to wonder if they opt for Thomas Greiss once again over Semyon Varlamov. After all, Greiss has played well in each of the last two starts, turning away 65 of the 68 shots he's seen. Varlamov had two cracks at the Rangers last week, allowing nine goals on 63 shots.
If the Islanders do go with Greiss in goal, it's possible they show a bit more gumption in support of their backup netminder. The Islanders don't have a ton of guys that fill up the scoresheet individually, rather getting it done collectively. This team needs to get Mathew Barzal (17 G, 23 A) and Brock Nelson (19 G, 18 A) going more than anyone else. Look for them to have big games on Tuesday night.
Rangers Betting Form
The Rangers have played much better of late,
winning four of the last six games – two of which came at the Islanders'
expense. The team has played much better defense over the last two games,
allowing only three goals, but this is still a squad that heavily relies on its
offense.
When looking at the Rangers' offense, Artemi
Panarin (26 G, 42 A), Ryan Strome (12 G, 30 A), Mika Zibanejad (18 G, 19 A) and
Chris Kreider (16 G, 15 A) are all leading the way statistically. Defenseman
Tony DeAngelo (12 G, 25 A) recently had a huge three-goal, two-assist night in
a game against the Devils; he's certainly capable of a big night any time he
touches the ice.
Alexandar Georgiev will get the start in net for the Rangers. Each of his last two games, both wins, came against the Islanders last week. The Rangers will continue to rely on their goaltending, considering this is a team that allows the second-most shots per game (34.8) in the NHL this season. The Islanders, who average the fifth-fewest shots per game (29.5), even posted 34 and 40 shots against Georgiev in the two games last week.
NHL Computer Pick: Islanders
Money Line (-113)
While it may look like the Rangers have
everything clicking at the moment, the Islanders have plenty of motivation on
their side. Especially in a rivalry matchup like this, the Islanders would feel
sheepish dropping three games in an eight-day span to the inexperienced
Rangers. Look for the Islanders to step it up defensively and make life
difficult on their opponents.
Looking for your bookie for NHL Betting Picks? Unibet have been taking hockey bets for over 20 years. Sign up with Unibet Sportsbook and get 2 x $10 free bets AND a Risk Free Bet up to $250. Join Now