The Los Angeles Angels and Seattle Mariners will conclude at three-game series at Safeco Field on Thursday. Each team has taken a game so far in the series, but the Mariners have the 3-2 advantage in the season series.
Today's pitching matchup features a pair of right-handers, as Dylan Bundy toes the rubber for LA while Taijuan Walker goes for Seattle. Only Bundy has faced his opponent this season, allowing three runs over six innings while striking out eight.
Shohei Ohtani is expected to be back in the lineup for the Angels but is only hitting .148 so far this season. The theme for this afternoon should be solid pitching, so I'm not too worried about his return.
Los Angeles Angels at Seattle Mariners
Safeco Field – Seattle, WA
4:10 p.m. EST (Watch: MLB Extra Innings)
Starting Pitchers
LAA: Dylan Bundy – R (1-1, 2.84 ERA/0.71 WHIP)
SEA: Taijuan Walker – R (1-1, 4.35 ERA/1.06 WHIP)
Odds & Betting lines (bet365)
Total: 8.5 runs | Over: -120 | Under: +100
LAA | Moneyline: -165 | Run Line -1.5: -105
SEA | Moneyline: +145 | Run Line +1.5: -115
Injury List
LAA: Cam Bedrosian -RP (IL), Andrelton Simmons -IF (IL)
SEA: Austin Adams -RP (IL), Tom Murphy -C (IL)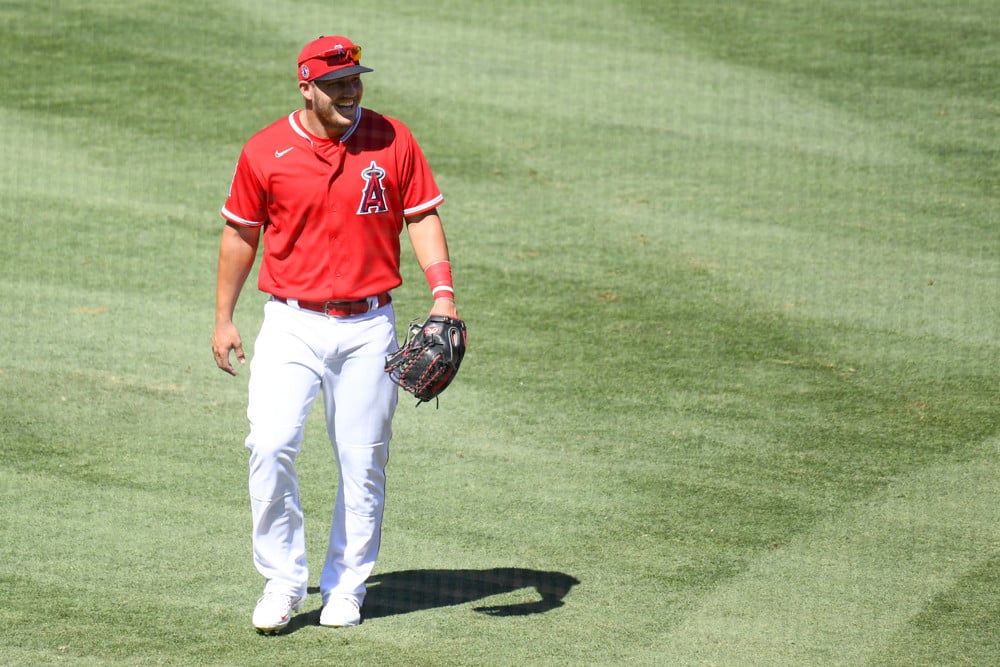 Interesting Stats
Where's the Money Going?
As of Thursday morning (11:00 a.m. EST), we're seeing 71% of all bets made on the Angels to win on the moneyline while 57% of all money wagered is on the Mariners. The roles are completely reversed in run-line bets as Seattle grabbed 68% of the wagers, but the Angels took 65% of the money wagered. On the total, the under is being hammered with 75% of the bets and 99% of the money going that way.
Daytime Bundy
We'll have to figure out which daytime Bundy exists, because it's been a wild ride over the last two seasons. In 2018, he went 6-1 with a 2.28 ERA in 10 daytime starts but those numbers took a drastic turn in 2019, going 1-8 with a 6.20 ERA in 12 daytime starts. So far this season Bundy has only had one – and it was a dandy – going six innings while allowing three hits, no walks and one run with seven strikeouts.
Whoa, Whoa, Walker
After a completely miserable outing in his season opener against the Houston Astros, Walker pitched a seven-inning shutout with only one hit and two walks allowed while striking out eight against the Oakland Athletics. Hopefully, Walker can keep the ball away Mike Trout, who is 9-for-14 with three homers lifetime against him. The rest of the current LA roster, though, is only 6-for-35 with only one homer against him.
Betting Picks
Under 8.5 runs (+100)
We've seen where the money is going, and this is just too simple to overthink. Both starting pitchers are coming off big outings and the trend should continue today in a day game where the offense could be a little out of touch.
When looking at the odds, there's heavy -135 juice on the under at bet365 for the total going under 4.5 runs after 4.5 innings. That'll get us off to a good start and have us where we need to go. According to the list of implied team totals today, both the Angels and Mariners have negative movement up to this point.