An AL West rivalry will be renewed tonight as the Houston Astros and Oakland Athletics begin their three-game series. The mega-matchup out West will likely take a backseat in the storylines, with bench coach Ryan Christenson being shamed by the nation for making some sort of a Nazi salute; if you watch the video, you can clearly see there was no malice in his action and everything was misinterpreted. But you know, 2020 gonna be 2020.
The pitching matchup is a good one, as Zack Greinke toes the rubber for Houston while Chriss Bassitt goes for Oakland. Greinke has been asked anchor the Astros rotation, with Gerrit Cole leaving for New York and Justin Verlander on the IL indefinitely, and it hasn't gone that well yet. Bassitt, on the other hand, is a guy that most people don't know about… but they should. We'll get into the two pitchers down below.
This is also an interesting series because A's pitcher Mike Fiers (a former Astros player) was one of the whistleblowers in the Astros cheating scandal. Fiers won't face Houston in this series but the tension will certainly be high in some aspects of the game.
Houston Astros at Oakland Athletics
RingCentral Coliseum – Oakland, California
9:10 p.m. EST (Watch: MLB Extra Innings)
Starting Pitchers
HOU: Zack Greinke – R (0-0, 5.00 ERA/1.00 WHIP this season)
OAK: Chris Bassitt – R (1-0, 0.93 ERA/0.93 WHIP this season)
Odds & Betting lines (bet365)
Total: 8.5 runs | Over: +100 | Under: -120
HOU | Moneyline: +115 | Run Line +1.5: -185
OAK | Moneyline: -135 | Run Line -1.5: +165
Injury List
HOU: George Springer -OF (DTD), Yordan Alvarez -DH (IL), Roberto Osuna -RP (IL)
OAK: Jordan Weems -RP (IL)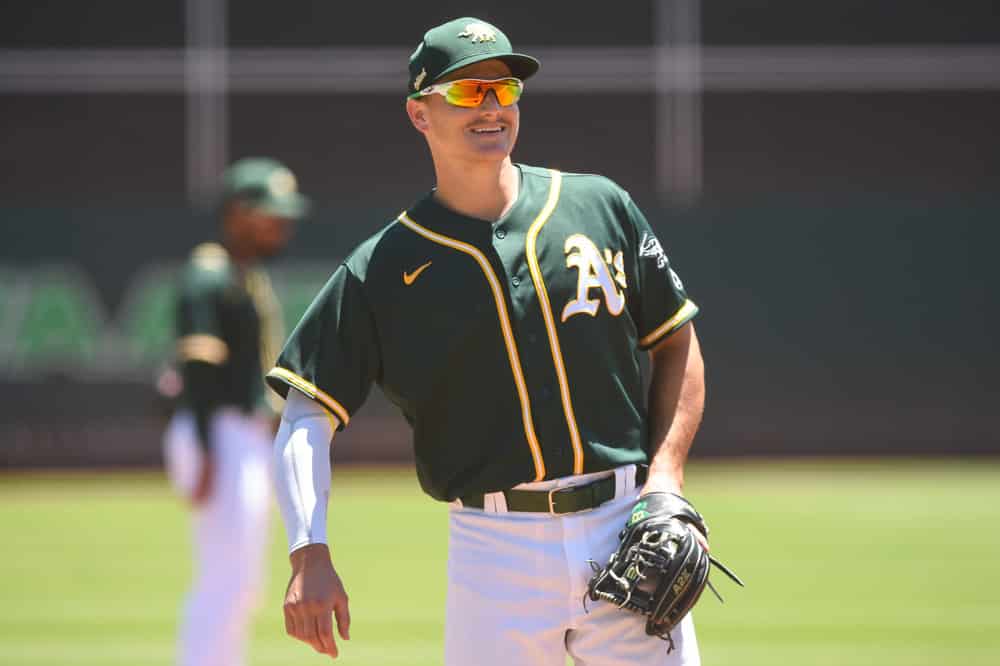 Interesting Stats
Where's the Money Going?
As of 3:45 p.m. EST today, the percentages are as follows:
– Moneyline: HOU, 65% of bets | OAK, 73% of all money wagered
– Run Line: OAK, 75% of bets | OAK, 71% of all money wagered
– Total: Under, 64% of bets | Under, 73% of all money wagered
Stanky Greinke
As I mentioned, Greinke has yet to live up to the billing in 2020. He has only pitched a total of nine innings, allowing seven hits, two walks and five runs while only striking out six. Greinke does, however, own an 8-2 record with a 2.78 ERA in 18 appearances (14 starts) against the A's over his career.
Bassitt Hounding the Opposition
You see what I did there? Bassitt has pitched very well out of the gate this season, allowing only one run in 9 2/3 innings. He got off to a great start this season at home and pitched very well there in 2019, going 6-2 with a 3.01 ERA in 13 appearances (11 starts). This is a very tough lineup that Bassitt will be facing tonight, so keeping the ball down is very essential.
Betting Picks
A's Run Line -1.5 (+165)
The A's have been pretty damn fired up for this game, especially with a 2.5-game lead in the AL West. A series win here would put them in a fantastic spot going forward. We've got to follow the money here, as there are tons of sharp moves coming in for Oakland. The run line may seem like we're overdoing it, but I'm pretty confident that Bassitt can keep this offense down for most of the night. Not to mention, the A's definitely have the advantage in bullpens, which we haven't always been able to say.