One of the best rivalries in baseball kicks off Opening Day for the Milwaukee Brewers and Chicago Cubs. This may not be the most glamorous starting pitching matchup, but don't be fooled – Brandon Woodruff of the Brewers and Kyle Hendricks of the Cubs can both get it done.
The season series between these teams last year was a close one, with Milwaukee holding the 10-9 advantage. It looks like the Brewers' run of postseason appearances is coming to an end, and the Cubs could finally climb back into the driver's seat in the NL Central.
Milwaukee Brewers at Chicago Cubs
Wrigley Field – Chicago, IL – 7:00 p.m. EST (ESPN)
STARTING PITCHERS
MIL: Brandon Woodruff – R (11-3, 3.62 ERA/1.14 WHIP last season)
CHC: Kyle Hendricks – R (11-10, 3.46 ERA/1.13 WHIP last season)
Total: 8.5 runs | Over: -121 | Under: +100
MIL | Moneyline: +110 | Run Line (+1.5): -190
CHC | Moneyline: -124 | Run Line (-1.5): +155
Injury List
MIL: Luis Urias (CV)
CHC: none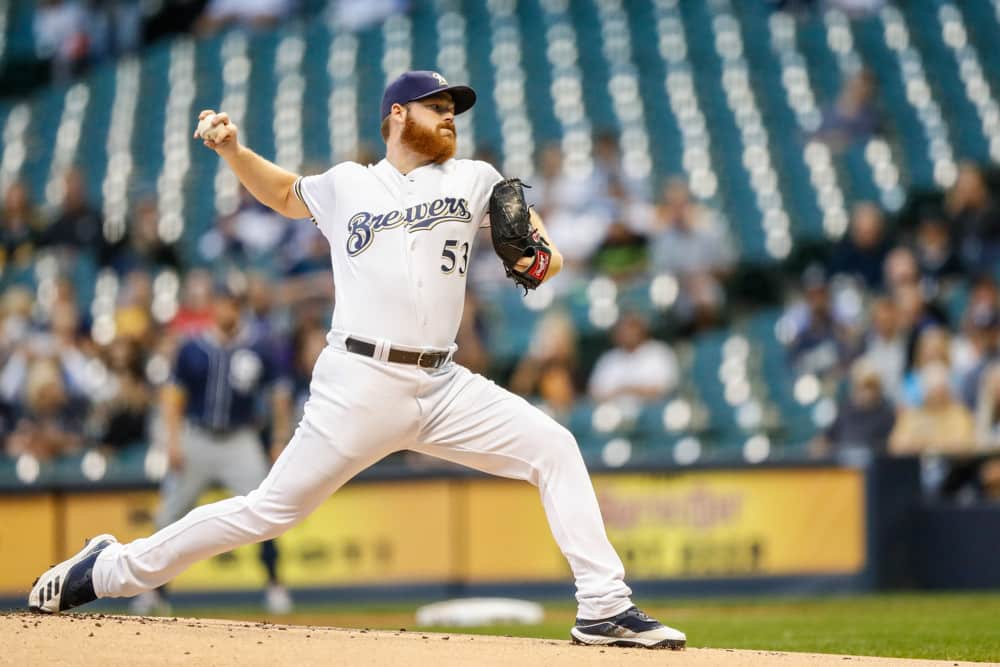 Interesting Stats
Cubs New Head Coach
David Ross will have big shoes to fill after Joe Maddon bolted for Los Angeles and a retirement gig with the Angels. When looking at the current and former managers, these two guys are similar in that they're down-to-Earth people unlike some of the robots we see around the game. The Cubs should be in prime position to contend for a division title this season.
Soft-Tossing Hendricks
I used to HATE this guy, but I've seen a lot of him over the last two seasons and my opinion has done a complete 180. No one ever said I was the nicest guy in the world, and my nickname for Hendricks – The Homeless Man's Greg Maddux – shouldn't be too surprising. After all, Hendricks relies solely on hitting spots and throwing hitters off their rhythm.
Today, we're getting Hendricks at home – where he was 6-2 with a 2.04 ERA in 14 starts last season. In 21 career outings, he owns an 8-6 record and 3.08 ERA against the Brewers. This is the first Opening Day start of Hendricks' career, so look for him to make the most of this opportunity.
Another MVP for Christian Yelich?
If it weren't for a devastating fractured kneecap injury late last season, Yelich might have won his second straight MVP award. It will be a tough task for Yelich, who is playing on a much-less talented Brewers team than he's been accustomed to the last few years. Then again, Yelich played in Miami for a long time – he's got thick skin.
Betting Picks
Cubs Run Line (+155)
Woodruff had an injury last season that made his season a little less glamorous, as he missed two months of action. After the time off, he never appeared in more than four innings in any outing for the rest of the season. The Cubs would have some decent matchups against the Brewers' bullpen, and the hope is that they do so before Josh Hader enters the game.
Over 8.5 (-121)
The juice on the over is just too much to ignore here. Typically, the first few games at Wrigley Field are very cold and dreary, making it a nightmare for the offenses. However, we're at the end of July now. The heat and humidity will make the ball fly better than usual, leading to some homers in the thinner air. These two pitchers could serve up more than a few homers, so we're taking the over with confidence here.