The Chicago Cubs will look to complete a four-game sweep over the lowly Kansas City Royals when the two teams meet on Thursday in a primetime national TV game on FOX. These two teams are at the totally opposite end of the spectrum, as the Cubs are 10-2 and the Royals are at 3-10. It's also worth noting that KC has yet to win a game at home, and Chicago is 3-1 at home.
Tonight's pitching matchup features two right-handers, as the surprisingly improved Tyler Chatwood toes the rubber for the Cubbies while Brad Keller makes his season debut for the Royals. Chatwood's improvements have really propelled Chicago to familiar heights, as it really needed big help out of the starting rotation.
Chicago Cubs at Kansas City Royals
Kauffman Stadium – Kansas City, MO
7:07 p.m. EST (Watch: FOX)
Starting Pitchers
CHC: Tyler Chatwood – R (0-0, 0.71 ERA/0.79 WHIP this season)
KC: Brad Keller – R (season debut)
Odds & Betting lines (bet365)
Total: 9 runs | Over: -120 | Under: +100
CHC | Moneyline: -165 | Run Line -1.5: -115
KC | Moneyline: +145 | Run Line +1.5: -105
Injury List
CHC: James Norwood -RP (IL)
KC: Franchy Cordero -OF (DTD), Bubba Starling -OF (IL), Hunter Dozier -IF (CV), Jesse Hahn -RP (BER)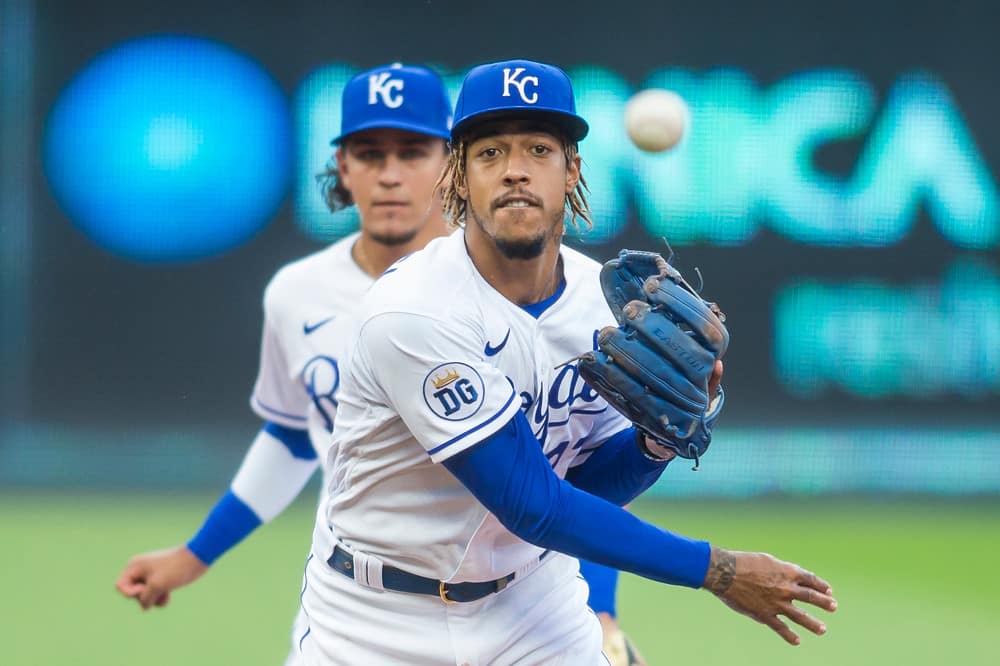 Interesting Stats
Where's the Money Going?
As of 1:30 p.m. EST on Thursday, 70% of bets and all money wagered are on the Cubs to win on the moneyline. Not much changes when we look at the run line, as 80% of bets and 70% of all money wagered is on Chicago. On the nine-run total, 56% of bets and a whopping 95% of all money wagered is on the under.
Who is This New Chatwood?
I don't know who this new guy wearing Chatwood's jersey is, but he's pretty damn good. After years of having an ERA littered in the up in the mid-fours, Chatwood has come back strong in 2020 with a sense of rejuvenation. Through two starts, he owns a spotless 2-0 record to go along with a 0.71 ERA/0.79 WHIP and 19 strikeouts in 12 2/3 innings.
Nice to See You Again, Keller
It has been 347 days since Keller last stood on the mound for a regular season MLB game. Keller reached his innings limit in late August which kept him out for the final month, and then he contracted the coronavirus which held him out at the start of this year. Keller did set a few personal highs last season, with 28 starts, 165 1/3 innings, 122 strikeouts… but also 14 losses.
Betting Picks
Cubs Run Line -1.5 (-115)
There was once a day where I could never fathom betting Chatwood with my own hard-earned money, but even I have to be a believer at this point. Keller has been decent since reaching the Majors. However, I really doubt that KC will let him go more than four or five innings tonight. Once the Cubbies get into the Royals' bullpen, it's lights out. Chicago is tied for third in MLB early on with a .341 weighted on-base average.