In this article, we'll provide you with our top betting pick for Tuesday's Game 3 of the American League Championship Series between the Houston Astros at New York Yankees. We study the betting lines, the teams, and the players to give you our recommended baseball betting picks to beat the New Jersey Sportsbooks.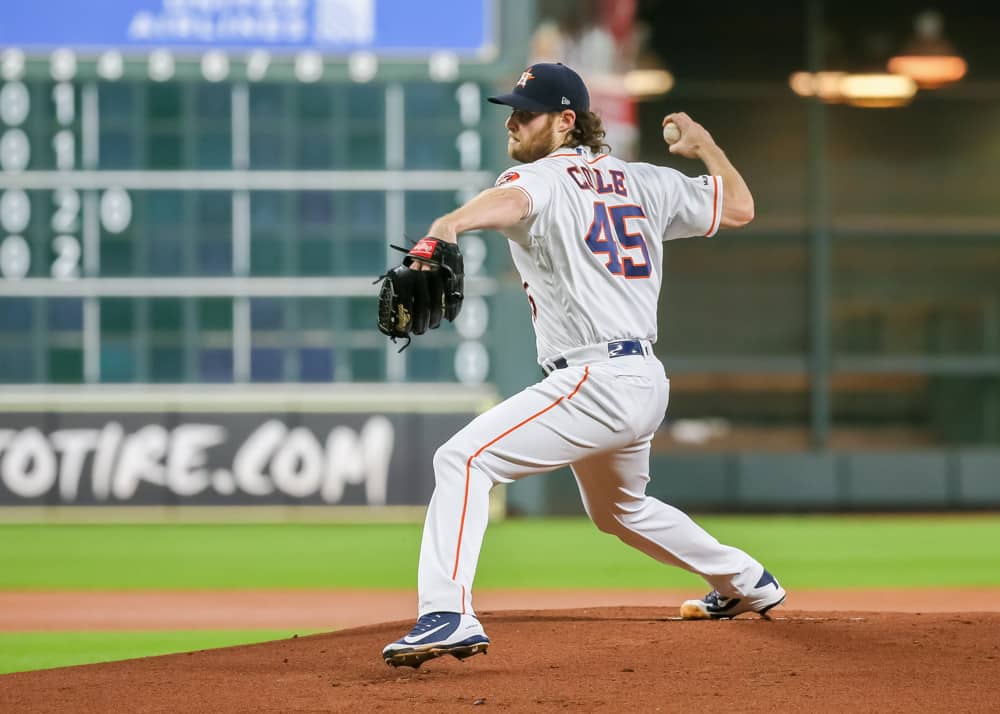 ALCS Game 3: Houston Astros (ML: -165) at New York Yankees – O/U: 7.5
Game 3 Betting Pick: Under 7.5
Tuesday, October 15, 2019 – 4:08 p.m. EST

Starting Pitchers
HOU: Gerrit Cole – R (2-0, 0.57 ERA/0.57 WHIP)
NYY: Luis Severino – R (0-0, 0.00 ERA/1.50 WHIP)
After splitting each of the first two contests, Game 3 of the American League Championship Series between the Houston Astros and New York Yankees will go a long way in determining who represent the AL in the World Series. Both of these starting pitchers are completely dominant, and that's why the total going under will be our top betting pick. Lets' look at some more numbers that led us to this decision.
Game 3 Betting Lines Analysis: Astros at Yankees
It's certainly surprising to see both public (56%) and sharp (66%) money on the Yankees, considering they'll be going against one of the best pitchers in MLB. Granted, the Bronx Bombers will be playing on their home field and get last licks and the plate, but we're shocked to see this. Neither the public nor sharps have made a statement with their lean on the total, as both sides are right around 50/50.
Astros Betting Form
There's really not a lot to be said about Gerrit Cole that hasn't been said already. In two starts against the Rays in the ALDS, he allowed a total of six hits, three walks and one run over 15 2/3 innings while striking out 25 of them. There's not much of a history with Cole against the Yankees, but he did allow three runs over seven innings in the only meeting this season.
The Astros' offense hasn't gotten off to a great start in this series and things will be a lot more difficult to navigate through once again. After getting shutout in Game 1, it was Carlos Correa and George Springer that accounted for the three total runs that got Houston the victory in Game 2. With the Yankees going to more of a bullpen-game in this one, look them to play the matchups and add on to the struggles of the Astros' offense.
Yankees Betting Form
We probably won't see Luis Severino go too deep into this game, given that he hasn't gone past 83 pitches since returning to the rotation in mid-September. Since that return, the right-hander has allowed no runs in three of those four outings. The Yanks have one of the best bullpens in baseball coming behind Severino, who should get things off to a great start once again. As mentioned, we're likely going to see plenty of matchups played well in this one, and that'll benefit the Bronx Bombers at the end of the day.
You have to be impressed with the Yankees' offense this postseason – or, at least, expect them to be right where they are. Taking a game in Houston was incredibly important, considering the matchup against Cole tonight. We knew that if New York failed to get a win over the weekend, it would be facing one of the best pitchers in an 0-2 hole. While the Yanks may not score a ton of runs, it could be enough to get the job done.

Game 3 Betting Pick: Under 7.5
The matchup between Cole and Severino would be a lot more appealing on a head-to-head level if that latter was fully healthy. Nonetheless, it's probably not a bad thing since the Yankees' bullpen can play a lot of different matchups and then get the added support of the home crowd behind them. Look the offense to take a back seat in this one, as two of the best starting pitchers in baseball do their thing – with the Yanks' bullpen chipping in some as well.