In this article, we'll provide you with our top betting pick for Tuesday's Game 4 of the National League Championship Series between the St. Louis Cardinals at Washington Nationals. We study the betting lines, the teams, and the players to give you our recommended baseball betting picks to beat the New Jersey Sportsbooks.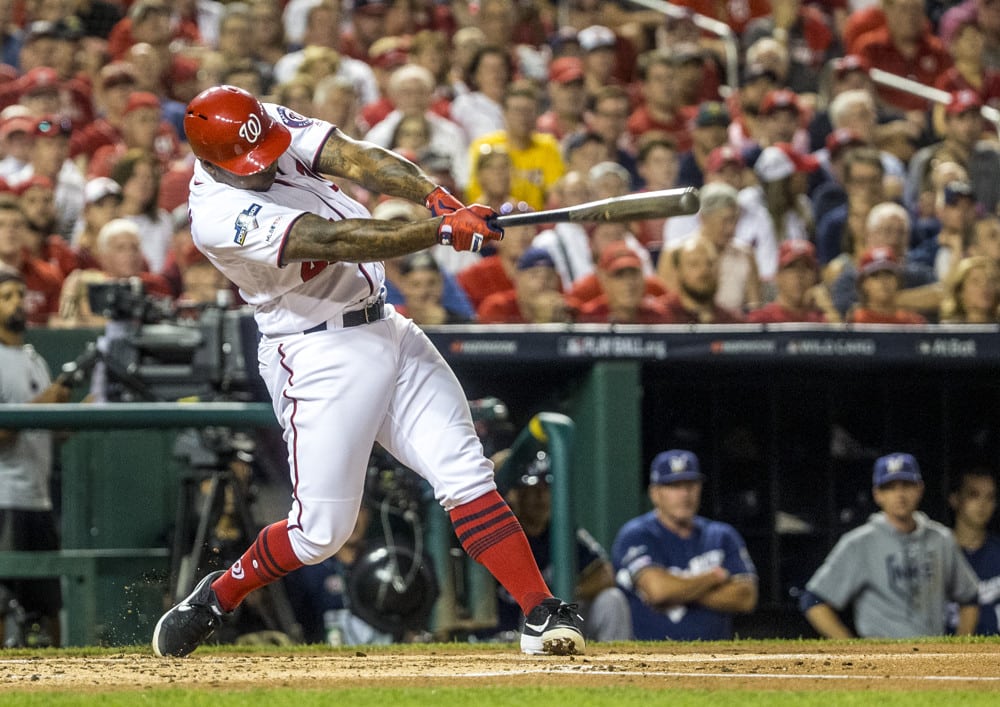 NLCS Game 4: St. Louis Cardinals at Washington Nationals (ML: -127) – O/U: 7.5
Game 4 Betting Pick: Over 7.5
Tuesday, October 15, 2019 – 8:05 p.m. EST

Starting Pitchers
STL: Dakota Hudson – R (0-0, 1.93 ERA/1.50 WHIP)
WSH: Patrick Corbin – L (0-2, 7.56 ERA/1.68 WHIP)
Although this hasn't been a competitive series, we'll still have plenty of eyes tuned in tonight to see if the Nationals can advance to the World Series. The Cardinals haven't been able to get it going offensively, and that's why we've seen such a lopsided result so far. However, we believe both offenses will be able to get it going today and that's why our top betting pick is for the total to go over 7.5 runs. Let's dive into the numbers to find out why we're heading in that direction.
Game 4 Betting Lines Analysis: Cardinals at Nationals
As expected, the Nationals are getting nearly two-thirds of bets from the public and sharps. The Cardinals have not been able to hit since the NLCS started, but perhaps with their season on the line, things will be different. In addition, we're seeing even more money come in on the total going over. Both starting pitchers haven't been at their best during the postseason, so it's not surprising to see the public and sharps in unison here as well.
Cardinals Betting Form
Dakota Hudson gets the ball in a do-or-die situation for the Cardinals in Game 4 of the NLCS. The young right-hander has only made one appearance this postseason, allowing four runs (one earned) in 4 2/3 innings against the Braves in Game 4 of the NLDS. Hudson did have a solid regular season, doing a great job of getting ground-ball outs and will certainly need to piggy-back off that type of success.
The Cardinals' offense has been atrocious in this series, registering only two runs through three games – and only had four hits in the first two games. Luckily, the Nationals are throwing a pitcher today that has struggled quite a bit during the postseason. They always say the most dangerous team in baseball is a desperate one. Well, it's time to put that theory to the test today for St. Louis.
Nationals Betting Form
Patrick Corbin will look to follow in the footsteps of his rotation-mates and continue to shut down the Cardinals offense. The lefty has struggled a bit in these playoffs, but Nationals' fans should find comfort in the fact that he went 8-2 with a 2.40 ERA in 16 starts at home during the regular season. Not to mention, Washington supporters should also feel confident with a 3-0 series lead and some of the best pitchers in baseball ready to go in case the champagne doesn't get popped after Game 4.
For all of the mishaps they made during the regular season, and even early in the postseason, the Nationals' bullpen has been outstanding over the last handful of games. If Corbin struggles early on in this game, we should expect to see that unit enter into the game.
As for the offense, Game 3 got off to a great start with a four-run third inning and the Nationals never looked back. After making tons of mistakes early in the postseason, Howie Kendrick has turned things around and played a huge part in why this team is just one win away from reaching the World Series. Look for him to continue that success and keep this team rolling.

Game 4 Betting Pick: Over 7.5
Once again, both starting pitchers are not at the top of their games and that'll be the catalyst in getting this total over 7.5 runs. Nationals Park should be jumping with excitement this evening, and a setting like this should favor the offenses. Look for the Cardinals to go out swinging (pun intended) while the Nationals stay hot.