In the sports world, baseball is renowned for its year-to-year stability, because of the arduous grind that is a 162-game MLB regular season. After all, baseball followers are consistently spoiled with the largest statistical sample sizes in all of sports. Just consider: typically, as the season develops from March to September, many pitchers throw over 3,000 pitches, a handful of batters will come to the plate over 700 times, and all teams get up to 17 matchups with their in-division rivals. Amidst a constantly-changing universe, baseball has remained (relatively) predictable thanks to a 6-month schedule that pits most statistical outliers against the test of time.
This year, however, the 6-month grind has become a 2-month dash to the finish line. With only 60 games on the docket, the home run and strikeout leader markets will be as unpredictable as ever. For some unheralded players, a legendary hot streak could earn them a coveted award. On the other hand, one bad week or two could dispel many a superstar's hopes of a successful season.
One development that will be more hindered than most is the league home run race. In a normal year, a player may lead the league with an impressive 50 'bombs;' this year. However, the leader will be lucky to eclipse 20. As a result, there will be dozens of players in the mix until the very end. This isn't the best news for the traditional frontrunners–including muscled mashers Joey Gallo, Mike Trout, Pete Alonso, and Giancarlo Stanton. But still leaves plenty of betting value on the opposite side of the spectrum.
With that in mind, here are the best Home Run Leader values for the 2020 season.
Josh Donaldson, 3B, Twins +6600 (DraftKings)
In most cases, taking the long shot means that we're 'punting' (ignoring) the true talent of the player pool and fully embracing random variance. Donaldson, however, is much less a 'punt player' and much more an elite slugger. In 2019, the third-baseman posted a 92.9 mph average exit velocity (hit speed) and a 15.7% barrel rate (representing especially-well-hit balls), which were good for 4th – and 6th-best in the league, respectively.
At the ripe age of 34, he may not be a spring chicken, but it doesn't hurt his chances as much as you think. According to Baseball Prospectus, the home run rate is one of the latest skills to peak for a player (generally around age 30). Also working in Donaldson's favor is the righty's move from Atlanta's SunTrust Ballpark to the Twins' Target Field, where he gets the benefit of a better right-handed home run environment while also dodging the notoriously cold Minnesota winter and spring.
At 66-1 (1.5%) odds, Donaldson just needs to capture two more months of the magic he's been making for the past seven years.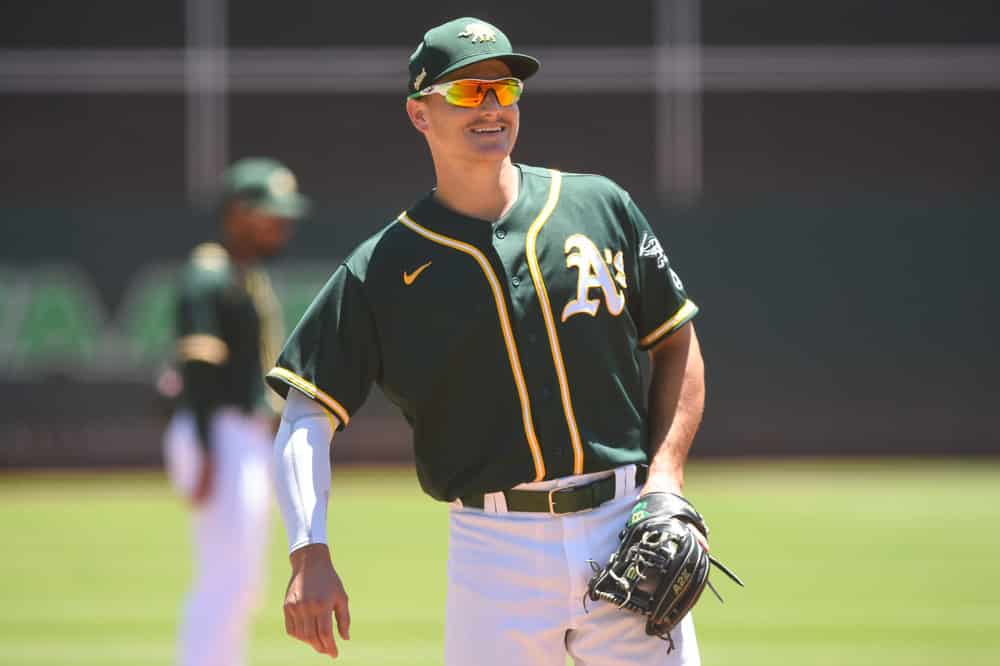 Matt Chapman, 3B, Athletics +6600 (DraftKings)
Keeping our focus on undervalued third-basemen, we have Matt Chapman of the Oakland Athletics. Although Chapman is largely known for his wizardry in the field, he's quietly become a formidable power threat at the plate. Last year, Chapman crushed 36 homers in 156 games while improving his strikeout rate, fly-ball rate, and barrel rate. His 92.6 mph average exit velocity was also good for 7th in the league.
One likely reason for the current discount on Chapman's odds is his football-stadium-sized home park, Oakland Coliseum, which mainly has a reputation for being pitcher-friendly; based on the numbers. However, the former Oakland Raiders home turf is only nothing more than a slight hindrance to right-handed home runs (depending on which park factors you buy into).
If you're still not convinced, just consider that Chapman's teammate, Khris Davis (priced at +3300, nearly twice as expensive). He had no problem hitting 133 dingers across the 2016-2018 seasons on the same exact field. It may not be the perfect situation, but at 66-1, it doesn't need to be.
George Springer, OF, Astros +8000 (BetMGM)
Working our way down the long shot portion of the Home Run Leader bet, we now make our way to George Springer. This play, however, will largely depend on what you think of his team's recent sign-stealing cheating scandal.
By many measures, Springer seemed to have realized his peak potential at the plate in 2019, recording a robust .292/.383/.591 (AVG/OBP/SLG) slash line and hitting 39 homers in just 122 games. Looking into his quality of contact, we can also see that the outfielder recorded a 93rd-percentile barrel rate of 14.3% and finally got his groundball rate below the league average of 45%. It also doesn't hurt to have a below-average strikeout rate while playing in a homer-happy ballpark.
At the same time, however, both Springer's profile and the context of his production bring reasons for hesitation.
First of all, despite a career year in home runs, the 30-year-old's 2019 average exit velocity (89.8 mph) remains only somewhat above average (66th percentile) and overall is right in line with his career average of 89.3 mph. All things considered, that isn't terrible, but a 30-homer pace wouldn't win him the home run crown this year. So this remains one area where we need to make a bit of a leap of faith.
Secondly, it still remains to be seen how Astros hitters will perform with their cheating scandal coming to light. According to the MLB commissioner's investigation, the cheating only occurred in 2017, but many players and league officials seem to think otherwise.
Based on the results of publicly-conducted investigations, it doesn't appear that the scandal's aftermath will affect Astros players' 2020 production very much, if at all. If you're of the same mind, 80-1 represents a bet worth making, even while considering the above concerns.
Josh Bell, 1B, Pirates +10000 (BetMGM)
Digging further into the bargain bin, we can find an even cheaper big-time slugger in Josh Bell. Playing the 2019 season at age 26, Bell seemed to have finally figured things out, hitting a commendable .277/.367/.569, and cracking 37 home runs in the process (143 games). The keys to his great season were hitting more fly balls (slashing his ground ball rate from 50% to 44%), avoiding strikeouts (his 19% mark was 3% below league average), and crushing the ball when he hit it (92.3 mph exit velocity, good for 9th in the league).
Should he maintain or improve upon these skills in 2020, Bell will be a contender for the Home Run crown. At 100-1 odds, there's not much downside against betting on the Pirates' switch hitter, either.