In sports betting, many contests are straightforward. If you bet on Bobby Baseball to lead the league in home runs and he does. You walk away with a nice payday and no questions asked.
Unfortunately, however, not every category is as simple. For instance, when it comes to Most Valuable Player the main component of the award–value–represents an abstract idea. Although we all can identify a good player when we see one. How does one go about calculating an athlete's precise value?
Fortunately, modern math and statistical tracking have helped to bring us close enough.
In the baseball world, the most popular metric is currently WAR, or wins above replacement. This attempts to quantify a player's value based on the number of extra runs that they produce on offense (or save on defense) when compared to a theoretical replacement-level player.
Although these WAR values aren't perfect, they're very close. With them in hand, we can begin to tackle the betting market for the most prestigious award in MLB: MVP.
Today, we'll be taking a look at the best-valued National League (NL) MVP candidates.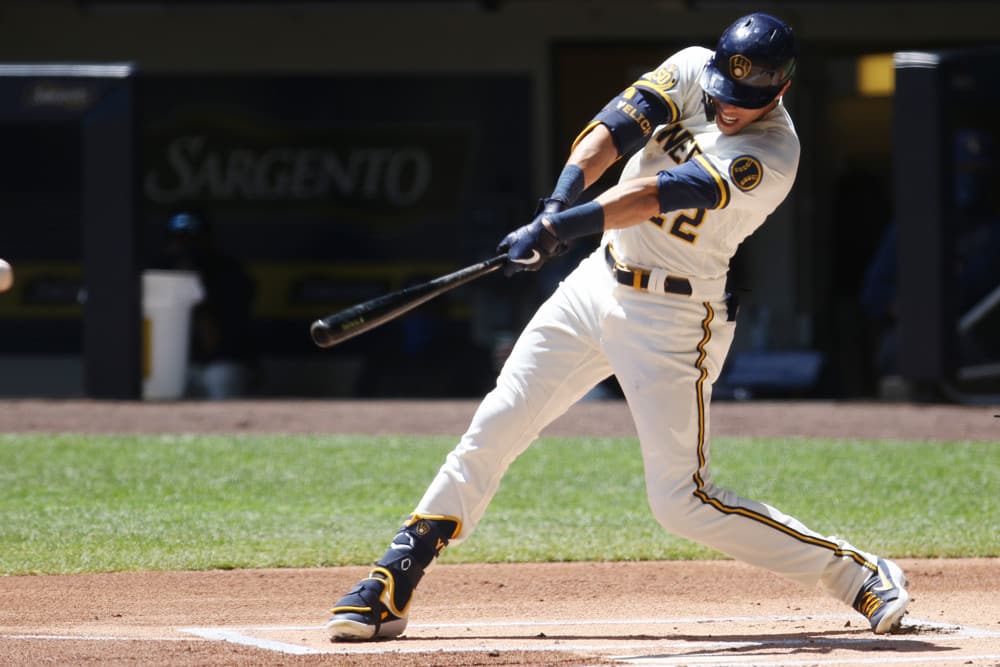 Christian Yelich, OF, Milwaukee Brewers +700 (DraftKings)
Although many sportsbooks have given Christian Yelich the third-best odds for this year's award. There is a more-than-reasonable case for the 2018 NL MVP winner as the sole frontrunner.
Since his trade from Miami to Milwaukee before the 2018 season, Yelich has been nothing short of unstoppable. Crushing the ball with a 170 wRC+ (which suggests that he's outperformed the average MLB hitter by 70%) and producing 15.4 WAR, both the best two-year marks in the National League. If it wasn't for an early-September fractured kneecap, Yelich might have currently been competing for his third straight MVP!
Overall, Yelich's is an instance of not overthinking things–a notion that is backed by his elite peripheral stats. His 98th-percentile exit velocity (hit speed), 96th-percentile hard-hit rate, and 97th-percentile barrel rate (which tracks especially hard-hit balls) all scream elite hitter. He may not be a great defender, but with such a legendary bat, his efforts in the field are more than enough. Even in a short season, +700 is great value for such a consistent star.
Cody Bellinger, OF, Los Angeles Dodgers, +800 (BetMGM)
While Cody Bellinger doesn't quite have as long a track record of MVP-caliber play as Yelich. He does have the most recent NL MVP!
With Yelich down for the count in September, the 23-year-old Arizona native took centerstage. Using his power, speed, contact skills, and glove to produce 7.8 WAR and earn his place in the history books.
Based on his outcomes at the plate, however, Bellinger may have actually been unlucky! According to Statcast–the ball- and player-tracking service of MLB–Bellinger deserved a higher AVG, OBP, and SLG based on how well and consistently he hit the ball. As a result, Bellinger could have an even better year without materially improving at all!
And while he still may not out-hit Yelich this year, he is both a more versatile (playing RF, CF, and 1B) and talented (in the 92nd percentile when it comes to recording outs in the field, according to Statcast) defender. 8-to-1 odds is an excellent play for a player with no shortage of talent.
Juan Soto, OF, Washington Nationals +1100 (BetMGM)
Next up, we have Juan Soto. Although he hasn't yet won an MVP award, his rapid improvement suggests that he's very close.
At the start of 2018, Soto was still a 19-year-old prospect playing Single-A baseball – three levels below MLB talent. Yet, by the end of the season, he was a top-5 hitter in the National League after recording a fantastic 145 wRC+ and 3.7 WAR in just 116 games.
While his wRC+ declined to 142 during his age-20 season, the regression wasn't indicative of his efforts on the field, as Soto improved upon his exit velocity, hard-hit rate, barrel rate, launch angle (vertical angle of hits), and walk rate while maintaining a below-average strikeout rate. In other words, his success on the field suggested he deserved a wRC+ closer to 150. Should he improve on that number at all as he approaches the physical prime of his career, he will undoubtedly be in the MVP conversation come October.
Like Yelich, Soto hasn't yet provided significant value in the field, but his +6 Outs Above Average suggests that this too could be in his future. At +1100, the odds give us the perfect situation to speculate on this possibility.
Bryce Harper, Philadelphia Phillies, +2000 (BetMGM)
Finally, what better way to wrap it up than with one of the most impressive MVP winners in recent memory?
Although it somehow isn't talked about much anymore, Bryce Harper's 2015 season was truly one of the best hitting displays of all time. In fact, aside from Barry Bonds' early 2000 demigod streak, Bryce Harper's 2015 wRC+ of 197 is the next-best since the turn of the century. In that season, he hit .330/.460/.649 while cranking 42 home runs and walking a spectacular 131 times. He didn't do particularly well in the field, but that didn't stop him from producing 9.3 WAR at just 22 years old.
Now, of course, years have passed without Harper coming close to recapturing his 2015 magic. However, he's now approaching his athletic peak with plenty still in the tank. While his 2019 wRC+ of 125 was merely "pretty good," his Statcast profile suggests that his true production should've been closer to 140, leaving a good chance for an elite year in 2020. Plus, after being known as a defensive liability, Harper improved to 0 Outs Above Average, which isn't great but is much better than the -8 he had in 2018.
Most importantly, it seems that his current price doesn't reflect these under-the-radar developments. With 20-1 odds against Harper doing something he's already done within the past five years, why not take a chance on him doing it again?