It will be the same exact pitching matchup as the most recent Sunday Night Baseball game on ESPN, when the New York Mets travel to take on the Atlanta Braves. For the second time in as many starts, Rick Porcello will square off against the Sean Newcomb.
In that last matchup, it wasn't even close – the Braves won 14-1. Both teams played a four-game series against other teams, each splitting against their respective opponents. This is a huge game for both sides, as it can either draw the Mets closer or give the Braves an opportunity to move forward.
While 67% of all public bets are on the Braves, an overwhelming 79% of all money wagered is on the Mets.
New York Mets at Atlanta Braves
Truist Park – Atlanta, GA
7:10 p.m. EST (Watch: MLB Network)
Starting Pitchers
NYM: Rick Porcello – R (0-1, 27.00 ERA/5.00 WHIP this season)
ATL: Sean Newcomb – L (0-0, 2.70 ERA/1.50 WHI) this season)
Odds & Betting lines (According to DraftKings Sportsbook)
Total: 10 runs | Over: -114 | Under: -107
NYM | Moneyline: +116 | Run Line (+1.5): -175
ATL | Moneyline: -132 | Run Line (-1.5): +145
Injury List
NYM: Jed Lowrie -IF (IL) Jake Marisnick -OF (IL), Eduardo Nunez -IF (IL), Brad Brach -RP (CV)Jared Hughes – RP (CV)
ATL: Yonder Alonso -1B (DTD), Nick Markakis -OF (DTD), Will Smith -RP (CV)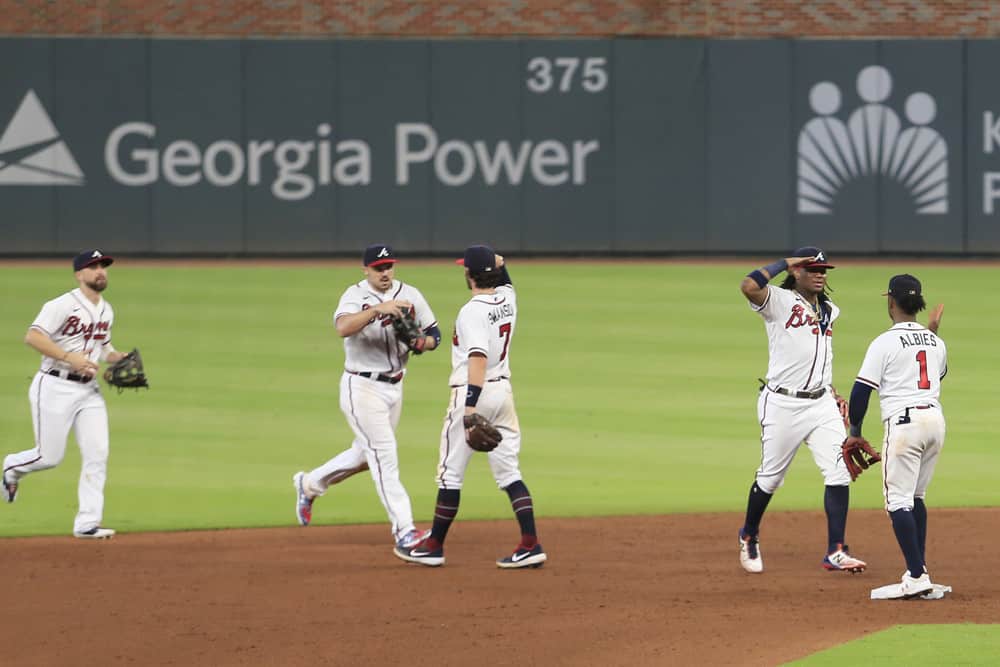 Interesting Stats
Porcello's Dreadful Debut w/ Mets
If fans were allowed in the stands, maybe Sunday night would have felt like more of a homecoming for Porcello. Instead, it was a two-inning disaster that saw him allow seven hits/three walks and seven runs (six earned). It wasn't always this bad for Porcello, who owns a 2-0 record and 0.79 ERA lifetime in Atlanta.
Newcomb Back to the Rotation
With Felix Hernandez opting out of the 2020 MLB season, Newcomb got a chance to get himself back into the starting rotation. Newcomb only went 3 1/3 innings with the game well out of hand, allowing one run on three hits/two walks. In 14 career appearances (eight starts) against the Mets, the lefty is 3-3 with a 3.25 ERA.
Swanson Doing Swimmingly Well
Dansby Swanson might has well have been an afterthought coming into this season, but he has really stepped it up early on. The shortstop is hitting .370 early on with a hit in all seven games. Swanson also leads the Braves with nine RBI.
Betting Picks
Mets Moneyline (+112)
I have seen this plenty of times before where a team gets beat and then comes back and wins, especially with the same pitching matchup. Please believe that Porcello will have a complete 180 of a game plan coming into tonight. The Mets have the eighth-best weighted on-base average (.337) against left-handed pitching, so hopefully that'll get them off to a great start against Newcomb. Not to mention, the Mets will be seeing a much similar style from Newcomb and should have already learned from it.