Welcome back to the diamond, folks! Today is the first day I'll be covering the MLB again during the week. I'll be on double-duty from now until the end of the NBA season. If you're looking for MLB action on national TV tonight, you can find the New York Yankees at Tampa Bay Rays on ESPN (7 p.m. EST) and the Kansas City Royals at Detroit Tigers on ESPN+ (7:10 p.m. EST).
Throughout the season, I will keep a running money count (along with the season-long record) in order to track the success and dips we'll see. Here are three free MLB picks – the odds have been provided by Vegas Odds.
---
Don't miss the chance to double your bankroll tonight! Our MLB betting sites guide lists the top free bet offers from the best sportsbooks around!
---
Table of contents
---
Chicago Cubs (+162) at Cleveland Indians (-177) – Total: 6.5
CHI: Adbert Alzolay – R (1-1, 3.97 ERA/0.88 WHIP)
CLE: Shane Bieber – R (3-2, 2.98 ERA/1.08 WHIP)
Alzolay has pitched well against stiff competition (@ATL, vs LAD) in each of his last two outings, and the Cubs have come away with wins in each of them. And that came after three straight starts against the Brewers to start the season, with all of those being losses! Nevertheless, Alzolay is a talented pitcher and we'll see that tonight. His 0.88 WHIP over 26 innings is something I'll put my money behind.
Bieber will look to get his first win at Progressive Field this season. In his first two home outings (vs KC, vs NYY), Bieber took a no-decision and a hard-fought 2-1 loss, so hasn't been the lack of effort. Perhaps the luck turns around tonight, considering he has fanned 21 batters over 13 1/3 innings at home. The lone knock against Bieber this season has been allowing six HRs, when he allowed just seven all of last year.
For my first MLB pick of the season in this space, I'm getting wild. Let's roll with the Cubs and have some confidence in Alzolay to match Bieber. After all, the latter of the two isn't as unhittable as we may give him credit for. Over his last 12 innings of work, Bieber has allowed 16 hits and six runs, and those 20 strikeouts put a ton of rouge on the situation.
Betting Pick: Cubs ML (+170)
---
St. Louis Cardinals (+120) at Milwaukee Brewers (-130) – Total: 7
STL: Kwang Hyun Kim – L (1-0, 3.06 ERA/1.30 WHIP)
MIL: Freddy Peralta – R (3-1, 3.38 ERA/1.09 WHIP)
Coming off a three-game sweep against the Rockies, I like the Cardinals to keep it rolling. One of the biggest reasons in confidence is the lefty Hyun Kim, who has held the opposition to one run or fewer in each of his last three starts. In fact, St. Louis has won all four of Hyun Kim's starts this season. He'll have a much easier time with Christian Yelich on the 10-day IL.
Peralta has a history with the Cardinals, and it isn't all that great. These two teams are in the same divisions, so their paths cross more because of it. Peralta has a 6.00 ERA in seven appearances (three starts) against St. Louis. In fact, each of those last three starts for Peralta against the Cardinals never saw him make it out of the fourth inning. Paul Goldschmidt is 4-for-5 with 2 HR against Peralta lifetime.
Betting Pick: Cardinals ML (+120)
---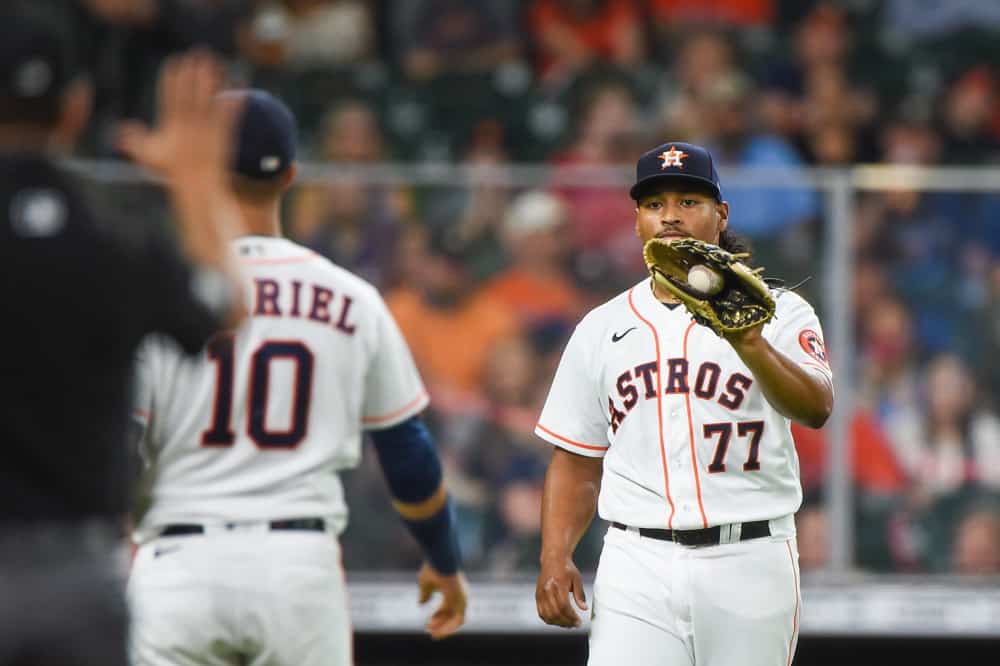 Los Angeles Angels (+135) at Houston Astros (-147) – Total: 8.5
LAA: Shohei Ohtani – R (1-0, 2.41 ERA/1.39 WHIP)
HOU: Lance McCullers Jr – R (2-1, 3.58 ERA/1.16 WHIP)
If you hurry, you can get this total at 8.5 before it jumps up to 9.0, where it will undoubtedly land. The implied team total (ITT) increase for the Astros got to +0.7, which is the highest on the slate and a damn good sign that we're going to see some runs. In addition, the Angels ITT increased +0.3.
Ohtani isn't allowing a ton of hits, but the baserunners are finding their way to their desired target. There are some very concerning numbers of Ohtani, who has allowed at least (AT LEAST!!!!!) five walks in three of his four starts this season. The Astros are an exceptional hitting team, even without buzzers and trash cans, so I would expect them to make Ohtani pay for all of these free passes.
McCullers has struggled quite a bit in his three home starts, with a 5.52 ERA, compared to 2.00 (and two wins) on the road. Guys like Mike Trout (2 HR, .857 OPS) and Justin Upton (.353 avg, .918 OPS) have success against McCullers, as do David Fletcher (4-for-8) and Jose Iglesias (5-for-8).
Betting Pick: Over 8.5 runs (-105)
---