In their fifth meeting of the year, the Red Sox and Rays face off tonight in Boston. In hopes of breaking free from their early-season rut, the Sox will send Zack Godley to the mound. That will be easier said than done, however, as the Rays counter with 2018 AL Cy Young Winner Blake Snell.
In this article, we'll take a look at the odds and best value plays we can find. All of these lines are according to DraftKings Sportsbook.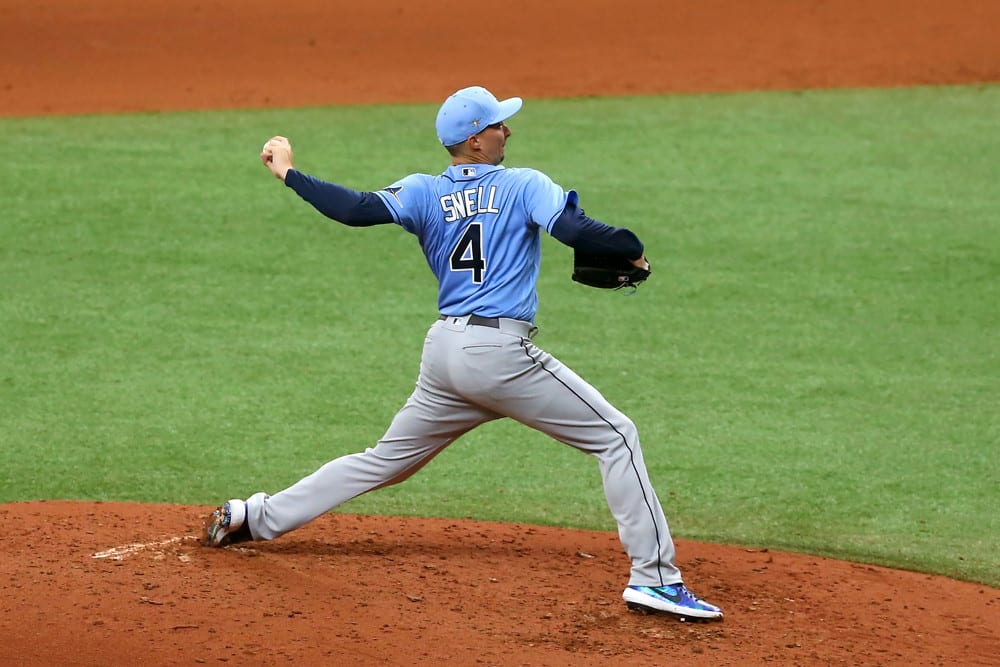 Tampa Bay Rays at Boston Red Sox
Fenway Park, Boston, MA – 7:30 PM EST
Game Info/Starting Pitchers:
TB: Blake Snell – L (Last Season: 4.29 ERA, 3.32 FIP, 2.7 WAR, 107 IP)
BOS: Zack Godley – R (5.97 ERA, 5.20 FIP, -0.1 WAR, 92 IP)
Odds & Betting lines (DraftKings)
Total: 9 | Over: -124 | Under: +102
TBR | Moneyline: -167 | Run Line (-1.5): -107
BOS | Moneyline: +143 | Run Line (+1.5): -110
Game Notes
New Year, Same Ace
Blake Snell's ERA fluctuated quite wildly between 2018 and 2019, going from 1.89 to 4.29. Despite that, however, his under-the-hood profile has largely looked the same. From 2018-2019, his SIERA moved only slightly, from 3.30 to 3.56, indicating an unaltered skillset. This year, it sits at 2.94 after 3 starts (small sample caveats apply). Aside from his bad luck in the HR/FB department, Snell once again looks poised for a great year.
Addition By Subtraction
In many cases, pitcher improvement is created through a velocity increase or the discovery of a new pitch. For Zack Godley, however, his comeback quest is largely centered around the removal of a former repertoire staple.
After throwing his sinker 35.5% of the time last year, the righty has effectively removed the pitch from his arsenal. This seems like a smart idea, too, as the sinker induced only 11 strikeouts to 9 home runs and a terrible .448 xwOBA last year.
Betting Picks
BOS +1.5 (-110)
Although Blake Snell serves as a major leg-up for the Rays tonight, he won't do it for long. Based on Snell's first three starts, it appears as if Tampa Bay wants to build him up slowly. After not exceeding 63 pitches in any of those games, don't expect the southpaw to last much longer than 4-5 innings.
While Tampa still maintains an advantage in the bullpen, it's not nearly as pronounced. The market is correct in pinning the Rays as minor away favorites, but that's as far as it should go. Boston is a good bet to cover in a very winnable game for them.