Before heading to Kansas City to complete their home-and-home matchup, the Cubs and Royals again face off in Chicago. Starting for the hometown Cubs will be red-hot ace, Kyle Hendricks. Meanwhile, Kansas City will counter with rookie starter Brady Singer.
Kansas City Royals at Chicago Cubs
Wrigley Field, Chicago, IL – 8:15 PM EST
Game Info/Starting Pitchers:
KCR: Brady Singer – R (Last Season: 3.47 ERA, 3.78 FIP, 90.2 IP — AA Northwest Arkansas)
CHC: Kyle Hendricks – R (Last Season: 3.46 ERA, 4.38 FIP, 4.1 WAR, 177 IP)
Odds & Betting lines (DraftKings)
Total: 7.5 | Over: -114 | Under: -103
KCR | Moneyline: +170 | Run Line (+1.5): -125
CHC | Moneyline: -205 | Run Line (-1.5): +106
Injury List
KCR: IF Kelvin Gutierrez, IF Hunter Dozier, SP Brad Keller, SP Mike Montgomery, RP Chance Adams, RP Foster Griffin
CHC: IF Daniel Descalso, SP Jose Quintana, RP James Norwood, RP Brad Wieck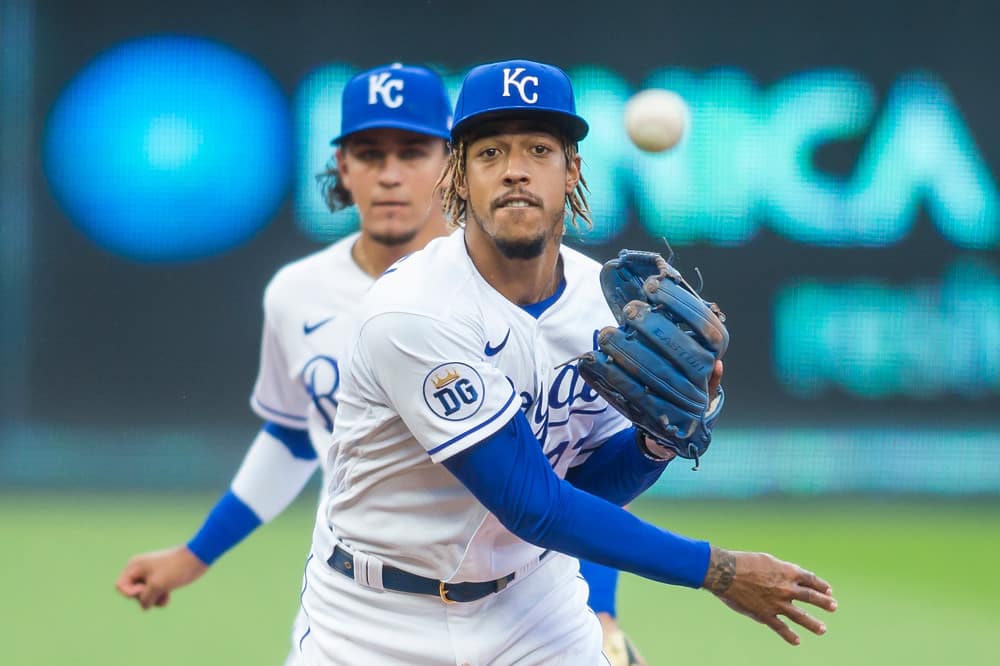 Interesting Stats
More Than Just Control?
Across his career, Kyle Hendricks has earned his success in the absence of electric stuff. With a slow 88 mph fastball, the Dartmouth product has never struck out more than 23% of batters per year. In 2020, however, Hendricks has opened the season not just containing hitters, but dominating them. His 23.5% strikeout rate isn't quite spectacular, but the rest of his underlying statistics are.
For instance, Hendricks' swinging strike rate of 14.7% suggests he should be striking out closer to 30% of batters. Better yet, his 51.4% ground ball rate is his best since 2017. Built on the backs of his high-spin curveball and confounding changeup, Hendricks looks primed for another wildly successful season.
Where's The Thump?
Last season, the Royals finished dead last in wRC+ and home runs in the American League. Although it's true that it's always darkest before dawn, the Royals are starting in a pretty dark place offensively. Their acquisition of the powerful Franchy Cordero will undoubtedly help in this regard, but they also have lost 3B Hunter Dozier production to COVID-19. There's plenty of young talent and potential on this Royals squad, but they won't quite realize the talent just yet.
Betting Picks
KC Over 3 (-116)
After gushing about the great Kyle Hendricks, it may seem odd that I'm recommending the Royals over. Fortunately, a universe exists where both Hendricks does well and the Royals score at least 3. With their poor offense in 2019, the Royals still exceeded 2 runs 68% of the time. Even if their talent remains below-average in 2020, simple regression to the mean should help them maintain or build upon this number. Hendricks is an above-average pitcher, but he (likely) won't pitch the whole game. Plus, Wrigley Field is more a hitter's than pitcher's park.
Over 7.5 Runs (-114)
If we like the Royals side of scoring runs and the Cubs are facing a mediocre pitcher, then it also makes sense to chase the total over. Based on their pitchers, offenses, and the league environment, this total should be much closer to 9.5. With an offense-favorable home park and no weather issues, our normal expectations should remain intact. And while Kris Bryant may remain sidelined tonight, the rest of the Cubs offense is still above average.