In this article, we'll provide you with our top MLB betting pick for Game 4 of the World Series between the Houston Astros and Washington Nationals. We study the betting lines, the teams, and the players to give you our recommended baseball betting picks to beat the New Jersey Sportsbooks.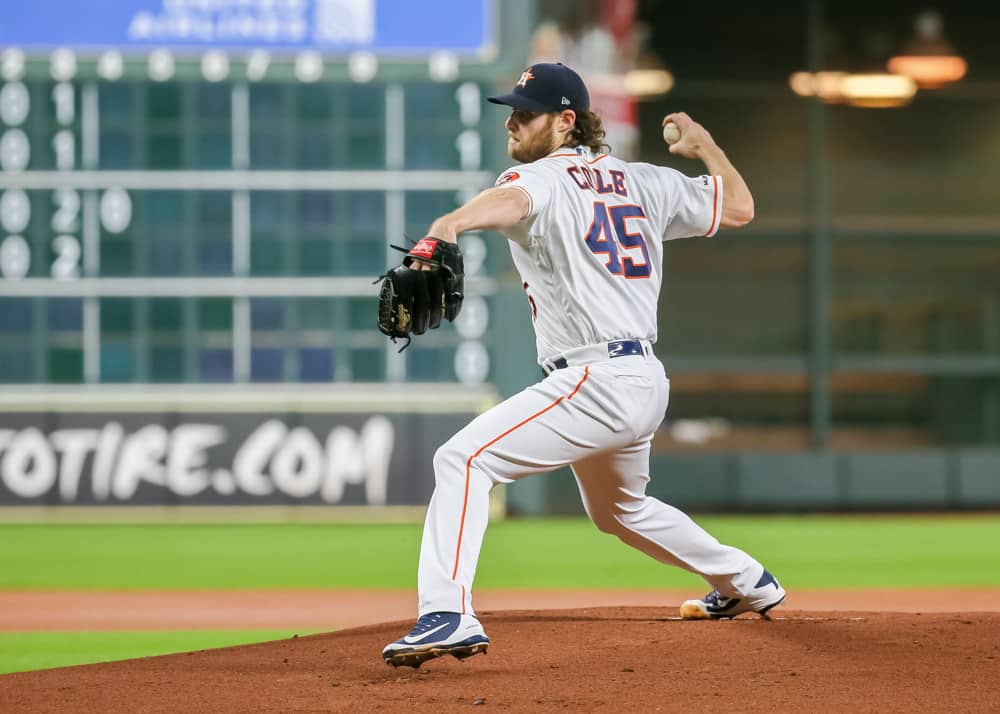 World Series Game 4: Houston Astros at Washington Nationals (ML: -115)
Saturday, October 26, 2019 – 8:07 p.m. EST

Betting Pick: Over 8.5
Starting Pitchers
HOU: Jose Urquidy – R (0-0, 2.08 ERA/1.85 WHIP)
WSH: Patrick Corbin – L (1-2, 6.91 ERA/1.53 WHIP)
The Houston Astros got a huge win on Friday to make this series 2-1 in favor of the Washington Nationals. It won't be Gerrit Cole going for the Astros on short rest. Instead, it'll be a bullpen game for the AL West champs in their most important games of the season. Our top betting pick in Game 4 is for the total to go over 8.5 runs. Let's look into some more numbers to see how we'll get there.
Game 4 Betting Lines Analysis: Astros at Nationals
The line on this game is quite interesting, considering we really don't know what we're getting from the Astros bullpen. In reality, you'd think the Nationals' moneyline would be a lot larger, but that's not the case. We feel like there's something to the close proximity of odds for both teams, and that'll get this total to go over 8.5 runs.
Astros Betting Form
Jose Urquidy will get the start for the Astros, and this is a real ballsy move for them to do in the World Series. The rookie right-hander has only made nine regular-season appearances (seven starts) with all of them coming this year. Urquidy has only made two appearances this postseason, allowing six hits, two walks and one run over 4 1/3 innings while striking out eight.
After Urquidy, that's where things start to get interesting. Houston's bullpen has been used in every step of the way in this World Series, so you have to wonder just how effective it'll be. We believe that fatigue will be a factor in this game, helping Washington get some additional runs on the board.
In Game 3, the Astros finally got the top of the order clicking at the same time for once in this series. George Springer (2-for-4), Jose Altuve (2-for-5, 2 runs) and Michael Brantley (2-for-4, 2 RBI) set the table for some key runs. Robinson Chirinos added a big homer in the sixth to give Houston a 4-1 lead for good.
The Astros were fantastic against left-handed pitching this season with MLB-best metrics in nearly every category. This is an excellent spot for the offense to finally get back on track in a big way, and we're pretty damn sure they'll do it. Springer continues to post huge numbers in his World Series career, and he is 4-for-6 with a double and homer against Corbin over his career.
Nationals Betting Form
Patrick Corbin will have his hands full against an Astros team that was quite unkind to lefties during the regular season. Not to mention, they finally have some momentum working in their direction. With Houston not knowing exactly what it'll get from its pitching, expect their offense to be a lot more focused than usual.
Speaking of not know what we'll get from pitching, Corbin has been that way himself this postseason. He's appeared in six games this October, getting shelled in three of them.
The Nationals' offense actually wasn't that bad last night; they just couldn't capitalize with runners in scoring position. Look for this offense to get back on track in that regard, knocking a few runs in at crucial moments. Perhaps, creating some of their own on the basepaths. Juan Soto struck out three times in four at-bats to celebrate his 21st birthday. Needless to say, he'll be looking to make amends.

World Series Game 4 Betting Pick: Over 8.5
We've got one starting pitcher going against a team that crushed left-handed pitching. And the other? Well, we're not too sure what we're going to get. Nonetheless, Urquidy won't have a long leash and the Astros' bullpen is tired. That's not a great recipe for success either. Lots of cleats will touch home plate in Game 4.