The two preseason favorites in the AL East square off for the first time this season, as the New York Yankees travel down South to face the Tampa Bay Rays. To say the Rays need a series win here would be the understatement of the year. The team has lost six of the last seven, and with the short season in effect, they can't be dropping any more games.
During the week, the Yanks split a four-game series with the Philadelphia Phillies, getting a dose of reality. Prior to that game, the Bronx Bombers were 7-1. Aaron Judge has been scorching hot, looking like the 2020 MVP with each day that passes.
Tonight's pitching matchup features a pair of talented starters that haven't put it all together early on. It'll be Masahiro Tanaka getting the ball for New York while Blake Snell will do the honors for Tampa Bay.
New York Yankees at Tampa Bay Rays
Tropicana Field – St. Petersburg, Florida
6:40 p.m. EST (Watch: MLB Extra Innings)
Starting Pitchers
NYY: Masahiro Tanaka – R (0-0, 3.38 ERA/1.88 WHIP this season)
TB: Blake Snell – L (0-0, 5.40 ERA/1.80 WHIP this season)
Odds & Betting lines (bet365)
Total: 8.5 runs | Over: +100 | Under: -120
NYY | Moneyline: -110 | Run Line +1.5: -200
TB | Moneyline: -110 | Run Line -1.5: +170
Injury List
NYY: Tommy Kahnle -RP (IL), Aroldis Chapman (CV)
TB: Manuel Margot -OF (BER), Randy Arozarena (CV)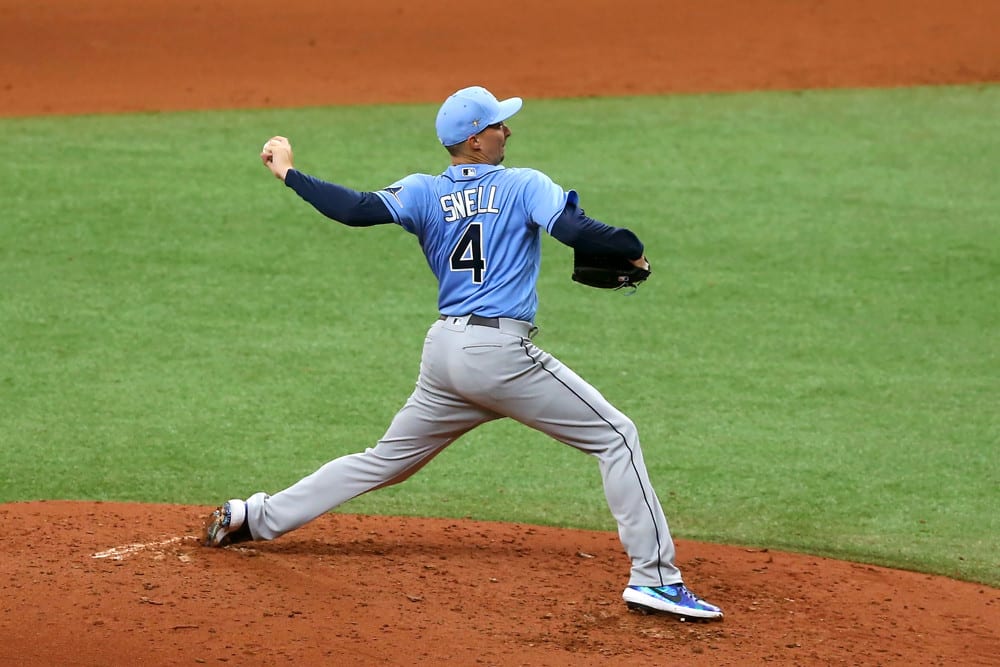 Interesting Stats
Where's the Money Going?
As of 1 p.m. EST today, here are the percentages:
– Moneyline: NYY 67% bets made | NYY 61% all money wagered
– Run Line: NYY 65% bets made | NYY 63% all money wagered
– Total: Over 66% bets made | Under 60% all money wagered
Rays Struggling on Offense
It has been a tough stretch for Tampa Bay, hitting .211 with a .303 on-base percentage as a team. A good portion of these struggles have been coming on the road, so things could very well change for the better in this matchup.
Home Splits Favor Snell vs. Yankees
In general, Snell hasn't fared well in his career against the Yankees. In 16 career starts, the lefty is 3-6 with a 4.41 ERA. However, things are a lot different at The Trop, as he owns a 2-1 record and 2.08 ERA in five starts. Over the course of his career, Snell has a 22-11 record and 2.47 ERA in 47 home starts and 16-17 record and 4.06 ERA in 52 road starts.
Betting Pick
Yankees Moneyline (-110)
I can't trust the Rays' offense just yet, especially with Tanaka on the mound. Over the course of his career, the right-hander is 10-4 with a 3.20 ERA in 18 career starts against Tampa Bay. Not to mention, he is 4-2 with a 1.79 ERA in his last eight starts against them.
Both pitchers will probably have a tight leash on them, so we'll see the bullpen early on. It's a tough debate, as both teams have solid bullpen units, but I'll give the advantage to the Yanks with the much better offense.