Parlay bets are a great way to switch up your sports betting and combine a few betting picks together to bump up your payout. In this article, we'll provide you with our top NBA parlay bets for Monday, January 27, 2020. We study the odds, the betting lines, and the teams, and to give you our recommended parlay bets.
The following two NBA parlay picks offer a low, medium, or high payout – In addition, we'll offer a bonus option for the early-afternoon games! Our low payout parlays try to minimize risk and odds start near +200 or higher in an effort to double our stake. Likewise, our medium and high payout parlays offer higher payouts with higher odds, but higher odds mean a smaller chance of winning.
In other words, are you after the big payout or more consistent wins?
Jump to: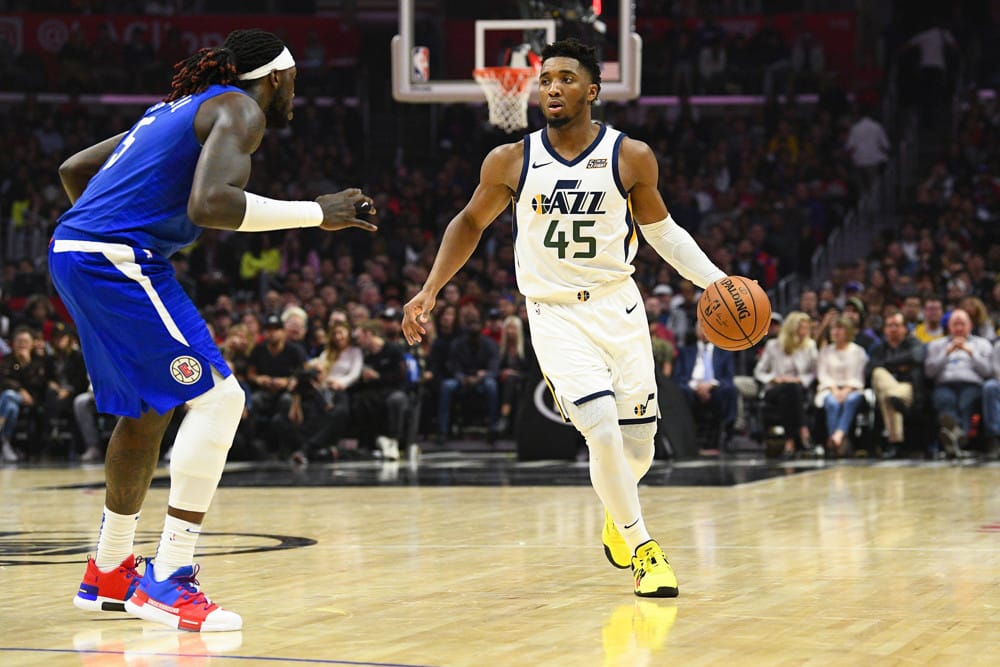 Low-Risk NBA Parlay Bet
Parlay Odds: +211
$20 risk: $62.14
This NBA parlay bet focuses on winning your stake back and then some. This parlay is for the bettor who prefers low risk/low yield parlay bets. Remember the saying "slow and steady wins the race?" Well, this parlay bet won't set the world alight, but it's your best chance of beating the NJ sportsbooks.
7:30 p.m. EST – Orlando Magic at Miami Heat ML (-240)
The Heat are the third-best ATS team in the NBA, covering 58.1 percent of their games this season. Miami is particularly good at home, going 20-2 SU/15-6-1 ATS. In fact, they're pretty great on extended rest (2-4 days off), going 10-1 SU/9-2 ATS.
While the Magic did beat the Heat in their last meeting, it should be noted that the Heat were on the back-end of a B2B where they are 2-4-2 ATS this season. Jimmy Butler (hip) is among a list of Heat players with minor injuries right now, but the majority of them should be able to suit up and play tonight.
Orlando will be playing on the back-end of a B2B and that has been a rough spot, going 1-6 SU/2-3-2 ATS in that situation. Not to mention, the Magic are trending in a bad direction, going 1-5 SU/ATS over the last six games. Look for Miami to take advantage of Orlando's recent misfortunes and turn this one into a convincing victory.
8:00 p.m. EST – San Antonio Spurs -2 (-110) at Chicago Bulls
The Spurs will be playing on the back-end of a B2B, after losing a tough one at home yesterday afternoon against the Raptors. Luckily, San Antonio is 3-1 SU/ATS in that situation this season. All in all, the Spurs are just the more talented team here, led by LaMarcus Aldridge and DeMar DeRozan.
On the other hand, the Bulls have shown their inconsistency by going 2-15 SU after a win this season. In addition, they're a brutal home underdog, 1-9 SU/3-7 ATS in that situation. We've even seen the total drop to points – the largest decrease on the slate – and that suits the Spurs much better as the slight favorite. The recent injury to Lauri Markkanen hurts the Bulls' size down low.
9:00 p.m. EST – Houston Rockets at Utah Jazz ML (-835)
Russell Westbrook (rest) will be out and James Harden
(thigh) is listed as doubtful – Harden missed yesterday's game in Denver
already. As if things weren't already difficult enough, the Rockets will be on
the back-end of the NBA's toughest B2B set, playing in Denver yesterday and now
Utah tonight. These are the two highest-altitude cities in the NBA, making it
very difficult on their bodies.
Meanwhile, the Jazz are 19-2 SU/16-4-1 ATS over the last 21 games and still haven't lost a home game since Dec. 9. In fact, no other team has a higher implied team total (117.9) than Utah on tonight's slate. No matter how the Rockets try and match up with the Jazz in this one, it's just not going to end well for the road team. Donovan Mitchell and Rudy Gobert should feast heavily tonight.

Medium-Risk NBA Parlay Bet
Parlay Odds: +586
$20 risk: $137.18 payout
This parlay bet focuses on winning your stake back and then some. This NBA parlay bet is for the bettor who prefers an evenly balanced payout/risk ratio. The bettor who wants a decent payout, but is not reckless with their parlay picks.
7:00 p.m. EST – Cleveland Cavaliers at Detroit Pistons – Over 218.5 (-110)
Pistons' games have gone over the total in 14 of the last 18 games while Cavaliers' games have done the same in 10 of the last 13. It's also a good sign that both teams rank in the bottom third of the NBA in defensive efficiency, with Cleveland ranking second-worst just a few decimal points below Washington. Detroit ranks seventh-worst.
Andre Drummond was able to return on Saturday after a brief absence. His presence in the lineup lets the Pistons do whatever they want on the offensive end.
8:00 p.m. EST – Dallas Mavericks at Oklahoma City Thunder +1 (-110)
The Mavericks have been somewhat human of late, losing two
of the last three games. The season-ending injury to Dwight Powell certainly
hurts this team, and it'll take some time for the newly-acquired Willie Cauley-Stein
to get acclimated to life in Dallas. Nonetheless, one of the NBA's best players,
Luka Doncic, should be able to alleviate the transition period.
Meanwhile, OKC is on a five-game winning streak and covered
every single game over that stretch. Chris Paul and Shai Gilgeous-Alexander are
playing some fantastic basketball at the moment, along with Danilo Gallinari
and Dennis Schroder. Steven Adams returned from injury in the team's last game,
which is great news moving forward.
All in all, this should be a very entertaining game but we're going to favor the home team in this one. OKC is, by far, the best ATS team in the NBA this season with a covering percentage of 68.1.
8:00 p.m. EST – Sacramento Kings at Minnesota Timberwolves -3.5 (-110)
That's it, enough is enough. Tonight is the night that the
Timberwolves finally end this massive nine-game losing streak. It's worth noting
that six of their last seven losses have come by single-digits. One of the big
reasons Minnesota is free-falling is the loss of Jeff Teague to a recent trade;
he was one of the more experienced players on this team. However, it's
certainly a big help to have Karl Anthony Towns back in the lineup.
Furthermore, the Kings have not been good on extended rest (2-4 days off) this season, going 2-9 SU/4-7 ATS. In fact, Sacramento just had a six-game losing streak of its own and ended it with a win in Chicago on Friday – tonight will be its first game since.