Parlay bets are a great
way to switch up your sports betting and combine a few betting picks together
to bump up your payout. In this article, we'll provide you with our top NBA
parlay bets for Thursday, Jan. 30, 2020. We study the odds, the betting lines,
and the teams, and to give you our recommended parlay bets.
The following two NBA parlay picks offer different payouts.
Our low payout parlays try to minimize risk and odds start near +200 or higher
in an effort to double our stake. Likewise, our medium and high payout parlays
offer higher payouts with higher odds, but higher odds mean a smaller chance of
winning.
In other words,
are you after the big payout or more consistent wins?
Jump to: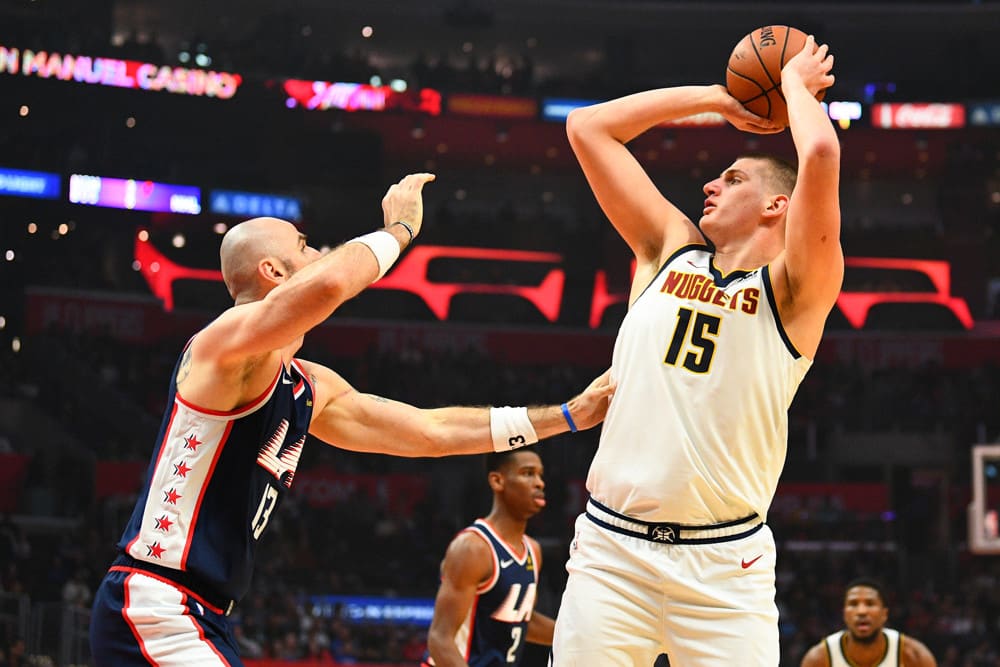 Low-Risk NBA Parlay Bet
Parlay Odds: +203
$20 risk: $60.51
This NBA parlay bet
focuses on winning your stake back and then some. This parlay is for the bettor
who prefers low risk/low yield parlay bets. Remember the saying "slow and
steady wins the race?" Well, this parlay bet won't set the world alight, but
it's your best chance of beating the NJ sportsbooks.
7:00 p.m. EST – Toronto Raptors (ML: -500) at Cleveland Cavaliers
The Raptors bring an eight-game winning streak into tonight's
game against the Cavaliers. This is a matchup that has been great for Toronto,
winning the first two meetings by 20 points in each game. The Raptors have a
strong 12-0 SU/8-4 ATS record when favored by -7 or more. However, in the only three
road games of that situation, they failed to cover the spread in each of them.
Another interesting trend to note is that the total has gone
over in 10 of those 12 games. When the Raptors are favored by -8.5 or more, the
total has gone over in all eight of those games.
While this is the Cavs' third game in four nights, we'll take the easy route and go with the Raptors winning the game outright as opposed to covering the spread. Marc Gasol will miss the game, but there's a solid core of Kyle Lowry, Pascal Siakam and Fred VanVleet that can certainly handle the load.
7:30 p.m. EST – Philadelphia 76ers (ML: -315) at Atlanta Hawks
The 76ers and Hawks only met once this season – it was a
Philly 105-103 victory. To be honest, both of these teams are incredibly difficult
to get a handle on. Just when you think they're rolling in one direction, there
they go heading in the opposite direction.
To make things easier on everyone, it's probably best to
roll with the favorite to win outright. Philly has won six of the last seven games
and we believe they can do the same once again tonight. Judged by the
lower-than-usual money line total between two teams like this, we could very
well be seeing a tight game.
Al Horford is questionable with a knee injury, so beware of
that news later today.
10:30 p.m. EST – Sacramento Kings at Los Angeles Clippers -11.5 (-110)
We love the Clippers in this matchup, especially with some
of their top guns coming back into the lineup. Paul George will finally make
his return after a nine-game absence with a hamstring injury while Patrick
Beverley is probable to return from his groin injury.
There's a nice scenario for LA as well. Because of the
postponement of Tuesday's game, the Clippers had a full three days off. On the
other side, the Kings will be playing their second game in as many nights. LA
has been excellent as a large favorite, going 13-2 SU/9-5-1 ATS when favored by
-9 or more. The two teams only played once this season, with the Clippers
winning by 18.
Medium-Risk NBA Parlay Bet
Parlay Odds: +571
$20 risk: $134.25 payout
This parlay bet focuses on winning your stake back and then
some. This NBA parlay bet is for the bettor who prefers an evenly balanced
payout/risk ratio. The bettor who wants a decent payout, but is not reckless
with their parlay picks.
7:00 p.m. EST – Charlotte Hornets at Washington Wizards – Under 227.5 (-110)
Although the Wizards are used to these high-scoring games,
there's a couple of reasons to believe tonight will not be one of them. There are
some very interesting trends that we need to look at when pertaining to tonight's
situation.
This will only be the eighth time the Wizards have been
favored this season. When favored, those games have gone under the total in six
of nine tries. In most cases, Vegas is probably expecting Washington to play
solid defense. On the Hornets side of things, the total has gone under in six
of their last seven games. In a quirky coincidence, the total has gone under in
all five games that Charlotte was a +4 underdog.
8:00 p.m. EST – Golden State Warriors at Boston Celtics – Over 222.5 (-110)
The Warriors have been playing decent ball of late, going
6-4 ATS over the last 10 games. On the flip side, the Celtics are 11-2 SU when
favored by -7.5 or more, but only 8-5 ATS in that scenario.
However, we'll be going in a different direction. When the Warriors are underdogs of +11 or more, the total has gone over in 11 of those 14 games. Not to mention, Golden State's last four games, and five of the last six, have done the same. We'll be taking the over in this one, with the game on national television that should get everyone a bit more riled up.
Jayson Tatum may not suit up but Kemba Walker, Gordon Hayward and Jaylen Brown have all been playing well of late.
10:30 p.m. EST – Utah Jazz at Denver Nuggets (ML: -120)
The Jazz are in the midst of a tough stretch, playing on the
back-end of a B2B, three games in four days and four over the last six. Whew,
that's tiring. Tonight, they'll be facing a Nuggets team that has managed to
play well despite a daunting number of injuries. Given that brutal schedule
that Utah is going through, we'll take Denver with a bit of confidence. The
Jazz have not been a good underdog this season, going 3-7 SU/5-5 ATS in those games.