Parlay bets are a great way to switch up your sports betting and combine a few betting picks together to bump up your payout. In this article, we'll provide you with our top NBA betting picks for Saturday, February 8, 2020. We study the odds, the betting lines, and the teams, and to give you our recommended parlay bets.
The following two NBA parlay picks offer a medium and high
payout. Our low payout parlays try to minimize risk and odds start near +200 or
higher in an effort to double our stake. Likewise, our medium- and high-payout
parlays offer higher payouts with higher odds, but higher odds mean a smaller
chance of winning.
In other words, are you after the big payout or more consistent
wins?
Jump to: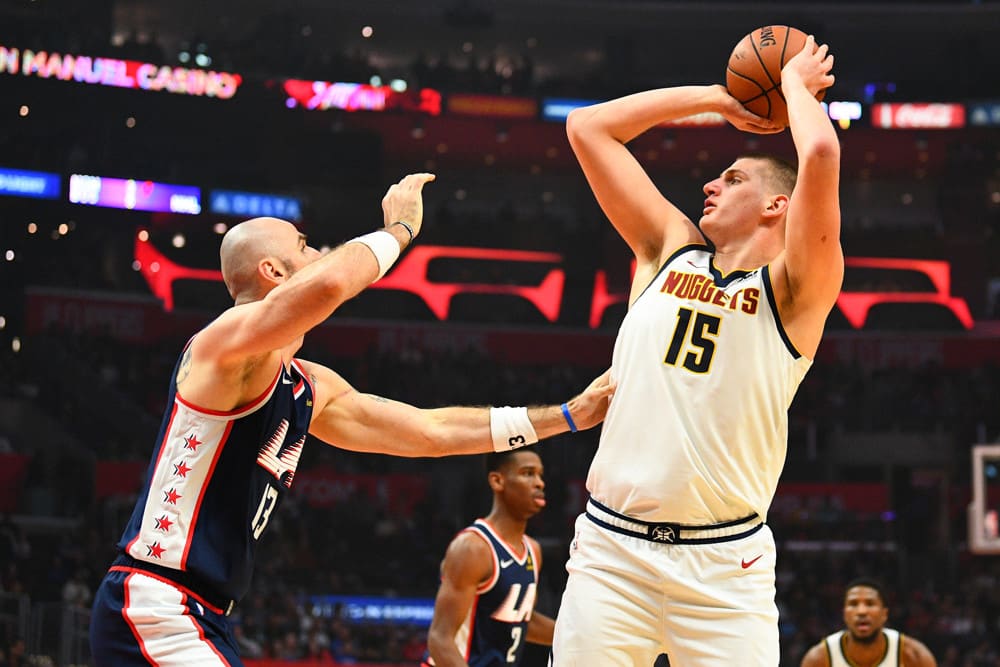 Medium-Risk NBA Parlay Bet
Parlay Odds: +385

$20 risk: $96.97 payout
This parlay bet focuses on winning your stake back and then
some. This NBA parlay bet is for the bettor who prefers an evenly balanced
payout/risk ratio. The bettor who wants a decent payout, but is not reckless
with their parlay picks.
7:00 p.m. EST – New York Knicks +1 (-110) at Detroit
Pistons
The Pistons are on a tough stretch of games, making tonight their fifth game in seven nights. They played a tough game in OKC last night, so that makes tonight's matchup even more difficult. Detroit is a putrid 1-8 SU/2-9 ATS on the back-end of B2Bs.
Meanwhile, the Knicks have won three straight games – we know,
we can't believe it ourselves. Their last win also came against a team (Orlando)
playing their second game in as many nights. The Knicks are slight underdogs,
but it's worth noting they're 3-0 SU/ATS as a road favorite this season – we could
very well see them as the favorite once the ball is tipped off.
8:00 p.m. EST – Los Angeles Clippers (ML: -315) at Minnesota Timberwolves
Both teams had two full days off coming into tonight's game.
The extended rest (2-4 days) has been a much better situation for the Clippers
this season, going 8-3 SU/ATS while the Timberwolves have been 4-6 SU/ATS.
Judging from those numbers, the spread does matter much – whoever wins is
likely going to do so convincingly.
Minnesota could welcome D'Angelo Russell to town for the
first time; he is a game-time decision because of a quad injury. This move will
put a smile back on the face of Karl-Anthony Towns, considering the two are
very close friends. However, that smile will turn into a brief frown, as the
Clippers will win this game. There's too much firepower in this matchup for the
T-Wolves to deal with.
8:30 p.m. EST – Los Angeles Lakers (ML: -1250) at Golden State
Warriors
Golden State comes into this game with two full days off –
in that situation, the Warriors are 1-6 SU/4-3 ATS. We don't think they'll keep
this game close, especially with the Lakers losing to the Rockets; LeBron James
and Anthony Davis will want to make a statement on national TV. Things could be
even more difficult if Draymond Green (questionable – back) misses tonight's
game.
9:00 p.m. EST – Denver Nuggets (ML: -121) at Phoenix Suns

The spread is quite intriguing, considering the advantage in
rest the Nuggets will have in this game. Denver had two full days off while
Phoenix is playing their second game in as many nights; not to mention, it'll
be their fifth game in seven days after a long East Coast road trip. Despite
all of their injuries, the Nuggets have proven to be a team that can win no
matter what. Expect that to be yet another one of those instances and roll to
victory. The Nuggets are 8-2 SU on extended rest (2-4 days) while the Suns are 3-5
SU on the back-end of B2Bs.
Big-Payout NBA Parlay Bet
Parlay Odds: +1238

$20 risk: $267.56 payout
This recommended NBA parlay bet focuses on maximizing your
winnings. This NBA parlay bet is for the bettor who is looking for the big
payout from the NJ sportsbooks.
The higher odds mean beats but we're shooting for the stars here! No one ever
bragged they won $10 and as such, so this is for the bettor looking for the big
parlay win.
7:00 p.m. EST – Dallas Mavericks at Charlotte Hornets (+3.5)
The Hornets had three full days off coming into tonight's
game. While they haven't been great coming off that scenario, the Mavericks
have played a lot of games lately – six over the last nine days. In fact,
Dallas is coming off a one-point loss in Washington last night, so you know those
legs might be a bit gassed.
Not to mention, the Mavs have been dealing with plenty of
injuries and that could play a vital factor tonight. We'll take the Hornets to
cover the spread, considering they did win outright in Dallas back on Jan. 4.
7:30 p.m. EST – Brooklyn Nets (+7.5) at Toronto Raptors
Kyle Lowry is doubtful for this game, giving the Nets a much
better chance to keep this one close. Not to mention, the Nets had a full two
days off before tonight's game while the Raptors played a very tough Pacers
team on the road last night. A 7.5-point spread without your star player is
pretty to cover, and Brooklyn has been much better defensively without Kyrie
Irving on the court. We'll take the underdog Nets to cover the spread.
7:30 p.m. EST – New Orleans Pelicans (ML: +115) at Indiana Pacers
Victor Oladipo of the Pacers will miss tonight's game while Brandon
Ingram is listed as questionable with an ankle injury. Obviously, the latter of
the two still has a chance to play and that would certainly benefit the Pelicans.
Not to mention, the Pacers are 3-4 SU/2-5 ATS on the back-end of B2Bs and will
be playing their fourth game in six days. New Orleans did blow out Indy back on
Dec. 28 by the score of 120-98 and now has the benefit of Zion Williamson in
the lineup. We like the Pelicans in this one on the money line.
10:00 p.m. EST – San Antonio Spurs (-2.5/ML: -136) at Sacramento Kings
Sacramento pulled off an impressive win against Miami last
night, although Jimmy Butler wasn't in the lineup. Nevertheless, the Kings have
been playing competitive ball after going through a stretch of motionless activity.
Even on the back-end of B2Bs, the Kings have gone 5-2 ATS in that situation.
Meanwhile, San Antonio has gotten off to a rough start on
their annual rodeo road trip, losing the first three games. Despite all of Sacramento's
greatness on the back-end of B2Bs, we believe the Spurs finally get it done for
the first time on this road trip.