Looking for the best NHL Betting Picks? In this article, we'll give you our top hockey betting picks for two games on Monday, Feb. 10, 2020. These matchups include the Florida Panthers at Philadelphia Flyers & New York Islanders at Washington Capitals.
Our NHL Betting Picks will
offer you the hockey bets that offer the best value to beat the New Jersey
sportsbooks.
Florida Panthers at Philadelphia Flyers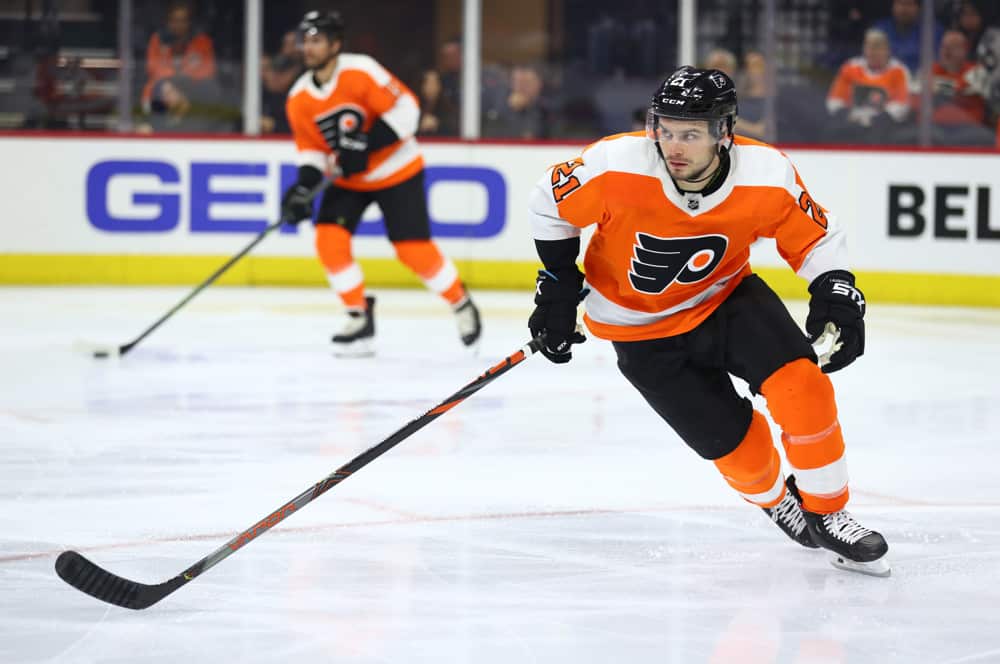 7:00 p.m. EST
Wells Fargo Center – Philadelphia, PA
Two Eastern Conference foes do battle as the Florida
Panthers travel to face the Philadelphia Flyers. While the Panthers got the
upper hand in the previous meeting, by the score of 5-2, we believe a different
outcome will happen this time around. Our betting pick is for the Flyers to get
the outright win. Let's dive into some numbers to back up this theory.
NHL Betting Line: Panthers at Flyers
This is a lower-than-usual money line for the Flyers but,
despite Thursday's 5-0 loss to the Devils, we like the way this team is playing
of late. When favored in games with a 6.5-goal total, Philly has a strong 5-1
record this season. Because of that trend, and the great success of the Flyers
at home, we'll be going with them in this game.
Panthers Betting Form
The Panthers have lost three straight games, and four of the
last five, being outscored 18-9 over that stretch – this coming after a
six-game winning streak. If Florida wants a chance of ending the recent losing
streak, Jonathan Huberdeau (19 G, 49 A) and Aleksander Barkov (16 G, 38 A) will
be the guys to get it done. The Panthers are scoring the fourth-most goals per
game (3.53), but also allowing the third-most goals per game (3.30).
Former Flyer Sergei Bobrovsky will likely get the start in net
for the Panthers. He has struggled of late, going 1-3-1 over the last five
starts and allowing at least three goals in four of those.
Flyers Betting Form
Philly has won three of the last four games, and seven of the last 10. The last loss for the Flyers came on Thursday night at home – a brutal 50 loss to the lowly Devils. Despite that blowout loss, Philly owns an impressive 18-5-4 record at home this season. Luckily for the Flyers, Claude Giroux got back on track with a goal and two assists on Saturday night. Prior to that game, Giroux hadn't notched a point in 13 consecutive games.
After Thursday's dreadful performance, Brian Elliott turned in a beauty of a game with a win on the road in Washington. Elliott has a 5-1-1 record over his last seven starts and will be a nice play in goal if Carter Hart is unable to return from an abdomen injury. Alex Lyon was sent back down to the minors, letting us know that Hart will be starting one of the next two games.
NHL Betting Pick: Flyers Money Line (-127)
The Flyers are a solid team at home, so we have no problem rolling with them in this spot. Not to mention, the Panthers are trending in the totally-wrong direction, making them ripe for the picking. Philly has some making up to do for the home fans (and us), considering the beatdown they took on Thursday night against the NHL's third-worst team. In terms of money line odds, the -127 is one of the better-valued hockey betting picks.
New York Islanders at Washington Capitals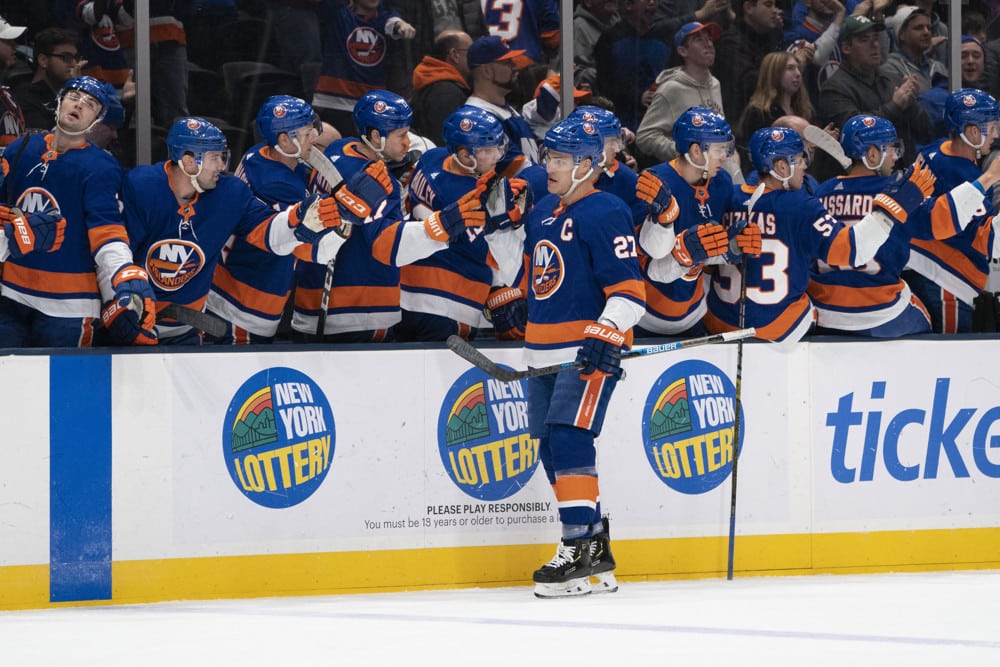 7:00 p.m. EST
Verizon Center – Washington, DC
Two of the best teams in the Eastern Conference get down to
business as the New York Islanders travel to the nation's capital to face the
Washington Capitals. This will be the fourth, and final meeting, between the
teams with the Capitals holding a 2-1 advantage. Our betting pick is for the total
to go over six goals. Let's dive into some recent trends to uncover a gem in
this one.
NHL Betting Line: Islanders at Capitals
The Capitals have been a solid favorite of -185 or more this
season, going 11-3 in those games, but the total has also gone 10-3-1 in this situation.
In fact, the total has gone 6-0-2 in the last eight Caps' games while the total
has gone 6-3-1 in the last 10 Islanders' games. Most recently, three of the
last four Islanders' games have gone over the total.
Islanders Betting Form
Believe it or not, the Islanders have been putting the puck
in a lot more lately – aside from Saturday's 3-1 loss to the Lightning, who are
crushing it defensively. Tonight, the Islanders will be facing a Capitals team
that just allowed seven goals to the Flyers on Saturday. While we believe more
of the scoring will come from Washington's side of things, this is a good
opportunity for New York to show off their recent offensive prowess.
Thomas Greiss will likely get the start in net after Semyon Varlamov
played on Saturday in Tampa. Greiss has allowed seven goals over his last two
starts, and the Caps rank third in the NHL with 3.59 goals per game. This is probably
another game that he'll allow at least three goals.
Capitals Betting Form
As we mentioned, this is a very potent Capitals offense. Led
by Alexander Ovechkin (40 G, 17 A), the Caps have a great plethora in offensive
talent that includes Evgeny Kuznetsov (19 G, 27 A), Jakub Vrana (23 G, 23 A),
Nicklas Backstrom (10 G, 32 A) and TJ Oshie (20 G, 20 A). Not to mention, it's
actually defenseman John Carlson (14 G, 51 A) leading the team in points.
Braden Holtby was relieved by Ilya Samsonov in Saturday's 7-2
loss to the Flyers. It'd be a surprise to see Holtby in net, considering he
allowed all seven of those goals on 25 shots. Samsonov had seven straight wins
before his last start – a Feb. 2 loss to the Penguins – but has allowed seven goals
over his last two starts
NHL Betting Pick: Over 6 Goals (-109)
We have laid out quite the scene for tonight, expecting
plenty of goals to be scored. You know the Capitals will want to cover this
total all by themselves after embarrassing themselves at home in front of the
weekend crowd in their last game. Look for the Islanders to chip in a little
bit as well.