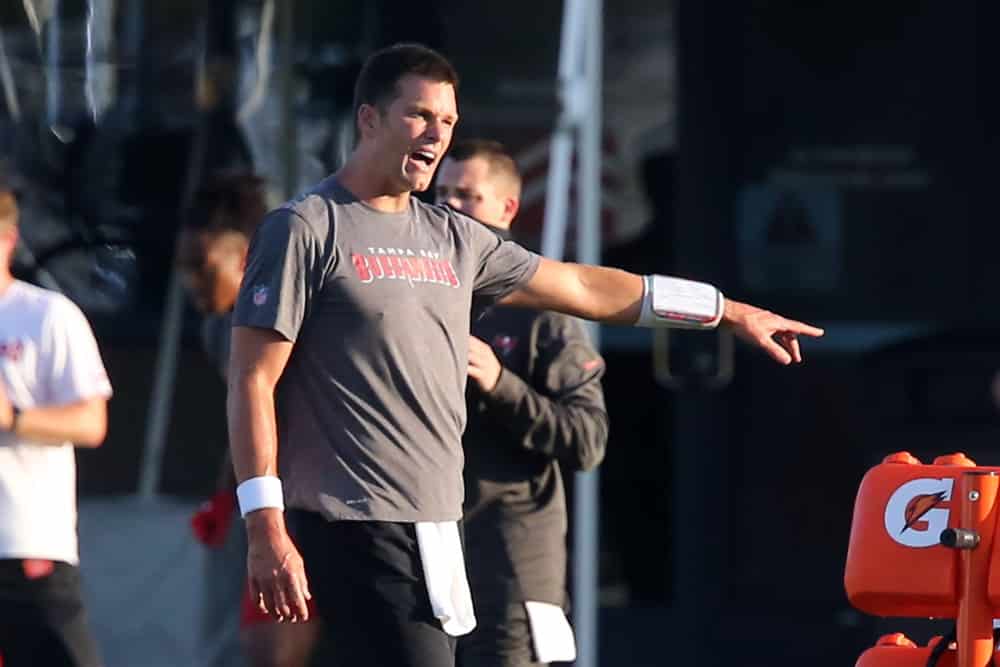 Although individual player awards races are always exciting in the NFL, the true highlight of most seasons is The Big Game—the Super Bowl. This final game of the season is where players become heroes, teams become dynasties, and legacies are cemented, as one squad becomes the last standing in a league of thirty-two. To ultimately win this game, however, teams have to make it first, and the final step to Super Bowl 56 in Miami this year is winning a conference championship game.
Following our dive into the AFC Championship odds, let's now take a look at 2021 NFC Championship odds.
Odds To Win NFC Championship 2021
---
| AFC Team | Odds at BetRivers |
| --- | --- |
| Tampa Bay Buccaneers | +300 |
| Green Bay Packers | +600 |
| San Francisco 49ers | +650 |
| Los Angeles Rams | +650 |
| Seattle Seahawks | +1100 |
| Dallas Cowboys | +1300 |
| New Orleans Saints | +1400 |
| Minnesota Vikings | +1800 |
| Washington Football Team | +2200 |
| Chicago Bears | +2200 |
| Arizona Cardinals | +2200 |
| Carolina Panthers | +2500 |
| Atlanta Falcons | +2500 |
| New York Giants | +2800 |
| Philadephia Eagles | +2800 |
| Detroit Lions | +7000 |
2021 NFC Championship Odds Analysis
---
Outright (Heavy) Favorite: Tampa Bay Buccaneers, +300 (25% implied odds)
With every passing season, it seems that we are reminded that it's Tom Brady's world, and we're just living in it. No matter his age, the team, or the narratives surrounding him, Brady somehow finds a way to cement his Greatest of All Time legacy even further.
This year's narrative? With the team returning all 22 starters from 2020, it seems to be Run it Back. And running it back does seem to be a smart idea, as Pro Football Focus contends that the Buccaneers had a top-6 offense and defense last year.
And Brady, of course, knows a thing or two about elevating his teams even further above their talent levels once the playoffs arrive. With the endless drama and extreme change going on throughout the NFC, the Bucs deserve their spot at the top of the NFC betting landscape.
Best Value Pick: Green Bay Packers, +600 (14% implied odds)
---
Speaking of drama, here we have the Green Bay Packers, or should I say, the Packers plus the disgruntled Aaron Rodgers.
This doesn't look or feel like a "value pick" in a traditional sense. Green Bay currently has the second-highest NFC championship odds, finished 2nd in the NFC last season, and made the NFC championship game while fielding an MVP-winning quarterback. But I believe it to offer the best available ROI. In fact, all the above suggests that Green Bay's odds should be much closer to Tampa Bay's.
Last season, the only NFC team with a higher point differential than the Packers was the New Orleans Saints – a team that just lost its franchise icon, QB Drew Brees, to retirement. Yes, the Packers even outdid the Buccaneers, thanks in large part to PFF's top 2020 offense and a top-ten defense.
Better yet, like the Bucs, the team suffered minimal losses in the offseason. And while the Bucs did defeat them in notable fashion in the NFC title game after a Matt LaFleur coaching blunder, the more important detail here is that the game ended as a 1-possession contest. Why? It shows that even on the road, this Packers team can keep pace with Tom Brady and his electric "Tompa Bay" squad.
Don't let the Aaron Rodgers holdout drama disillusion you. Rodgers has returned, gotten back his favorite slot receiver in Randall Cobb, and is ready to light up the gridiron on his "Last Dance" in Green Bay. As a result, the Packers at only 14% odds of winning the NFC are too light to pass up on.
Overpriced Play: Minnesota Vikings, +1800 (5% implied odds)
Although such long odds may seem juuuuuust low enough to consider, you should steer clear of the Vikings this year. While GM Rick Spielman has surrounded the underrated Kirk Cousins with several studs in Justin Jefferson, Adam Thielen, and Dalvin Cook, the team still has several glaring weaknesses.
On the offensive side, the team has no depth behind Jefferson and Thielen. And while Minnesota did invest a late first-round pick on OT Christian Darrisaw, their pass blocking was bottom-five last year (per PFF) and is likely to remain a severe weakness. Meanwhile, the defense completely collapsed in 2020, falling from a top-eight unit to sixth-worst according to PFF.
Overall, the team finished with a -45 point differential, worse than even the 4-win Falcons. Without enough cap space to make significant additions, the Vikings remain an unfavorable bet to return value at +1800.
If you're looking for a profitable longshot, give the Arizona Cardinals a try. Unlike the disappointing Vikings, Kliff Kingsbury's squad finished with a positive point differential, good for top six in the NFC. Better yet, there are plenty of reasons for optimism, including a revamped defense and a potential third-year leap for QB Kyler Murray. Overall, there's a fairly decent chance that 2021 is the year the Cardinals crash the party as the NFC's newest heavyweight.