After a thrilling slate of NFL Wild Card weekend games, the Divisional Playoffs have arrived for our viewing pleasure. In this article, we'll provide you with our top NFL Computer Picks for the Divisional Round. The NFL Playoff picks include matchups of the Minnesota Vikings at San Francisco 49ers, Tennessee Titans at Baltimore Ravens, Houston Texans at Kansas City Chiefs and Seattle Seahawks at Green Bay Packers. Now, let's jump right in and view our top Computer Picks for the Divisional Round Playoffs.
Get a Sign-Up Bonus up to $1,000* For The Playoffs
Make the most of our NFL Playoff betting picks with this January offer from DraftKings Sportsbook. New customers can get a sign up bonus up to $1000 when they create a new account and deposit. Offer ends 2/2/20.

Did you know…
NFL Divisional Round Computer Picks
Our NFL Divisional Round Computer Picks are chosen using an algorithm that analyses historical sports data to give you the bets that offer the best value bets to beat the New Jersey sportsbooks.
Jump to:
Minnesota Vikings at San Francisco 49ers (-7 | ML: -295) – Total: 44
Saturday, Jan. 11, 2020 – 4:35 p.m. EST
Levi's Stadium – Santa Clara, CA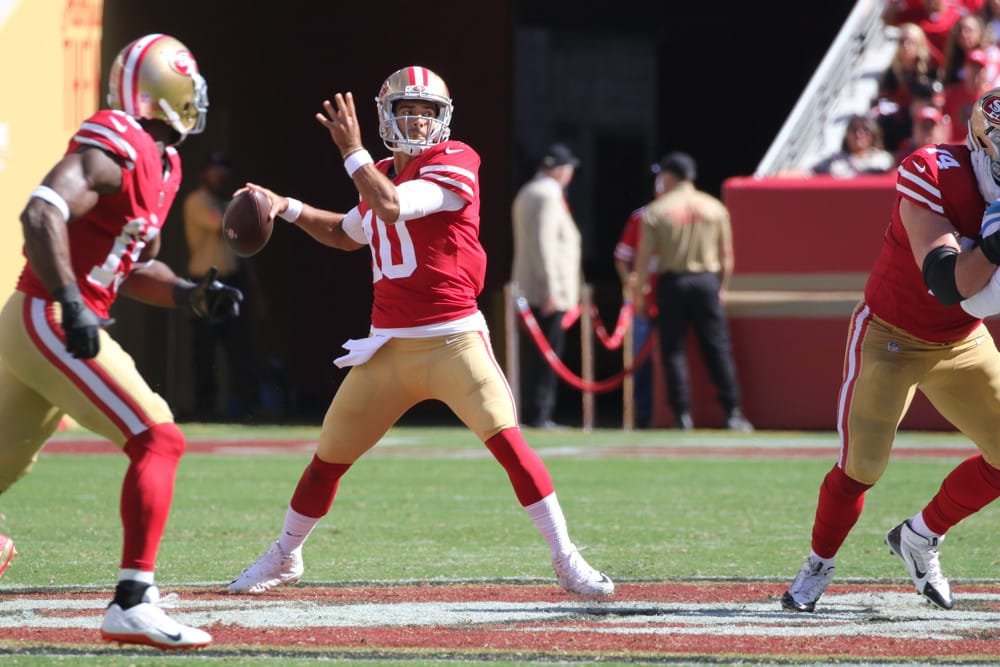 NFL NFC Divisional Round Computer Pick: 49ers cover the spread
After a week off, the San Francisco is ready to defend its No. 1 seed in the NFC against the Minnesota Vikings. While the Vikings are coming off that major upset victory, we think their shelf life has expired. Our betting pick is for the 49ers to cover the -7 spread. Let's look at some numbers to see why we're heading in this direction.
NFL NFC Divisional Round Betting Line: Vikings at 49ers
The initial spread didn't move too much, going from 49ers -6.5 to -7, while the total dipped slightly from 45 to 44. Neither side of the spread or total is getting hammered by the public, with 56 percent of bets in favor of the 49ers and 57 percent of bets on the over. Perhaps, the -7 will certainly make people think twice, considering the Vikings won outright last week as a +8 underdog. Nonetheless, we're very confident in the 49ers being fully prepared and rested for this one.
Vikings Betting Form
We have talked about this numerous times, but QB Kirk Cousins
just isn't the same player when the games aren't played at 1:00 p.m. EST. A lot
of that has to do with his regimented routine and that causes him to be out of his
element. Now, he'll be facing one of the best defenses in football with one
less day to prepare. Look for the San Francisco defense to make life incredibly
difficult on him in this one.
WR Adam Thielen left Wednesday's practice with an ankle injury. This is a huge injury that could really affect the way the Vikings try to move the ball. Fellow WR Stefon Diggs was virtually invisible in last week's win, and has been dealing with an illness; not great news for either player. TE Kyle Rudolph will need to play a bigger role than ever if both players stay on the injury report.
While the 49ers lead the NFL in rushing touchdowns this season, the Vikings allowed the fewest. Of course, San Fran will be looking to run the football and take as much pressure off its quarterback as possible. Minnesota's defense has played well down the stretch but will be at a disadvantage in terms of preparation.
49ers Betting Form
This is the first time QB Jimmy Garoppolo will be starting a
playoff game, so it'll be interesting to see how he handles that challenge.
Luckily for him, the 49ers had the NFL's second-best rushing attack during the
regular season and that alleviate some of the pressure. In addition, head coach
Kyle Shanahan is one of the best football minds in the business. When you give
him extra time to prepare things usually don't go well for the opposition. No other
team had more points per game (32.4) at home this season than San Francisco.
The 49ers had quite a few injuries on the defensive line this
season. However, LB Kwon Alexander has been cleared to return and that's a huge
upgrade to an already stout 49ers' defense. His return means the team will have
a great weapon to thwart the offensive prowess of Vikings RB Dalvin Cook. Levi's
Stadium has been good to the 49ers, as they allowed the fewest total yards (266.8)
and passing yards per game (157.9) at home during the regular season.
NFL NFC Divisional Round Computer Pick: 49ers cover the spread
With an additional week to prepare and rest their bodies, we're
going to place our faith in the NFC's No. 1 seed. The 49ers' rushing attack is
just too dominant and you have to love the way their plays are drawn up by
Shanahan. With all motions and formation variations, it's almost like their
running plays have the complexity of passing routes. We believe they score
early and often against a tired Vikings team.
Tennessee Titans at Baltimore Ravens (-10 | ML: -420) – Total: 46.5
Saturday, Jan. 11, 2020 – 8:15 p.m. EST
M&T Bank Stadium – Baltimore, MD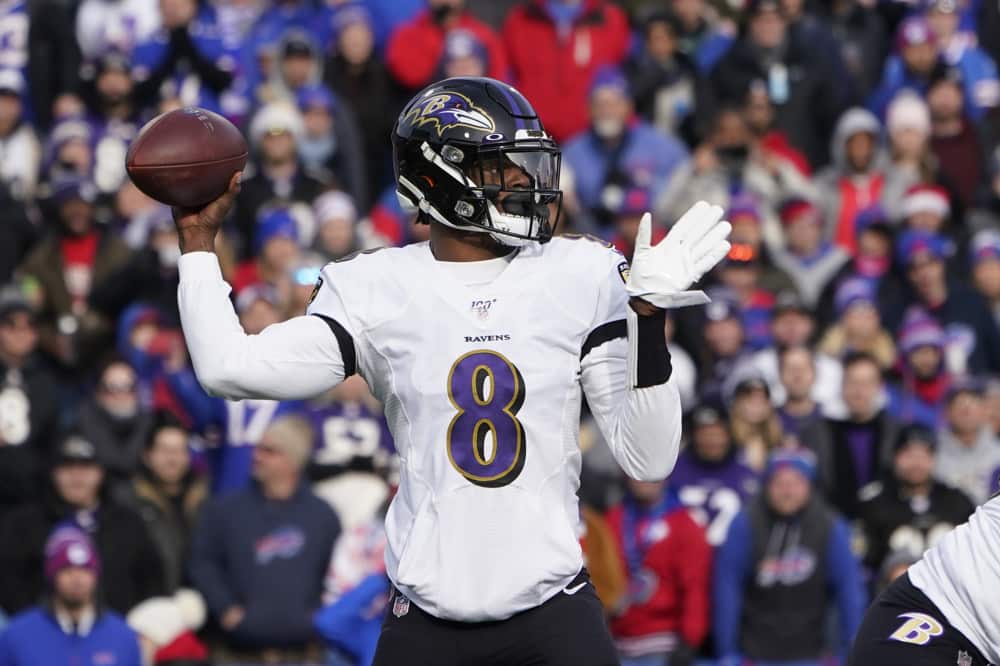 NFL AFC Divisional Round Computer Pick: Ravens cover the spread
The other No. 1 seed will take the field on Saturday night,
as the Baltimore Ravens host the Tennessee Titans. It should be a fascinating
matchup but we're rolling with the better team. Our betting pick is for the
Ravens to cover the 9.5-point spread. Let's look at some reasons as to why we're
going with the heavy favorite.
NFL AFC Divisional Round Betting Line: Titans at Ravens
While there hasn't been much change on the spread, it's worth noting the total dipped 1.5 points. An interesting stat is that 11 straight games where the 1-seed faces a 6-seed have gone under the total. Temperatures are expected to be in the mid-60s, so that shouldn't play too much of a factor. Rather, both teams love to run the football and that should kill some time off the clock.
Titans Betting Form
The Titans pulled the mega-upset last week up in Foxborough,
but this challenge will be much more difficult. Not to mention, this team
basically gave it everything they had in order to get that win. Against a well-rested
Ravens team, it'll certainly be tough to keep pace with the most dynamic
offense in the NFL. Also, the Ravens' secondary is pretty damn good, with 12
interceptions and only 15 passing touchdowns allowed during the regular season.
In addition, they allowed the second-lowest catch rate at 58 percent.
QB Ryan Tannehill only threw for 72 yards in last week's win
and that certainly won't be enough to get it done against the Ravens. In order
to beat them, you need to score points. Playing their usual keep-away style by
running the ball with RB Derrick Henry just simply won't be enough. Henry just pounded
the Patriots' NFL-leading run defense for 182 yards last week. While that is
promising, he'll need to break off quite a few runs of 20+ and you have to
wonder if he still has the stamina this late in the season.
Ravens Betting Form
To say the Ravens are well-rested would be the understatement of the year. They got the first-round bye for having the No. 1 seed in the AFC and even got to rest most of their star players in Week 17. Some might say that's too long of a layoff, but this is a team that runs the football a ton and that certainly takes a toll on their bodies. This is especially true for MVP front-runner QB Lamar Jackson. After running for an NFL-record 1,208 yards at that position, Jackson is ready to get back out there and validate that incoming array of awards.
RB Mark Ingram suffered a calf injury in Week 16 and missed both Tuesday and Wednesday's practice. If he does play, the Ravens will need to get him going early and see if he can handle the workload with this ailing pain. Speaking of getting players going, WR Marquise Brown is certainly in that category. Brown hasn't eclipsed 50 receiving yards Nov. 10 and has only seen more than five targets once in that span. TE Mark Andrews, who led the team in every receiving category, will undoubtedly be featured in the offense.
NFL AFC Divisional Round Computer Pick: Ravens cover the spread
At the end of the day, Baltimore has too many weapons and
preparation time for this matchup. After winning a game in thrilling fashion,
we don't expect Tennessee to have the same level of giddy-up against a much
better team. That pound-the-rock type of mentality won't work against the Ravens
when they're putting up a ton of points. It wouldn't surprise us to see the
Ravens get off to a mediocre start, but they can definitely hammer this game away
in the second half. It's also worth noting that the Ravens are 9-2 ATS after
two consecutive wins this season.
Houston Texans at Kansas City Chiefs (-9.5 | ML: -435) – Total: 51
Sunday, Jan. 11, 2020 – 3:05 p.m. EST
Arrowhead Stadium – Kansas City, MO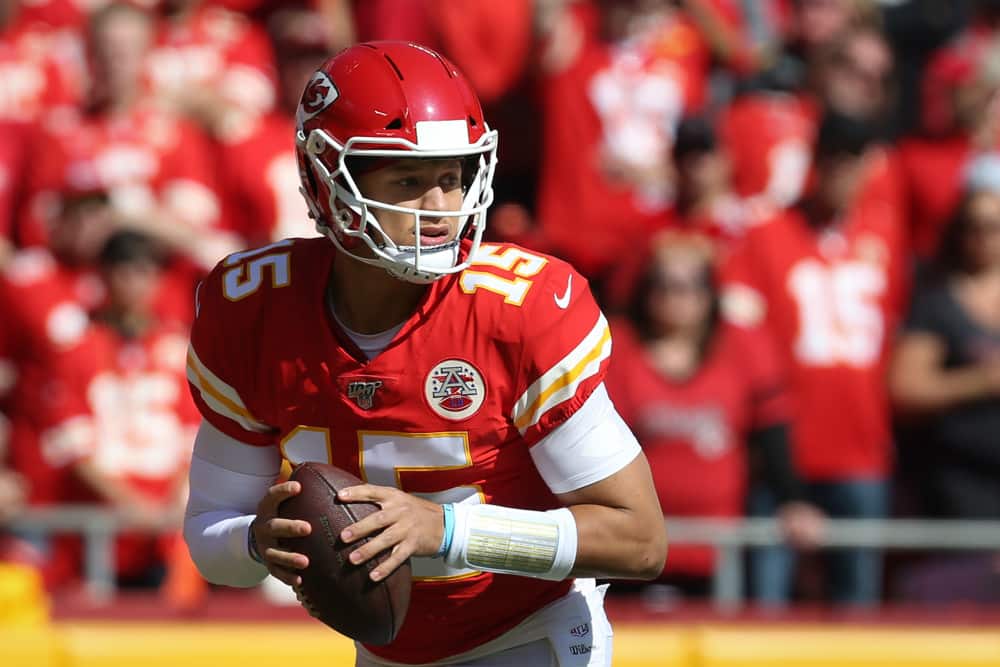 NFL AFC Divisional Round Computer Pick: Total goes under 51 points
Our only rematch from the regular season comes in the form
of the Houston Texans at Kansas City Chiefs. It was the Texans getting the 31-24
victory back in Week 6, but we believe it'll be more low-scoring this time
around. Our betting pick is for the total to go under 51 points. Let's dive
into the numbers to see why we'll see a good defensive showing.
NFL AFC Divisional Round Betting Line: Texans at Chiefs
We had two big jumps on the numbers in the game – the Chiefs
going from -8 to -10 and the total going from 49 to 51. Most people will look
at the star power at the quarterback position and simply think we'll see
nothing but touchdowns. It's worth noting that each team's defense has been
doing a good job of bending but not breaking of late. This will certainly come
into play at times in this game.
Texans Betting Form
QB Deshaun Watson was fantastic from the second half on in
last week's home win against the Bills. Most notably, the play that stands out
is the near-decapitation blitz coming from the blind-side, only to sneak out of
it and make an incredible check-down pass that led to a first down and then
eventual game-winning field goal.
Aside from Watson and WR DeAndre Hopkins, this is an offense
that just seems to disappear at times. Watson actually led the Texans in rushing
yards (55) last week and no other wide receiver besides Hopkins posted over 50
receiving yards. In order for Houston to have a chance in this game, multiple players
need to get involved on offense. Their best bet, though, is to run the football
and have clock-eating drives against KC. Only two of KC's opponents failed to
reach 80 rushing yards against them all season.
The Texans' defense got a major boost last week with DE JJ
Watt back in the lineup. They were able to hold the Bills to no touchdowns
after the trick-play on the first drive. In order to limit KC's big-play
ability, we should see Houston play more coverages to take that way. Look for the
Chiefs to throw shorter passes and run the football, which will let the clock
tick away.
Chiefs Betting Form
The Chiefs would certainly love a repeat of the 2016 Wild Card Game when they defeated the Texans 30-0. Hell, we'd love that too as bettors on the total going under! Nonetheless, much has changed since that period of time but it's not unreasonable to believe KC can win this game going away. After all, the Chiefs have won six straight games, with four of them coming by double-digits.
Last year's MVP, QB Patrick Mahomes, still has some
unfinished business to take care of. A lot of people thought they should have
won the Super Bowl last season, but this is yet another chapter that he can
write in his story. KC has been getting it done in a variety of methods, and
not necessarily relying on the arm of Mahomes. If they need to run the ball,
they can do it – if they need to big plays, WR Tyreek Hill and TE Travis Kelce
can get the job done.
KC's defense has been a huge reason for the turnaround, allowing
an average of 11.5 points per game over the six-game winning streak. In
addition, the Chiefs' defense is allowing the third-fewest points per red zone
trip (4.28). KC's defense even had a string of three games over the last four
where it held opponents to fewer than 300 total yards.
NFL AFC Divisional Round Computer Pick: Total goes under 51 points
Chiefs' games had five straight totals go under before the
regular-season finale, which barely went over the total. We believe that KC's
defense will keep the scoring to a minimum and make things incredibly difficult
on Houston's offense. Watson & Co. may have had success earlier this season,
but Chiefs head coach Andy Reid is excellent when given time to prepare. In fact,
his teams are 18-3 after a bye week during the regular season.
Seattle Seahawks at Green Bay Packers (-4 | ML: -195) – Total: 47
Sunday, Jan. 11, 2020 – 6:40 p.m. EST
Lambeau Field – Green Bay, WI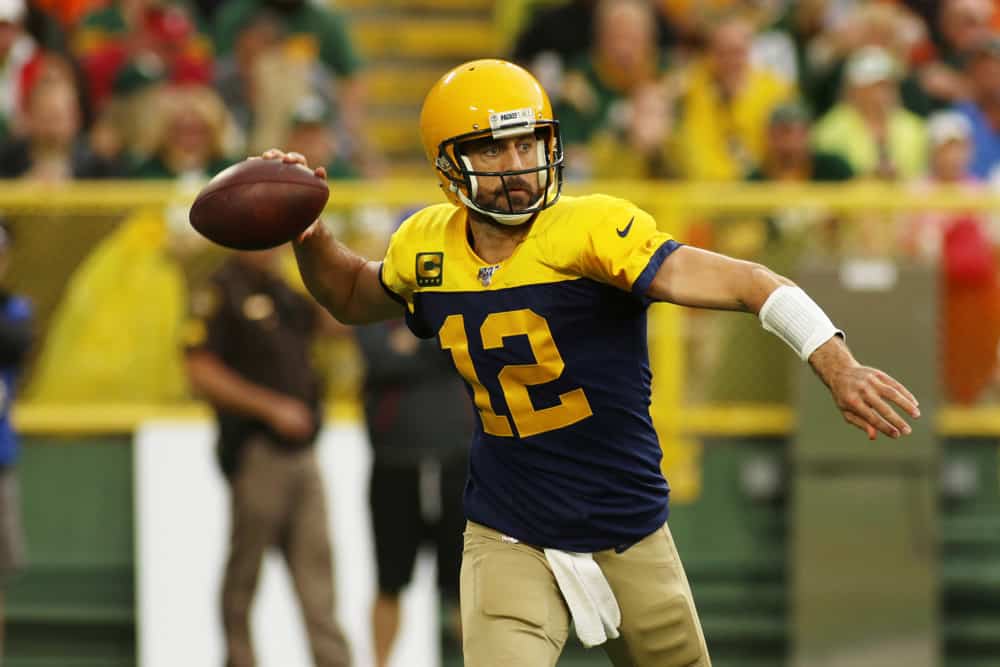 NFL NFC Divisional Round Computer Pick: Packers cover the spread
The grand finale of the Divisional Round is a matchup of two
old foes – the Seattle Seahawks at Green Bay Packers. These teams are very
familiar with another and that should make for an exciting battle in the cold.
However, our betting pick is for the Packers to cover the -4 spread. Let's look
at the numbers to see why we're going with the home favorite.
NFL NFC Divisional Round Betting Line: Seahawks at Packers
The public absolutely loves the Seahawks, and this week will
be no different. In fact, no other team is getting more public bets (63 percent)
against the spread than them this weekend. Obviously, we are in disagreement
with the Seahawks losing five straight road games in the Divisional Round. Seattle
lost three of its last four games in the regular season before narrowly winning
against an opponent playing a 40-year old journeyman backup QB. The Packers are
well-rested and chomping at the bit to get back out on that field.
Seahawks Betting Form
QB Russell Wilson is certainly someone worth praising but we should dial it down a few notches. Reason being, he hasn't played well at all in three career trips to Lambeau Field; the one December game Wilson played there saw him throw five interceptions. The elements in this game could certainly be a detriment. Getting pressure on Wilson will be very important, and it could very well happen. Wilson got sacked a total of 32 times in nine road games (including playoffs).
It hasn't reared its ugly head just yet, but the lack of a running game is going to be the death of the Seahawks' season. The recently-signed duo of Marshawn Lynch and Robert Turbin hasn't done much but rookie RB Travis Homer is a guy with some potential. Nonetheless, we don't expect it to be much of a threat to the Packers.
WR DK Metcalf is turning into a superstar right before our very eyes. However, this matchup against one of the best secondaries in the NFL won't bode well for him. In all actuality, this is not a matchup that looks like it'll bode well for a lot of the Seahawks.
DE Jadeveon Clowney played a big part in last week's win at Philly, mostly by knocking Carson Wentz out of the game on a questionable penalty. If he tries anything funny, please believe that the refs will be all over it. He could very well have a short leash in this one.
Packers Betting Form
QB Aaron Rodgers is finally back in the NFL postseason for the first time since the 2016-17 season. That last postseason appearance was an absolute drubbing by the Falcons, and it's quite surprising that one of the NFL's greatest signal-callers hasn't been back since. Because of that time differential in playoff games, we should expect Rodgers to have one of his better games of the season. After all, he is coming off his first 300-yard game since Oct. 27 and clicking at the right time. Rodgers has a solid 101.2 passer rating at home this season with 14 touchdowns and two interceptions. While Seattle's pass rush has played well of late, Green Bay's offensive line is one of the best in football. That should be able to give Rodgers plenty of time to throw.
Perhaps, it'll be RB Aaron Jones that has most of the production. He did have three 100-yard rushing games over the final four to end the season and five touchdowns over that span. Jones was an integral part of the Packers' offense all season with 1,558 total yards (1,084 rushing – 474 receiving) and 19 touchdowns (16 rushing – 3 receiving). WR Davante Adams will also play a crucial role on Sunday night; he has posted at least seven catches, 13 targets and 90 receiving yards in each of the last three games.
NFL NFC Divisional Round Computer Pick: Packers cover the spread
The Seahawks have been incredibly lucky this season but it's about time that good fortune runs out. Seattle is 11-2 in games decided by one score this season, and that doesn't really matter since we think it won't be close. Seahawks' head coach Pete Carroll is 0-7 ATS as an underdog in road playoff games. The Packers have solid 24-17-2 ATS and 10-5-1 marks with Rodgers as the starting QB in the playoffs. Look for the Packers to control the clock and completely shut the Seahawks' offense down.