In this article, we'll provide you with our top football betting pick for the Monday Night Football matchup between the New England Patriots and New York Jets. We study the betting lines, teams, and players to give you our recommended NFL betting pick to beat the New Jersey sportsbooks!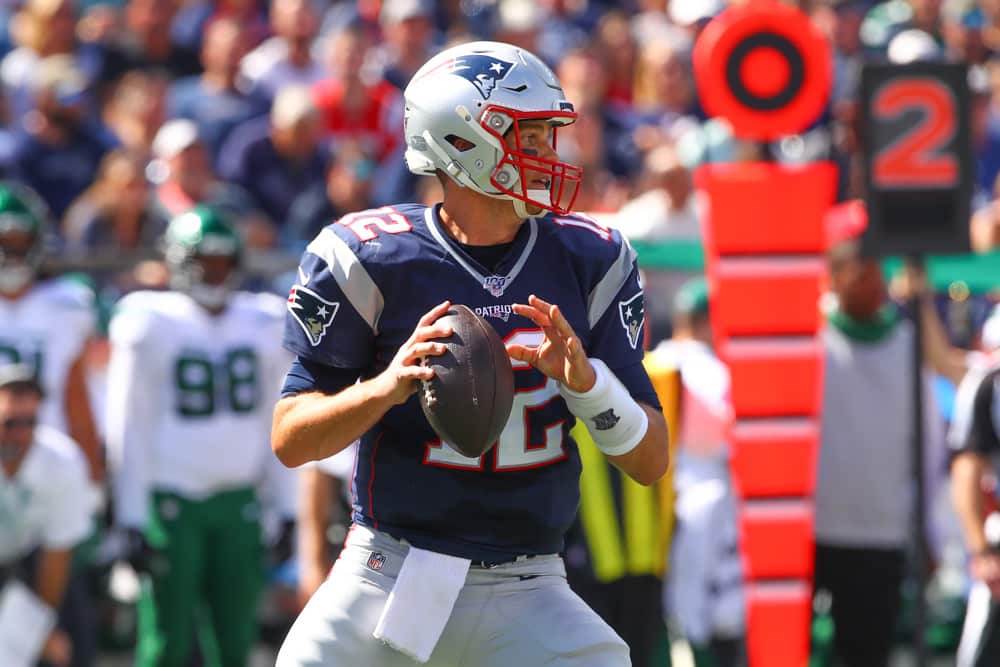 New England Patriots (-10) at New York Jets – O/U: 43.5
Monday, October 21, 2019 – 8:20 p.m. EST

MNF Week 6 Betting Pick: Jets (+10)
This AFC East matchup hasn't been much of a contest with the Patriots going 15-2 outright against the Jets over the last 17 meetings – both Jets' wins coming in overtime. However, we've got ourselves a different circumstance heading into this game. For that reason, that's why we're taking the Jets to, at least, cover against the Patriots. Let's dive into some more numbers to see why the home team will keep it close.
MNF Week 7 Betting Lines: Patriots at Giants
It's surprising to see that Patriots not heavily favored in a Monday night matchup, especially against the seemingly-lowly Jets. However, the defending champs have collected 62 percent of public bets on the spread, but only 50 percent of all money wagered. We kind of feel like there's a decent amount of people that feel like the Patriots' luck is running thin – and we know why.
Patriots Betting Form
QB Tom Brady hasn't thrown a touchdown in two of the last three games, and it might come even tougher against this Jets' defense on Monday night. While the Jets' defense hasn't been great this season, they also haven't been at full-form –and they could very well be on Monday with LB C.J. Mosely back in the mix.
Look for the Patriots to bring a run-heavy approach to the Jets' defense, considering they'll be bringing a much more heavy rush Brady's way. This could end up being another big game for RBs Sony Michel and James White. Let's also look for WR Julian Edelman to do big things once again.
As for the New England defense, we can't take New York's full-season numbers at full value. After all, the Jets haven't had their top signal-caller under center for most of the season. The Patriots' defense does have NFL-best numbers in many categories, but they also haven't played the best competition either. In terms of competitiveness, the Patriots' opponents this season have a combined record of 10-23, with four of those wins coming from the Bills, who have also dominated weaker competition.
Giants Betting Form
QB Sam Darnold came back in Week 6 to defeat the Cowboys, and we're pretty sure that we all love him for that. Now, can he grab the hearts of America for the second straight week? We certainly think so. And again, who the hell doesn't love a good comeback story?
A lot of people forgot the Jets have RB Le'Veon Bell, and he's one of the best players in the NFL. Now, he's getting a competent QB to get him the ball, and that's when he's at his best. Can we all please stop staying that Bell is passed his prime? Please! It's just not logical! Let him do some work on Monday night and show everyone that Luke Falk was the problem – please!
The Jets' defense is the key to this game. How many times does Tawwwm… Freeeakin'… Brady walk into MetLife Stadium and acts like he owns the place? The time that it stops is now!
MNF Week 7 Betting Pick: Jets (+10)
Look, the Patriots are the best in the business. However, covering 10 points on a Monday night is a tough proposition. The Jets are getting, or have, most of their best players back so this should be quite a spirited affair. We think the Jets will keep this game close and cover the 10-point spread in front of the entire country on national TV.