The 2020 NFL Draft is a little more than two months away and
fans are wondering which of these talented players will be joining their team. While
it seems like a no-brainer decision for the first two picks in this draft,
there are some teams that could come calling with trade proposals that are just
too good to pass up.
There is still a lot that can happen between now and Apr. 23. However, we're going to take our best shot on what could happen on the first day of the draft. Without further ado, here's our first version of the US-Odds 2020 NFL Mock Draft Round 1.
---
2020 NFL Mock Draft Predictions
1) Cincinnati Bengals – Joe Burrow, QB (LSU)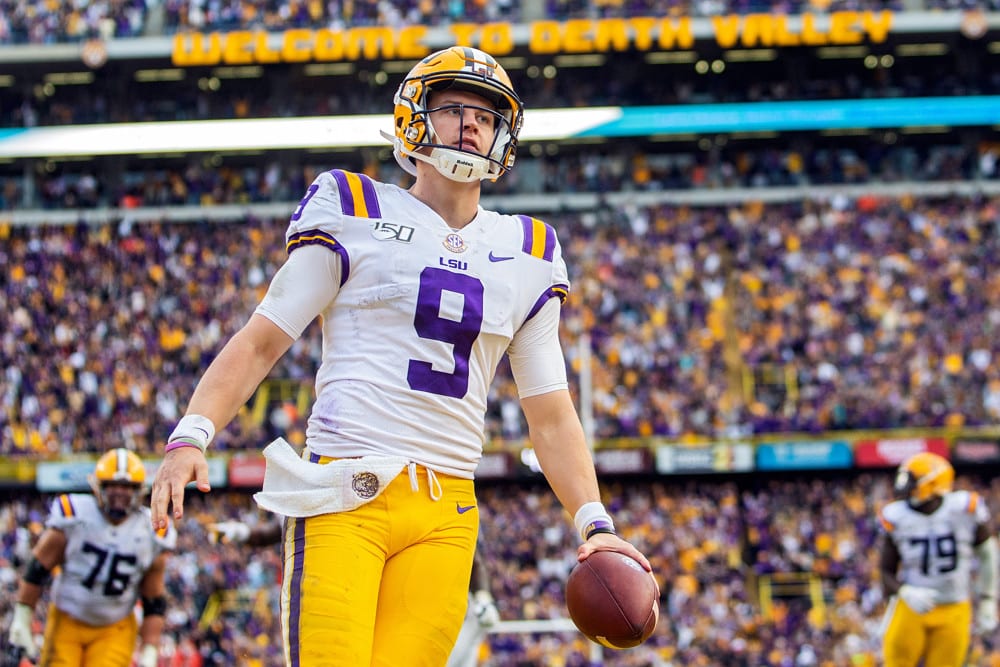 We can put Burrow down in Sharpee marker going to the Bengals, given all the shortcomings this team had over the last few decades. Whether people want to believe it or not, Andy Dalton really wasn't a bad QB. After all, he did lead Cincy to the playoffs in each of his first four seasons. However, Burrow is an automatic plug-and-play guy that goes right into the starting lineup on Day 1 after the 2020 NFL Draft.
2) Washington Redskins – Chase Young, EDGE (Ohio State)
Chase Young is the kind of player that can make an impact right away. It was quite evident that Ohio State had much more success when he was on the field rather than not. The Redskins seem content with giving QB Dwayne Haskins another chance to show he can actually play in the NFL, so the other signal-callers will be left for other teams. New head coach Ron Rivera has a long pedigree of having stud defensive players upfront, so this would put him back in a familiar situation.
3) Detroit Lions – Isaiah Simmons, LB (Clemson)
The Lions can use all the help they can get on the defensive side of the ball. Simmons was already a big name that was rising on draft boards, but his excellent showing during the College Football Playoff solidified him as at least a Top-5 NFL Draft pick. This is certainly that the Lions could trade away for more draft picks, so we'll have to see how that all plays out. If a trade does occur, it's probably safe to say it'll be for a QB.
4) New York Giants – Jedrick Willis, OL (Alabama)
Barring a trade out of the No. 4 spot, this would be a match made in heaven for the Giants. This is a team that has needed help on the offensive line for quite some time; getting the best O-lineman in the draft would certainly give them an ear-to-ear smile.
5) Miami Dolphins – Tua Tagovailoa, QB (Alabama)
With a ton of picks in this draft, the Dolphins could very well move up to take the Alabama legend. Assuming the draft plays out as is, the city of Miami would be getting its next superstar in the making. Tagovailoa had a serious hip issue that ended his last season in Tuscaloosa, but all reports indicate that he'll be ready to go for whichever team drafts him. The Dolphins have a lot to look forward to in this draft, and getting Tagovailoa would be an excellent start.
6) Los Angeles Chargers – Justin Herbert, QB (Oregon)
Not enough people are giving Herbert the amount of respect he deserves heading into this draft. The former Oregon signal-caller has a massive frame at 6'6" and 237 pounds, and he showed off those electrifying wheels with three rushing TDs in the Rose Bowl against Wisconsin. Herbert would give something the Chargers are craving desperately going into a new stadium – excitement.
7) Carolina Panthers – Derrick Brown, DL (Auburn)
New head coach Matt Rhule will be looking to get more excitement back to Carolina, and it could all start with Brown. Because of the need at the QB position, a top-tier talent like Brown could very well fall to the latter half of the first round. That's OK – the Panthers will be waiting there with open arms.
8) Arizona Cardinals – Andrew Thomas, OT (Georgia)
The Cardinals need help basically everywhere but protecting QB Kyler Murray seems like the most logical choice. Thomas was initially trending in the direction of the Top-5 in most initial mock drafts, but Willis from Alabama is starting to emerge as the top Offensive Tackle on the board.
9) Jacksonville Jaguars – Jeff Okudah, CB (Ohio State)
Losing Jalen Ramsey was a good boost for team morale, but his absence was certainly noticeable. This once-stingy Jaguars defense has changed a lot because of the mediocre play in the secondary. It seems like Jacksonville takes nothing but defensive players in the first round. However, when some of these guys fall into your lap, you have no choice but to take them.
10) Cleveland Browns – Mekhi Becton, OL (Louisville)
Having weapons like Wide Receivers Odell Beckham and Jarvis Landry doesn't matter much if you can't protect the QB. The Browns were horrendous on the O-line last season and adding a behemoth that's 6'7" and 360 pounds will get things going in the right direction. Becton has some fantastic footwork for a guy of his stature.
11. New York Jets – Jerry Jeudy, WR (Alabama)
The Jets need a No. 1 WR to pair up with QB Sam Darnold for the future, and Jeudy would certainly be that guy. If Tom Brady is indeed moving on from New England, that means the division will be up for grabs going forward. Adding a top pass-catcher like Jeudy would certainly put the Jets in a position to get there sooner than later.
12. Las Vegas Raiders – K'Lavon Chiasson (LSU)
At this point in the draft, the Raiders will need to add another playmaker along the defensive line and Chiasson would be a great addition. This is a player with loads of potential, so playing alongside some other great talent can only help. The Raiders get the unfortunate draw of having Patrick Mahomes in their division for the next decade or so. Adding pass-rushers would be a good way to make sure Mahomes doesn't go off two extra times per season.
13. Indianapolis Colts – Javon Kinlaw, DT (South Carolina)
The Colts really made a nice transformation over the last few seasons, adding some beef up front on the offensive and defensive lines. They can still a few more hundred pounds, though, considering how physical most of the opponents in their division are. Kinlaw would also benefit learning from veteran Justin Houston. This kid is truly a dominant force and that'll be quite necessary for the AFC South.
14. Tampa Bay Buccaneers – Tristan Wirfs, OL (Iowa)
The Buccaneers have always needed help on the offensive line and taking the most talented player at that position is a no-brainer decision at the 14th pick. Wirfs just turned in a solid 40-yard dash time at the combine this weekend, displaying his level of versatility – something that is desperately needed down in Tampa.
15. Denver Broncos – CeeDee Lamb, WR (Oklahoma)
QB Drew Lock had a solid few games in his rookie season, so adding more skill-players around him seems like the logical choice. Being in the same division as the defending champs means that the Broncos will need to tailor their team to better suit them in those tougher matchups. Lamb is a player that could wear a Broncos jersey for many years to come, right alongside talented WR Courtland Sutton.
16. Atlanta Falcons –
D'Andre Swift, RB (Georgia)
The Falcons are getting noticeably older on the offensive side of the ball, particularly at running back. Keeping Swift in the state of Georgia would not only help for marketability but results on the field as well. Devonta Freeman has suffered way too many injuries at this stage of his career. Now, they can add a solid RB like Swift and mix him right into a very potent offense.
17. Dallas Cowboys – Xavier McKinney, S (Alabama)
The Cowboys will undoubtedly lose some talented players by giving huge contracts to guys like Dak Prescott, and maybe even Amari Cooper (if they're lucky). On defense, Dallas could especially take a hit and drafting McKinney would be a great start at rebuilding that unit. The Cowboys have missed out on a lot of star safeties over the years in the draft and free agency, so this would certainly make up for it.
18. Miami Dolphins [from PIT] – J.K. Dobbins, RB (Ohio
State)
The Dolphins are set to make a big-time splash in the draft and getting a talented skill-player like Dobbins will make everyone in South Beach very happy. Dobbins was fantastic at the collegiate level and there's no doubt that his skill set will translate well to the next level. Could you imagine a scenario where Tua is handing the ball off to Dobbins? That would make all of those losses over the last few years well worth it.
19. Las Vegas Raiders [from CHI] – C.J. Henderson, CB
(Florida)
It would make sense for the Raiders to use one of their picks from the Khalil Mack trade on another star defender. Granted, this one won't be quite as dominant as Mack, but Henderson could certainly make a huge impact in the Raiders secondary. As we mentioned earlier with Chiasson, it's important to start building for futures matchups against Mahomes and Kansas City.
20. Jacksonville Jaguars [from LAR] – Justin Jefferson, WR
(LSU)
The Jaguars could use more options at the WR spot, so taking the best player available at that position will make the people of Jacksonville very happy. Some would argue that Ruggs is a better option because of his speed, but we feel like Jefferson's all-around athletic ability is better suited for the Jaguars at this point in time.
Remaining Mock Draft Picks
Tune back in on the 1st of April as we'll have a more comprehensive breakdown of the remaining picks from each team. For now, here are the selections we believe they'll make from 21-32…
21. Philadelphia Eagles – Henry Ruggs, WR (Alabama)
22. Buffalo Bills – Terrell Lewis, EDGE (Alabama)
23. New England Patriots – Austin Jackson, OT (USC)
24. New Orleans Saints – Tee Higgins, WR (Clemson)
25. Minnesota Vikings – Ross Blacklock, DT (TCU)
26. Miami Dolphins [from HOU] – Zack Baun, LB (Wisconsin)
27. Seattle Seahawks – Yetur Gross-Matos, EDGE (Penn
State)
28. Baltimore Ravens – Kenneth Murray, LB (Oklahoma)
29. Tennessee Titans – A.J. Epenesa, EDGE (Iowa)
30. Green Bay Packers – Laviska Shenault, WR (Colorado)
31. San Francisco 49ers – Grant Delpit, S (LSU)
32. Kansas City Chiefs – Noah Igbinoghene, CB (Auburn)