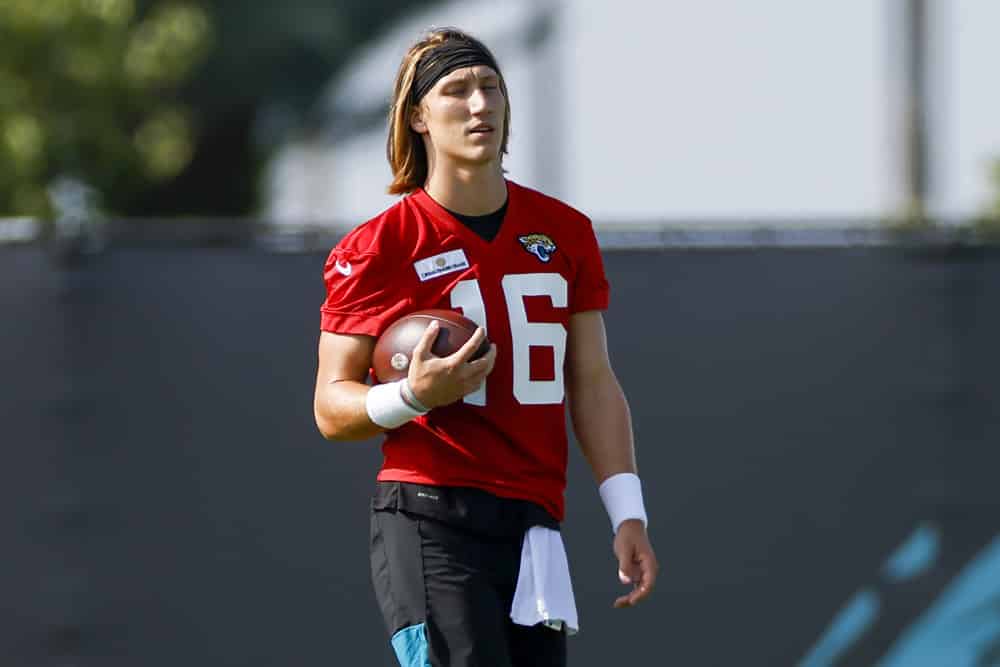 Now that teams start arriving at training camps, it's about that time to start making our season-long predictions. This time, we'll take a look at the 2021 NFL OROY Odds for the season. The league has gone to more of an offensively-driven style, and that means these guys will be making more of an impact than ever.
2021 NFL Offensive Rookie Of The Year Odds Analysis
---
Upon first glance, it's not surprising to see former Clemson QB Trevor Lawrence as the odds-on favorite to win the NFL Offensive Rookie of the Year. He will be leading a high-powered offense with a lot of intriguing skill-position players alongside. Lawrence will, however, have a first-year NFL head coach in Urban Meyer, and that might not be the best thing for the young QB in his first season.
The next four options (Justin Fields: +600, Trey Lance: +700, Zach Wilson: +750, Mac Jones: +900) are all QBs, and that makes plenty of sense. We all know QBs get the glory and of course, the lady, but the recognition for team success is important to this award as well. Of these options, we can make the argument that Fields (with the Chicago Bears) and Lance (with the San Francisco 49ers) have the best chances to be successful right away. Although, I'd take Fields, as he could be the starter sooner than Lance.
I don't see a ton of promise in sleeper picks this year. If you really want to get creative, guys like Najee Harris (+1100), Kyle Pitts (+1100), JaMarr Chase (+1400), DeVonta Smith (+1600), and Jaylen Waddle (+2000) are all exceptional pass-catchers that are going to teams with good QBs.
Key Trends for NFL Offensive Rookie of the Year
---
There hasn't been one particular position dominating the award in recent years, but it is the usual positions you'd think: QB, RB, WR. QBs – Justin Herbert and Kyler Murray – have won in each of the last two years, and then RBs — Saquon Barkley and Alvin Kamara — won the years before.
Expert Pick to Win NFL Offensive Rookie This Year
---
I'll be taking the easy road and going with Trevor Lawrence to win the NFL OROY. The biggest of these factors is that we know that Lawrence will be starting all 16 games — assuming he doesn't get injured. We can't say the same for any of these others guys. If I had a second choice at this pick, it would certainly be Justin Fields. Although he may not start in Week 1, Fields can post huge numbers in a great offense with a creative-minded head coach.
2021 NFL OROY Odds List
---