In this article, we'll give you our top NFL picks for Week 10 of the season. These matchups include the New York Giants at New York Jets, Miami Dolphins at Indianapolis Colts & Minnesota Vikings at Dallas Cowboys. We study the odds, betting lines, teams, and players to give you our recommended betting picks to beat the New Jersey sportsbooks.
New York Giants (-3) at New York Jets – Total: 44.5
Sunday, November 10, 2019 – 1:00 p.m. EST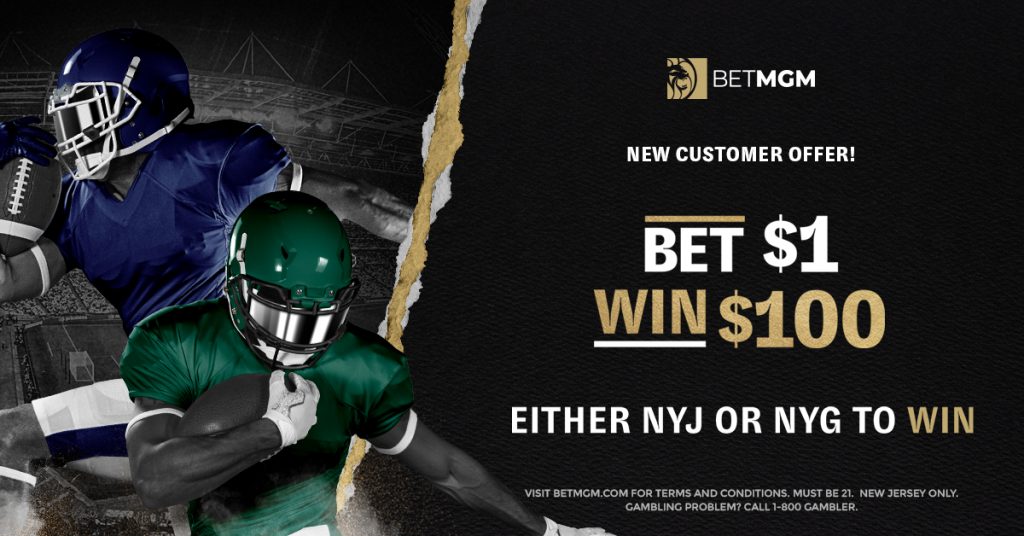 NFL Week 10 Pick: Jets (+3)
We've got another edition of the MetLife Bowl as the New York Giants and New York Jets battle for NYC bragging rights. That'll be the only thing on the line, considering both teams are in the midst of miserable seasons. However, our betting pick is for the Jets to cover the three-point spread. Let's dive into the numbers to see our logic.
NFL Week 10 Betting Lines Analysis: Giants at Jets
The public is certainly not in agreement with us, having 76% of bets on the Giants. In terms of all money wagered, it's not as drastic, but 58% of that is in favor of the G-Men as well. It appears like no one is willing to trust the Jets after last week's loss to the Dolphins. It's understandable, but the Giants really aren't any better themselves. We expect the Jets to come back with an inspired performance and maybe even get the outright win.
Giants Form
QB Daniel Jones is tied for first in the NFL with 16 giveaways, with eight fumbles lost and interceptions apiece. It certainly won't help matters that the Giants are expected to be without WR Sterling Shepard and TE Evan Engram once again. RB Saquon Barkley will certainly have to play a big role once again, but the Jets will likely keep a close eye on him.
It'll be interesting for the Jets to see DL Leonard Williams on the other side of the field. Williams was drafted sixth overall by the team in 2015. Overall, this Giants' defense has been getting roasted on a weekly basis. While the Jets probably won't score 40+ in this game, the G-Men defense is certainly capable of holding their team back from getting the win.
Jets Form
While the Jets looked absolutely terrible against the Dolphins last week, Sunday is a chance to right some of those wrongs. This has been an absolute embarrassment of a season, but winning this game could provide a glimmer of hope in the short-term.
The Giants' defense is allowing the most yards per pass attempt (8.9) and fifth-most total yards per game (391.4). This is as good a spot as any for QB Sam Darnold to get back on the good foot. WR Jamison Crowder should be his main target, as the Giants have really struggled to defend slot receivers this season.
RB Le'Veon Bell still hasn't had that signature game yet with the Jets. He was finally utilized more in the passing game with eight catches for 55 yards. If Gang Green wants to keep this game close, getting Bell touches should be atop their list.
It's tough to get a true gauge on this Jets' defense because of so many injuries this season. They'll likely be without LB C.J. Mosley once again but it's become commonplace at this point. The Jets should be able to get some takeaways, considering the Giants lead the NFL with 12 fumbles lost.
NFL Week 10 Pick: Jets (+3)
Besides us, it seems like no one expects the Jets to get themselves up off the mat. Sure, last week's loss to the Dolphins looks bad, but these guys definitely want to get it right. In the Jets' only win, they were highly motivated against a talented Cowboys team. Look for them to show that same type of intensity.
---
Miami Dolphins at Indianapolis Colts (-10.5) – Total: 44
Sunday, November 10, 2019 – 4:05 p.m. EST

NFL Week 10 Pick: Colts (-10.5)
The Indianapolis Colts will look to keep pace in the AFC South with a win over the Miami Dolphins. Last week was quite different for the two teams, with the Colts losing a heartbreaker and the Dolphins getting their first win of the season. Our top betting pick is for the Colts to cover the 10.5-point spread en route to victory.
NFL Week 10 Betting Lines: Dolphins at Colts
We're in good company with 54% percent of public bets on the Dolphins and 76% of all money wagered on the Colts. Obviously, the latter number is where we want to be, as that's where the smart money is. A lot of bettors see the Dolphins covering the last four games, but it didn't come against the best of competition. The Colts, meanwhile, would have been winners of four straight if not for a missed field goal at the end of regulation last week.
Dolphins Form
The Dolphins have covered four straight games, but this matchup isn't one that will work in their favor. Miami is getting crushed on the ground, and stopping that aspect will be incredibly difficult against this rugged Colts' O-line. The Dolphins have allowed the second-most rushing yards per game (150.8) and fourth-most total yards per game (402.4).
RB Mark Walton was suspended for four games earlier this week, leaving yet another void on the Dolphins' roster. Kalen Ballage will likely take over as the three-down RB, and that's not a good thing. Ballage is only averaging two yards per carry and has virtually no existence in the passing game.
Speaking of the passing game, that's the only way Miami stays close in this game. If you're going to move the ball on Indy it needs to be through the air. However, Indy is coached well enough to turn this game upside down when Miami becomes one-dimensional. QB Ryan Fitzpatrick is not consistent and the 10.5-point spread gives the hint that this could be one of his worst days.
Colts Form
The Colts typically don't do blowouts on either end of the spectrum – all eight Colts games this season have been decided by seven points or fewer. Things could be a lot different in this one, considering the Dolphins are allowing the most points per game (32.0) this season.
Whether it's Jacoby Brissett or Brian Hoyer playing QB for the Colts on Sunday, we love their chances. That's mostly because of the advantage Indy will have on the offensive line. RB Marlon Mack will have a juicy matchup against a Dolphins' run defense allowing the second-most yards on the ground. WR T.Y. Hilton isn't expected to play, and this might actually be a good thing. Without Hilton, the Colts could with more 2-TE sets and really confuse the Dolphins' defense.
NFL Week 10 Pick: Colts (-10.5)
Given the massive 10.5-point spread, we're already getting a glimpse of how this game will turn out. Miami has already lost three of five games as a double-digit underdog. Indy's offensive and defensive lines will just be too powerful in this matchup.
---
Minnesota Vikings at Dallas Cowboys (-3) – Total: 48
Sunday, November 10, 2019 – 8:20 p.m. EST
NFL Week 10 Pick: Cowboys (-3)

The Sunday slate for Week 10 caps off with a great matchup between the Minnesota Vikings and Dallas Cowboys. This matchup will likely come down to who can run the ball more effectively. That's why our top betting pick is the Cowboys to cover the three-point spread. Let's dive into the numbers to see why we're heading in this direction.
NFL Week 10 Betting Lines: Vikings at Cowboys
It's somewhat surprising the Cowboys aren't getting more love from all avenues. Exactly 56% of public bets and all money wagered in favor of Dallas. Perhaps, three points aren't enough to scare the Vikings' backers away. What's even more interesting is the fact that the spread and total haven't moved anywhere throughout the week.
Vikings Form
It seems like we always have a Vikings game in this article. Nonetheless, you've definitely heard the talk about QB Kirk Cousins and his troubles with games that are not played at 1:00 p.m. EST. It's not necessarily that he's bad against good teams, he's just more of a regimented character than the rest of us. For instance, Cousins brushes his teeth and goes to the bathroom at the same time – no lie!
The Vikings do have the NFL's third-best rushing attack with 153 yards per game. RB Dalvin Cook leads the NFL with 894 rushing yards, while his backup Alexander Mattison is averaging a solid 4.7 yards per carry. The Cowboys have an above-average run-defense, so this matchup will be a fantastic one to watch.
Cowboys Form
While the Vikings have a great running attack, Cowboys RB Ezekiel Elliott has won the NFL rushing title in two of the last three seasons. This season, Dallas is right behind Minnesota with the fourth-most rushing yards per game (149.3).
The Cowboys have scored 37 points in each of the last two games, albeit against weak defenses. Now, Dallas has the fourth-most points per game (28.4) in the NFL. WRs Amari Cooper and Michael Gallup should feast on a Vikings' secondary that has been crushed by WRs lined up on the outside. Look for QB Dak Prescott to take advantage of those matchups a couple of times on Sunday night.
NFL Week 10 Pick: Cowboys (-3)
This will be the third straight game in a row on primetime for the Cowboys. To say they're used to this stage would be understatement of the year. With all of Cousins' struggles in games not played at 1:00 p.m. EST and the Cowboys' comfortability in primetime, this should be a smooth go of it for the home team.