After an exciting NFL season, the final two teams are set for Super Bowl LIV! In this article, we'll provide you with our top Super Bowl Computer Pick on Sunday, Feb. 2, 2020. The big matchup is between the Kansas City Chiefs and San Francisco 49ers. Now, let's jump right in and view our Super Bowl betting pick.
Super Bowl
Computer Pick
Our NFL Divisional Round Computer Picks are chosen using an algorithm that analyses historical sports data to give you the bets that offer the best value bets to beat the New Jersey sportsbooks.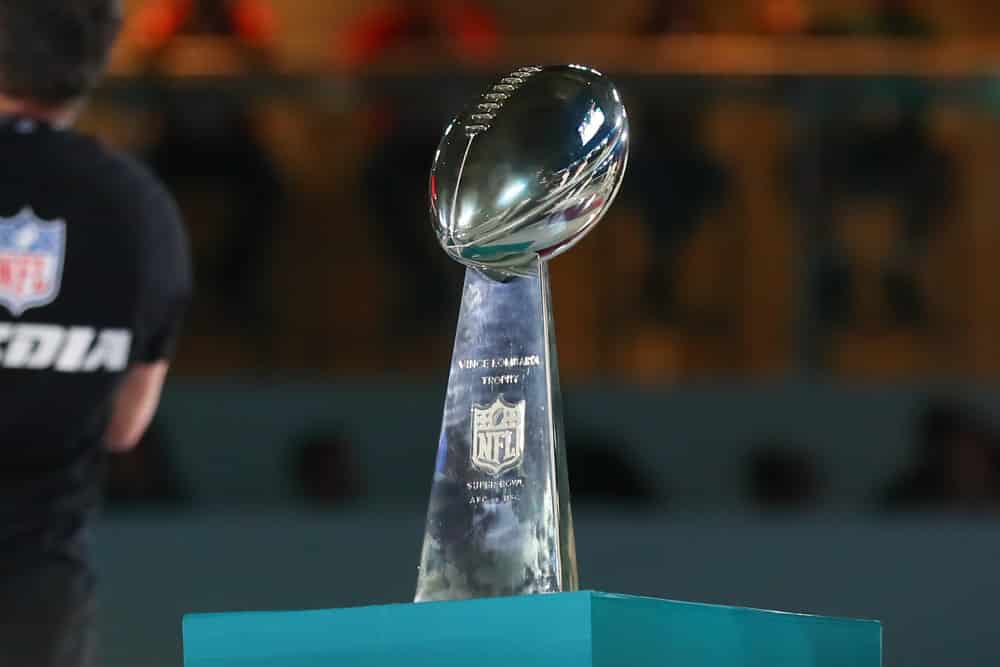 San Francisco 49ers vs. Kansas City Chiefs (-1.5/ML: -122)
Total: 54 (over & under -110)
Sunday, Feb. 2, 2020 – 6:30 p.m. EST
Hard Rock Stadium – Miami, FL
Super Bowl Computer Pick: Chiefs win outright
On Sunday night, we'll finally get to put all of the hoopla
to the side and kick off the Super Bowl between the San Francisco 49ers and
Kansas City Chiefs. Both of these teams have certainly earned the right to be
here, but there's a particular side we like to win this game. Our top betting
pick is for the Chiefs to win Super Bowl LIV outright. Let's dive into some additional
numbers that will support our theory.
Super Bowl Betting Line: 49ers vs. Chiefs
There hasn't been any major line movement on the spread, with the Chiefs staying put at -1.5. However, the total has been a different story. From its initial spot at 51, the total rose to 54.5 as the public hammered the over early on. Therefore, if bettors plan on taking that over, they may want to jump on it before things change for the worst. According to numerous bookmakers, they expect to see the total continue to climb before kickoff.
49ers Betting Form
First of all, we won't fault anyone for taking the 49ers in this game. They played incredibly well to get to this point and have one of the best running games in recent memory. Not to mention, head coach Kyle Shanahan has proven to be one of the great minds in football with extra time to prepare.
However, it will come down to the players on the field. QB Jimmy Garoppolo has learned a lot from the great Tom Brady, but he is nowhere near as talented as the guy on the other side field. That matchup could very well go a long way in determining the outcome of this game.
As we mentioned, San Francisco's running game will be incredibly tough for KC to stop on a consistent basis. We can probably expect KC to load the box upfront, and that's not something that has necessarily worked for opposing teams. In fact, no other team saw a higher percentage of eight-man fronts in the NFL this season than the 49ers. This talented trio of running backs might have Tevin Coleman back for this game, and that would be a huge lift for the offense. If he's not at full speed, Raheem Mostert has shown that he is fully capable of handling a bell-cow role – just like he did in the NFC Championship.
One of the best matchups the 49ers can exploit is TE Greg Kittle against a Chiefs' secondary that allowed the third-most catches (96) to tight ends during the regular season. As we mentioned in our prop bets article, Kittle has a chance to make a huge impact in this game.
The San Francisco defense will have their hands full with KC's offense. However, the 49ers' secondary ranked among the best in the NFL this season. It will truly be an interesting matchup, as these guys have enough versatility at different positions to deal with the plethora of talented KC receivers. CB Richard Sherman has dealt with plenty of big-time receivers, so he'll play a big role in this one.
Chiefs Betting Form
For all of the glorious things we had to say about the 49ers, we have plenty more for the Chiefs.
First of all, head coach Andy Reid is a dynamic mind when given extra time to prepare. It wouldn't surprise us at all to see a trick play or two thrown into the normal scheme of plays.
With all of the success QB Lamar Jackson had, Patrick Mahomes was sort of an afterthought this season. As silly as it sounds, that was the case, and almost nobody gave the Chiefs a chance to make it to the Super Bowl – as long as the Ravens weren't in their way. Ironically, the day after they were eliminated, Mahomes would have the first of his two miraculous comebacks this postseason and here are the Chiefs in The Big Game.
The Chiefs have a ton of weapons that will make up for a fascinating matchup against such a deadly 49ers' secondary. TE Travis Kelce, who was also mentioned in our Super Bowl props article, will be a crucial target in this game. Back in the AFC Divisional Round, Kelce posted a massive 10-catch, 134-yard, three-touchdown performance against the Texans en route to the win. While there haven't been many tight ends to perform well against San Francisco this season, this is also a different breed of a man.
As for the receivers, there are a ton of talented ones the
49ers will need to plan for. WR Tyreek Hill will likely draw a lot of attention,
so that could open up things for Sammy Watkins and Mecole Hardman.
RB Damien Williams tends to show up in these big playoff games.
As a member of the Chiefs, he has eight total touchdowns in four games. In
fact, Williams has at least one rushing touchdown in every playoff game for KC.
The Chiefs' defense held Titans RB Derrick Henry to a decent amount of yards in the AFC Championship Game. Now, they'll need to do against a backfield that had a ton of success this season. Make no mistake about it, KC wants to make Jimmy G throw the ball. If they can do that, which we think they will, the Chiefs will have a nice path to success in this game.

Super Bowl Computer Pick: Chiefs win outright
All in all, this is going to be an incredibly close game. It's going to come down to quarterback play, and that's where KC has the overwhelming advantage. Look for the Chiefs to move the ball successfully while playing great defense in crucial situations. Taking KC on the money line doesn't cost much extra money, but it could be all the difference in the world in a tight game down the stretch. The Chiefs will win Super Bowl 54.