This year's NFL Draft was an event like we've never seen before, with no players being present and everything happening in a virtual setting. Heck, even the coaches were at their own respective homes.
If there was ever a tough season to be an NFL rookie, this is the one. In addition to entering a whole new level of play, there weren't as many in-person meetings and a great lack of practicing with teammates. Whomever gets the award this season will certainly deserve it.
In this article, we'll take a look at the most profitable choices to win the 2020 NFL Offensive Rookie of the Year award. As always, all odds are according to DraftKings Sportsbook.
---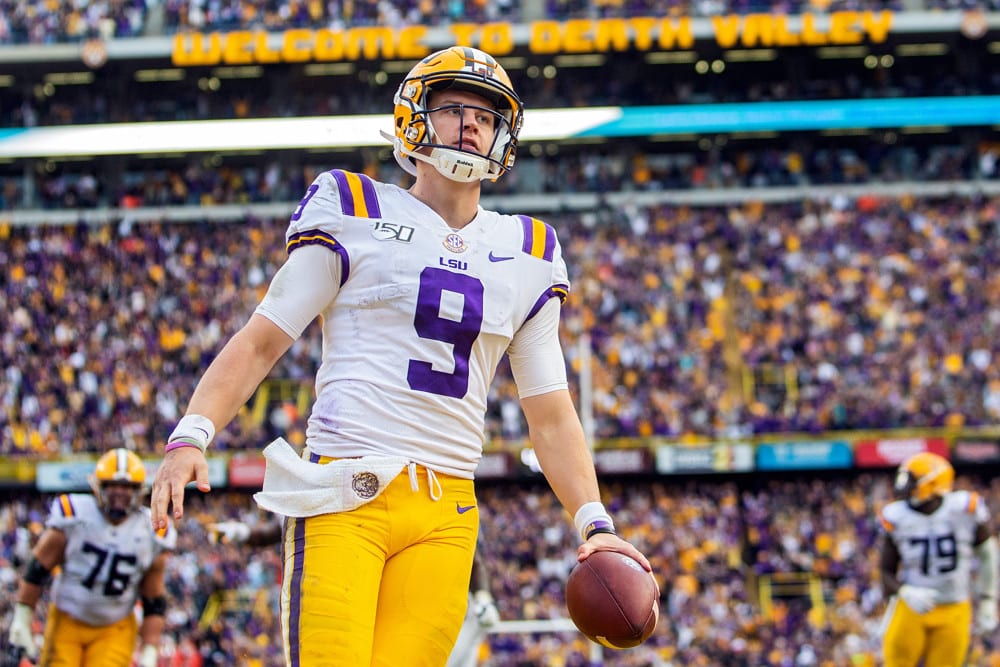 Joe Burrow – QB, Cincinnati Bengals (+250)
The QB position tends to get a lot of votes in these type of awards, so we can probably expect Burrow wind up with the hardware at the end of the season. It does help that the Bengals have a ton of talented WRs they can throw in many different 4- and 5-WR sets, meaning he can rack up plenty of passing yards. One detriment to Burrow's possible success, though, is the number of stingy defenses he'll face in the AFC North.
---
Clyde Edwards-Helaire – RB, Kansas City Chiefs (+300)
There is no player going into the 2020 NFL season that has the type of mystery surrounding him that Edwards-Helaire does. KC head coach Andy Reid has a long pedigree of making RBs in his room become successful threats, as long as they can stay on the field. With Damien Williams opting out of the season, many believe CEH will step into a huge role in his first year with the Chiefs. When looking at the rest of the depth chart, there's not a lot standing in his way. However, just as we've seen with many rookie RBs, we need to see if CEH can protect Patrick Mahomes. Reports out of KC say that Edwards-Helaire should be just fine, making him a nice bet at this price.
---
Jonathan Taylor – RB, Indianapolis Colts (+900)
Taylor was being touted as one of the most NFL-ready RBs to come out of the draft, and it was a bit surprising to see the Colts jump on him. Obviously, the team doesn't see Marlon Mack as the guy to lead the committee, so this is an interesting case where Taylor could take over on Day 1 and never look back. It will be intriguing, though, to see how he meshes with new QB Philip Rivers, as the seasoned vet winds up taking most of his snaps in shotgun. Taylor just had an illustrious career at Wisconsin running in mostly sets with a FB.
---
Justin Jefferson – WR, Minnesota Vikings (+2500)
With Stefon Diggs out of the picture, the WR room looks a lot thinner in Minnesota. Add in the fact that Adam Thielen is older and more injury-prone, and this is a fantastic spot for him to take over. The Philadelphia Eagles really missed out by not drafting Jefferson with their first-round pick this season, and now they'll have to watch him dominate in the NFC for years. QB Kirk Cousins is a good enough player that can rack up the yards to Jefferson, so the current +2500 odds aren't bad at all.
---
Latest NFL Picks
[articles ids="7607, 7679, 8684″]
---
JK Dobbins – RB, Baltimore Ravens (+3300)
In order for this bet to have any merit, we'll first need to rely on a situation where Dobbins overtakes Mark Ingram as the lead RB – that'll likely have to be an early injury. Nevertheless, Ingram didn't have a ton of touches last season, so it's possible that comes to fruition once again. Dobbins will eventually be the guy in Baltimore, and he's certainly got the supporting cast to help reach bigger heights early on.