Now that the Thursday game is out of the way, it's time for a loaded Week 9 slate of NFL action. The matchups are plentiful this week, with many players on advantage positions against porous defenses. We'll have to make tough choices, though – and that's what I'm here to do.
In this article, I will identify the best value in the WR prop bets market according to the odds at Bet365. As usual, readers can get up to $100 in Free Bets with my Bet365 Bonus Code SIDES.
The matchups going under the microscope:
---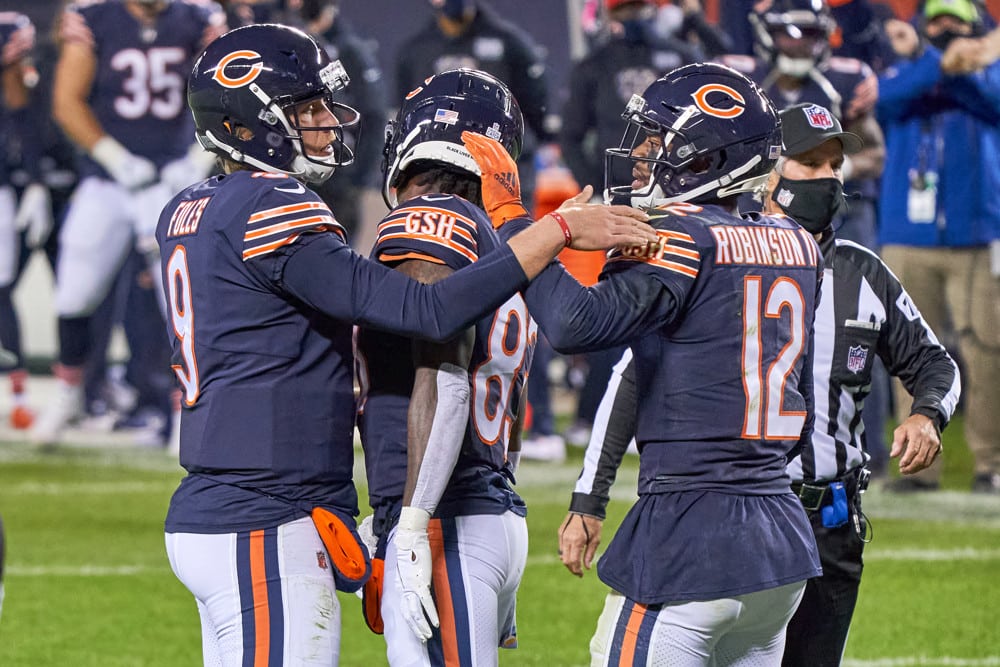 Allen Robinson (Chicago Bears) at Tennessee Titans
Sunday, 1:00 p.m. EST | Watch: FOX
Nissan Stadium – Nashville, TN
Prop Bets Watch:
Over 75.5 Receiving Yards (-120)
Over 5.5 Receptions (-160)
Obviously, the -160 odds for the 5.5 receptions are a lot to swallow, but they do tell a story here. If Robinson does get six or matches, that should take care of the receiving yards. After all, A-Rob is averaging 12.6 yards per reception.
The Titans have already been bad against the pass, and now three members of the secondary are either hurt or listed out- the latter being the most likely outcome. Malcom Butler, who will match up against A-Rob, is no slouch at cornerback but can be had.
As a team, the Titans are allowing the sixth-most passing yards (268.7) per game this season.
---
Stefon Diggs (Buffalo Bills) vs. Seattle Seahawks
Sunday, 1:00 p.m. EST | Watch: FOX
Bills Stadium – Orchard Park, NY
Prop Bets Watch:
Over 5.5 Receptions (-160)
Over 68.5 Receiving Yards (-150)
In this matchup against the Seahawks, there's no doubt the Bills will be forced into plenty of passing situations. To be clear, we will see points scored. Both teams rank highly (SEA: 2nd, BUF: 6th) in terms of points per drive.
I wrote up Josh Allen this week in the QB section, so naturally we need a pass catcher to go along with him. Diggs is clearly the guy that comes to mind, but we're definitely going to need to do something about these massive prices. Check around at different sportsbooks, or wait it out a little more, in order to get the best value available.
Nevertheless, we should have stock in Diggs no matter what we're doing. Like I said with Allen, it's a much better situation with matchup and weather this time around. Diggs is being targeted just under 10 times per game this season with a total of 695 yards through eight games. This is the time where he breaks out and finally gets multiple TDs in a game for the first time this season.
---
Latest Articles
[articles ids="12204, 12075″]
---
Antonio Brown (Tampa Bay Buccaneers) vs. New Orleans Saints
Sunday, 8:20 p.m. EST | Watch: NBC
Raymond James Stadium – Tampa, FL
Prop Bets Watch:
Receptions – Over 3.5 (-120)
Receiving Yards – Over 39.5 yards (-120)
If you read my articles each week, you know that I like to have a "gut call" play of the week. As much as I don't like the guy, AB is going to have prop values that are way under his true capabilities. Granted, he hasn't played an NFL game in a little over a year, but he's well rested and apparently in fantastic game shape.
When talking about the values for AB's prop bets, we really don't know what to expect. Oddsmakers are smart, they'll come up with some type of numerical value to get plenty of bets on either side of the median. In my opinion, though, it's not going to be enough to match his 100+ yard, multiple-TD upside. I'll take that chance in a game where Tom Brady will want to introduce him kindly to the city of Tampa.