Can you believe that the 2020 NFL season is officially here? Me either, and I'm sure the shock will wear off immediately. Now that the season has arrived, it's time to start one of our favorite past times – betting on football.
I already broke down which side of the game I like a month ago, so now it's time to look at the prop bets that will get us some green in our pockets. After all, the KC offense is one of the most explosive we've ever seen in this league. That means we should have plenty of opportunities to have some fun on Thursday night.
In this article, I'll identify the best value in these NFL prop bets for the first game of the season. As usual, the odds are according to DraftKings Sportsbook.
---
KC Chiefs to Win Game by 7-12 Points (+420)
You can do this bet, on top of some of the surrounding margins, and still make a profit. However, in Week 1 you can bet the oddsmakers are on the top of their game. It wouldn't surprise me at all to this game land on either side of that -9 number that we currently see. I do believe the Chiefs are going to win comfortably, so 13-18 point margin at +440 isn't too much different.
---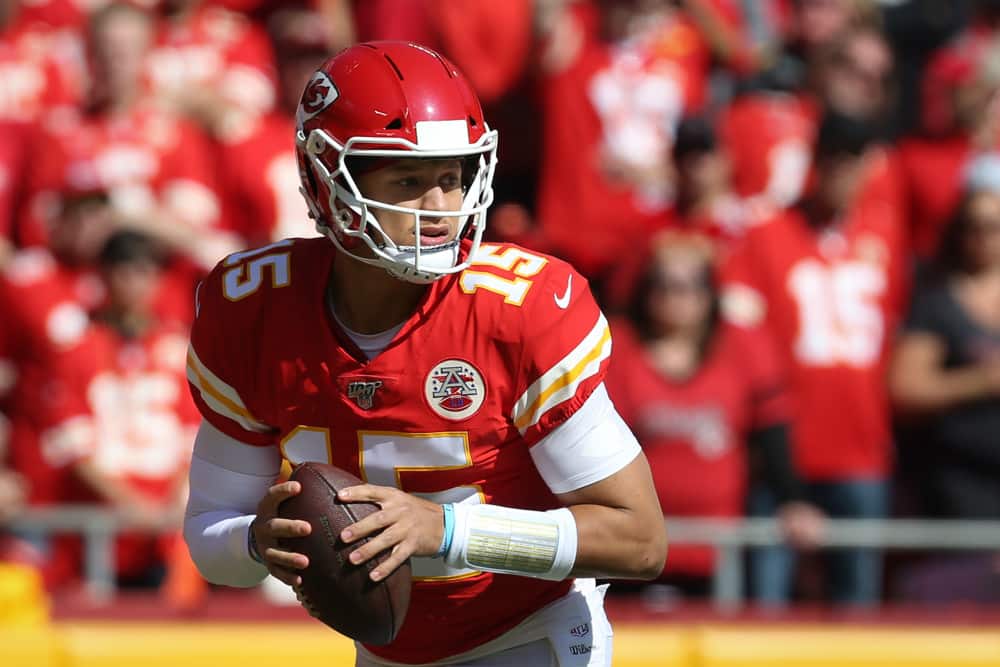 Patrick Mahomes (+350) – TD at Any Point in Game
I couldn't believe my eyes when I found out Mahomes only had two rushing TDs in each of his first two regular seasons as a starter. I found it even more interesting that the reigning Super Bowl has three rushing TDs in only five playoff games. Don't think the latter part of that comparison doesn't mean anything, just that Mahomes is willing to make those runs to the end zone in important games – and that's exactly what tonight is. It's Banner Night and the first live NFL action we've seen in quite some time. It just feels like Mahomes will do something big in this spot, and that means running it into the painted area.
---
Clyde Edwards-Helaire (+550) – First TD of the game
Wouldn't it be nice if KC unveiled their new rookie RB to the world with a trip to the end zone to open the night? I agree, and it could very well end up that. CEH has the best odds of any player in the entire game to score the first TD – followed by Travis Kelce (+650) and Tyreek Hill (+750). It's tougher to predict which WRs are going to get a look, but at least if it's a run play we know it'll likely be going to the RB.
---
Any Other KC Chiefs Player (+2200) – First TD of the game
Andy Reid is one of these diabolical play-callers that drives defensive coordinators nuts. With an entire offseason to plan and add in some new wrinkles, we can imagine him coming up with a fancy trick play to wow the limited-capacity crowd and viewers at home. Plus, you get the added chance of the defense or special teams coming up with a big play. For the list of Chiefs' players with prop bet odds, check them out here.