Since late July, American pro sports have been on the return. Granted that continues, the NFL futures market will have as much value as ever. Thanks to unprecedented levels of uncertainty, there will be a number of gaps in the market. With that in mind, here are the best values for total rushing and receiving yardage for NFL running backs. All odds are provided by DraftKings Sportsbook.
---
Leonard Fournette, Jacksonville Jaguars, OVER 1200.5 (-110)
Based off of 2019, many assume that Fournette is a mediocre running back. Although he has largely disappointed in the face of his first-round draft capital, the LSU alum can still ball. Yes, Fournette did only score 3 times despite 365 carries-plus-targets, but touchdowns are largely luck-reliant. In 2019, his YPC was a healthy 4.3, and his career 3.7 receptions per game suggest he's an adequate receiver. Without significant competition in the Jacksonville backfield, Fournette is set up to dominate touches yet again. Even if you scale his carry share from 73% to 68% and slash his target share from 19% to 10%, 'Uncle Lenny' clears 1400 yards without difficulty.
---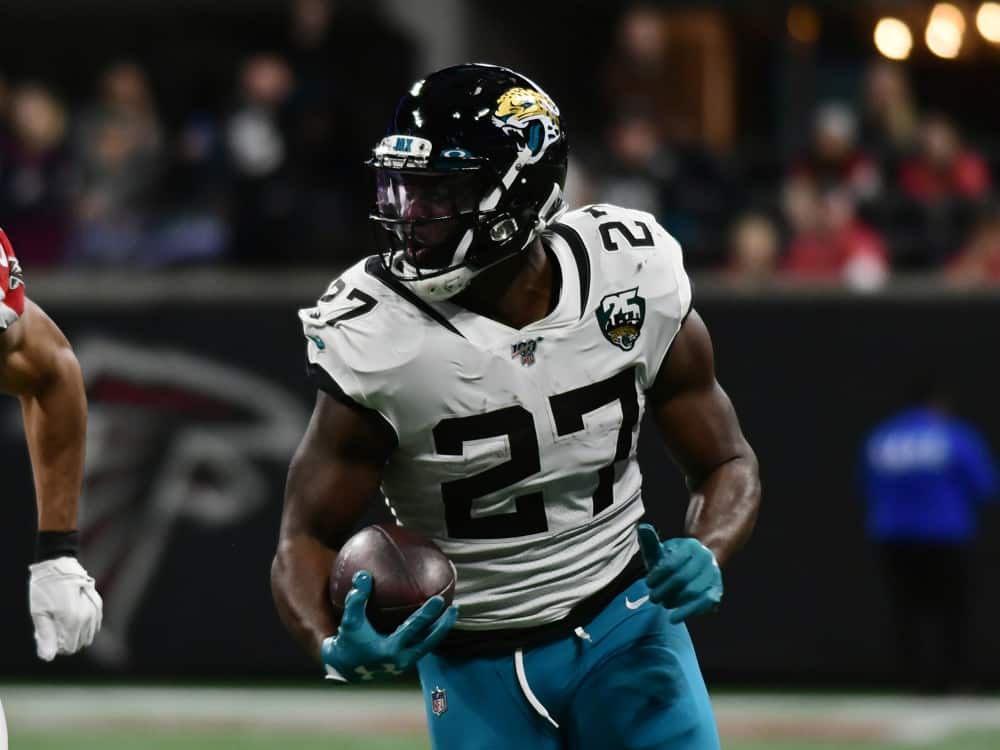 Melvin Gordon, Denver Broncos, OVER 1050.5 (-110)
Melvin Gordon didn't get quite the payday he hoped after testing the open market. Regardless, however, it's likely he becomes the workhorse in Denver. Although incumbent Bronco runner Philip Lindsay remains dynamic, there are several reasons why he'll play second-fiddle to Gordon in 2020. First off, Lindsay's slight 5'7, 184-lb frame (22nd-percentile BMI) renders him better-suited for fewer carries so that he remains healthy. Secondly, Gordon's 2-year, $16,000,000 contract is now the 7th-highest in the league. Actions speak louder than words, and Denver's signing of Gordon indicates that they wanted a new backfield leader.
Even if you assume a modest 55-40-5 split between Gordon, Lindsay, and third-string Royce Freeman, a league-average 4.2 YPC, and a middling 8% target share, Gordon clears 1200 yards quite easily. As a result, he could miss a few games and still cross the 1050 mark.
Latest NFL Articles
---
[articles ids="8459,8607,6743″]
---
Kareem Hunt, Cleveland Browns, OVER 850.5 (-110)
While Hunt is a backup, there are a number of ways he can easily clear this over. Most obviously, Hunt could double this total should he get traded or starter Nick Chubb suffer an injury. Even if neither scenario manifests, however, Hunt can cross 1000 yards as a pure backup.
First of all, Hunt–the 2018 NFL rushing yards leader–is a talented rusher in his own right. His career 4.7 YPC only trails Derrick Henry among active RBs. Even if he only gets 33% of the Cleveland carries, he should surpass 600 yards rushing.
Secondly, the former Chief is an elite receiver out of the backfield. For his career, he averages 32 receiving yards per game–which spiked to 36 with the Browns. In fact, Hunt is such a talented receiver that he may replace the Browns' third wide receiver on the field!
Chubb's presence will likely significantly curb his playing time. Regardless, Hunt is the type of player who can accrue 1000-plus yards on 12 touches per game. In order to have less than 850, he would have to sustain significant injury.
Best NFL Sportsbooks