It's the biggest sporting event of the year! Super Bowl 56 is but a few days away and many people will be speculating who to choose for their Super Bowl DFS picks. So, as the Los Angeles Rams and the Cincinnati Bengals players prepare for the biggest game of their life. I'll be focusing on the top value players to go in your NFL DFS lineups, as well as the top value Super Bowl DFS props at Monkey Knife Fight.

Top NFL DFS Picks For Super Bowl 56
---
MVP Spot: Cooper Kupp (MVP: $17,400 | FLEX: $11,600)
Typically, the MVP of the Super Bowl goes to the quarterback of the winning team. However, we're looking for the MVP spot of this game – essentially, who can get the most fantasy points.
That guy has to be Kupp, who has grabbed 25 of his 32 targets so far in the postseason for 386 yards and four touchdowns. Only one wide receiver has gone for 100+ receiving yards against the Bengals during the playoffs, but this is one of the best in the game that we're talking about. Look for Kupp to have a strong day in the middle of the field, where Cincy is most vulnerable.
Cash Game Play: Joe Mixon ($9,600)
Mixon has the luxury of being the only RB1 in this game. On the Rams, you'll likely see a split share of carries between Cam Akers and Sony Michel. Neither one of those options give us a ton of confidence from gaining fantasy points; of course, they can, but the expectations have to be lowered in that sense.
On the other hand, Mixon will get the bell-cow's share of touches, with Samaje Perine taking a few snaps on 3rd-and-long situations. Mixon will undoubtedly get his share of receptions out of the backfield, as he does have 14 of them on 15 targets for 106 yards in the three playoff games. Running the football will be essential to winning the game for Cincy.
GPP Play: Tyler Higbee ($4,800) or Kendall Blanton ($4,600)
The Bengals have been torched by opposing tight ends this season, allowing the fourth-most fantasy points. In fact, three different tight ends had 100+ yards against them during the regular season and now Chiefs TE Travis Kelce and Raiders TE Darren Waller had 17 catches on 23 targets for 171 yards and a touchdown combined during these playoffs.
Obviously, Kelce and Waller are two of the best at their positions. However, we're trying to get some type of big production out of a low-cost player, and this could very well be the area to target. Earlier, I wrote about Kupp having a great chance to shine in this matchup as well. Just know that the middle of the field should be open all day.
Super Bowl DFS Lineup For FanDuel
---
MVP – Cooper Kupp (MVP: $17,400 | FLEX: $11,600)
FLEX – Matthew Stafford ($10,800)
FLEX – Tyler Higbee ($4,800)
FLEX – Rams Defense ($3,400)
FLEX – Joe Mixon ($9,600)
FLEX – Evan McPherson ($4,000)
Expert NFL DFS Lineups Advice for Super Bowl Sunday
Cooper Kupp, Tyler Higbee, and Joe Mixon were all listed in the key players to slide into your DFS lineup. As we all know, we're going to need a few more players to fill out the rest of our roster.
Let's start with Matthew Stafford, considering he'll be the one throwing the ball to Kupp and Higbee. Stafford's fantasy points have been strong throughout the playoffs, never falling below 24 DraftKings points. He has only been picked once (last week) during the postseason and has even added two rushing touchdowns to boot. I do like Kupp in the MVP spot more because you get one point per reception on DraftKings, and that makes him even more.
The Rams defense could have a big day on Sunday if the Bengals offensive line has another day like it did against the Tennessee Titans in the Divisional Round. On that particular Saturday afternoon, Burrow was sacked a whopping nine times in that game by a ferocious pass rush. This one really isn't that hard to explain, considering Aaron Donald, Von Miller and Leonard Floyd are all some of the best in the game at their respective positions. Not to mention, they'll have the home LA crowd behind them.
Evan McPherson has been perfect during the postseason, going 12-for-12 on field goals and 4-for-4 on extra-point attempts. The latter stat is the key in taking McPherson here as I can see him being the kicker getting more field-goal attempts than extra-point attempts. It has been quite the anomaly to see the Bengals settling for so many field goals. In taking McPherson, you give yourself an extra chance for points. Whereas, taking Rams kicker Matt Gay might result in only getting one point at a time if the Rams score touchdowns.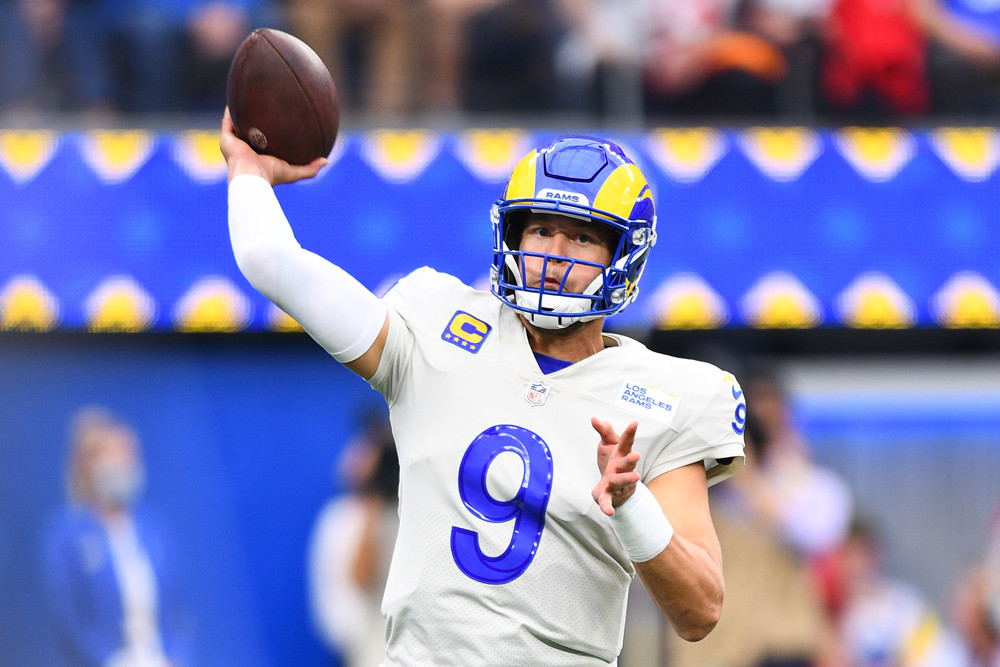 Best Super Bowl DFS Monkey Knife Fight Picks
---
More or Less: Matthew Stafford vs Joe Burrow
I like the Rams offense more in this matchup – naturally, Stafford is the play here. As much mentioned above, Burrow and the Bengals offense has been settling for a lot more field goals than scoring touchdowns. There are so many receiving weapons in this game, but I believe the Rams have a few more that'll get Stafford the crown in this head-to-head battle.
Touchdown Dance: Cooper Kupp + Odell Beckham Jr + Joe Mixon
Kupp and Beckham Jr. have both been eating well with Stafford as their quarterback. Kupp has scored at least one touchdown in each playoff game while Beckham only found the end zone in the first game against the Arizona Cardinals; I would expect Beckham to get back into paydirt in this game. For the Bengals, I do like Mixon's presence here. I feel like they'll try and run the football a bit at the onset, considering Cincy's pass protection is in a huge mismatch here. A few running plays to start could keep LA's defense off balance.

Expert Advice On Identifying Prop-Based NFL DFS Picks
Joe Mixon – Over 92.5 Rush + Receiving Yards (-115)
So far, I have talked about Mixon at great length. It looks like this will be a close game based on the narrow-spread margin and the moneyline totals, as both don't really scream "blowout." I'm a huge fan of Mixon not only hitting the end zone but also getting himself 100+ total yards.
Last week, Mixon saw 21 carries and turned that into 88 yards on the ground. Surprisingly, that was his highest total since running for 165 yards against the Pittsburgh Steelers back on Nov. 28. In that stretch, Mixon was held to minimal amounts on the ground, but we have to remember that Burrow was going bananas with the passing yards. Mixon can get involved there too.
LA Rams Defense Touchdown (+400)
As mentioned, the Bengals' offensive line has really struggled in pass protection this season. This offers the opportunity for the Rams defense to get in on Burrow and cause some havoc. Perhaps, we can get ourselves an Aaron Donald strip-sack-fumble or Jalen Ramsey pick-six with all of that wildness going on around the Bengals QB.
When you're doing prop bets, it's always fun to take a few plus-odds wagers on the final game of the season. Hey, we don't get to do this again until September!