The final game of the season features the Cincinnati Bengals against the Los Angeles Rams. In this article, I will identify the best NFL prop bets and try to make a maximum profit on these Super Bowl prop bets. I'll take a look at some of the in-game props, and some that are less easy to predict.

Super Bowl Props Between The Bengals and The Rams
---
Pregame Coin Toss Result
Tails never fails! Well, not really, but it actually has come out in five of the last eight years. This is one of my Super Bowl traditions to bet tails on the coin toss, I don't care if the world around me is falling down – I go tails. Unfortunately, heads has come out in three of the last four seasons, but it's time for a change of pace.
Jersey Number of 1st Touchdown Score: Over 23.5 (+110)
I had a great discussion about this on my podcast, Taking Sides, last night with Pauly Parlays. It would appear like the under is the way to go here. We have so many different players with lower numbers this year after the NFL allowed any player to wear any number they want. Cam Akers of the Rams wears #23, Ja'Marr Chase of the Bengals is #1, both QBs are in the single digits.
However, we got some outs here. Joe Mixon (#28), Tee Higgins (#85) and CJ Uzoma (#87) all offer some off-ramps for us. For the Rams, it would take Sony Michel (#25), Kendall Blanton (#86) or Tyler Higbee (#89). Who knows, we might even get a defensive TD as the first of the game and that would throw everything out of whack.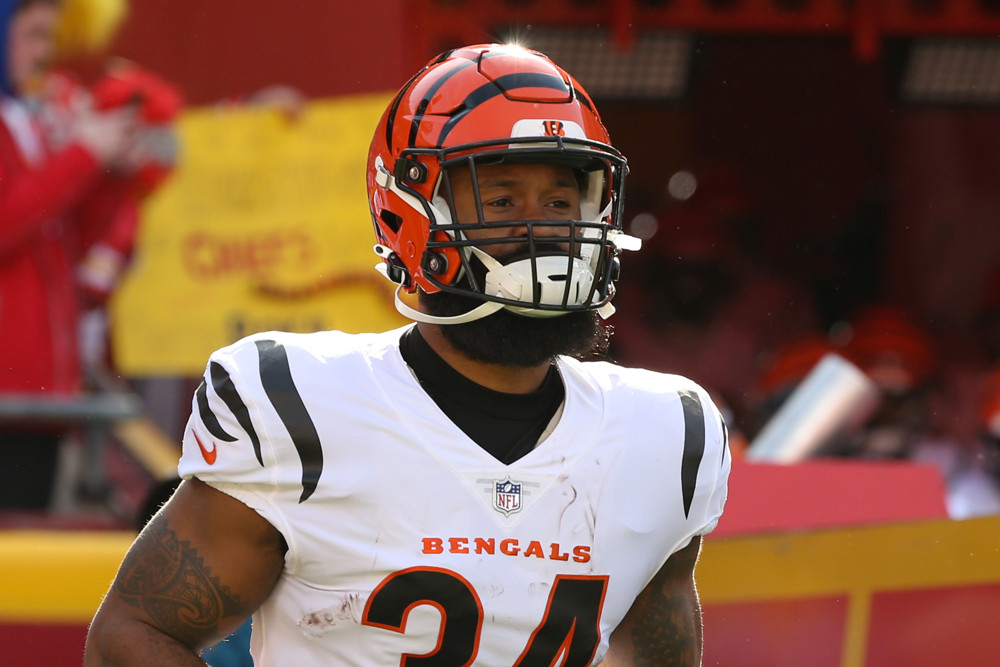 Best Super Bowl Player Prop Bets
---
Cincinnati Bengals
Samaje Perine – 08.5 rec yds (-115)
I initially had Samaje Perine down for over 14.5 receiving + rushing yards. But the more that I think about it, Perine could have a nice role carved out for himself in the passing game – especially if the Rams take an early lead and the Bengals have to play from behind. Perine has only one rush attempt in these playoffs, so that's leading me to believe that trend will continue.
Perine has played an integral role in the Bengals offense this season despite being the RB2 to Joe Mixon. In fact, Perine gets most of his work on third downs, and that's why the game script matters so much for this prop bet.

Los Angeles Rams
Rams to win, Matthew Stafford 290+ pass yds, Odell Beckham Jr TD (+500)
This is probably my favorite prop on the entire board – hence, leading off with it. Here, we just need the Rams to win (instead of covering any spread) and then the individual player props can fall into place after that.
Matthew Stafford has prop numbers of 279.5 passing yards (-120) and 1.5 passing touchdowns (-230) in Super Bowl LVI. I don't think reaching the 300-yard mark will be too much of an ask from Stafford. After all, he has done this in each of his last two games, and in three of the last four (dating back to the regular season). Stafford has attempted 83 passes between the last two games, so Rams head coach Sean McVay will certainly be putting him in those situations.
Odell Beckham Jr is the real wild card here in this prop bet. In the NFC Championship, he did see the most targets and had the most receptions ever since being a member of the Rams. Beckham caught nine of those 11 targets for 113 yards but failed to find the end zone. The hope here is that he does that on Sunday, obviously, but the biggest threat could be on his own team. Fellow WR Cooper Kupp is poised to have a big day, and we hope that he doesn't hog all of the catches in the end zone.
Super Bowl MVP
WR to win MVP (+250)
OK, hear me out. I understand that quarterbacks get all of the glory in these situations, but we do have some incredible talent at the wide receiver position in this matchup between the Bengals and Rams. On one side, you've got Cooper Kupp and Odell Beckham Jr that are certainly capable of having massive days on the stat sheet; Kupp is the more likely candidate to win this award as his odds are at +600. It would take a Herculean effort from Beckham to win Super Bowl MVP, but we have seen some wild stuff in the big game before.
The Bengals have superstar rookie WR Ja'Marr Chase that can win this award. During the regular season, Chase pulled in 81 catches for 1,455 yards and 13 touchdowns. Quite the debut for a guy that had the dropsies in training camp, huh? If it's not him, I would assume the only other option would be Tee Higgins, who should see plenty of targets with Rams CB Jalen Ramsey shadowing Chase. And if Beckham Jr. needs a Herculean effort to win MVP, then Higgins needs Jesus Christ-like moments in order to win the award.
The last WR to win Super Bowl MVP was Julian Edelman of the New England Patriots when they beat… the Rams.
Color of Gatorade Poured on Winning Head Coach: Clear/Water (+250)
We haven't seen clear/water thrown on a coach since the Giants doused Tom Coughlin after beating the undefeated New England Patriots in the Super Bowl. Hey, there could be another monumental upset on Sunday, so maybe the Bengals ignore California state laws about conserving water? In any event, the clear Gatorade is the most delicious flavor of them all. It would be a shame to see it wasted, but I'm going with the odds-on favorite this year.
Other options include: orange (+300), yellow/green (+350), blue (+400), none (+600), red/pink (+1200), purple (+1400).
Who Will the Super Bowl 56 MVP Thank First?
This is one of the most intriguing prop bets I have ever seen. OK, we have a lot to break down here, so no cute intro here.
Initially, the odds are on quarterbacks to win MVP – that's just how things go. If Matthew Stafford of the Rams gets MVP, I could see him thanking God/religion (+350) for the victory. After all, he did grow up in Texas and then moved on to Georgia for college – we all know the Deep South loves their religion. Amen! Joe Burrow of the Bengals will likely have the cigar hanging out of his like the baller that he is. Since it has been so long for Cincinnati without a title, I imagine the city/fans (+285) would be the logical choice here. Other options include: team/teammates (+100), family (+800), any other (+1000), coaches (+1600) and team owner (+2000).