There's really no such thing as a home-ice advantage in the new bubble-version of the NHL – unless you're the Toronto Maple Leafs. Luckily, the league decided that Toronto would be one of the hub cities to host play, giving an undetermined advantage to the team residing there. We'll see just how much it benefits the Maple Leafs, but you have to believe their day-to-day routines are a lot more normal than every other team there.
Unlike the previous two games on our site today, this is an actual play-in series to make it to the playoffs. Yesterday, we saw all qualifying matchups, making for an exciting day of hockey, and the same level of intensity is expected today.
During the regular season, the two teams split the two-game series with the aggregate score at 5-4 in favor of the Blue Jackets.
Columbus Blue Jackets at Toronto Maple Leafs
East Qualifying – Game 1
8:00 p.m. EST (Watch: NHL Network)
Starting Goalies
CBJ: Elvis Merzlikins (13-9-8, 2.35 GAA/.923 SV%)
TOR: Frederik Andersen (29-13-7, 2.85 GAA/.909 SV%)
Total: 5.5 goals | Over: -104 | Under: -120
CBJ | Moneyline: -105 | Puck Line (+1.5): -205
TOR | Moneyline: -150 | Puck Line (-1.5): +170
Injury List
CBJ: none
TOR: Andreas Johnsson -F (IR)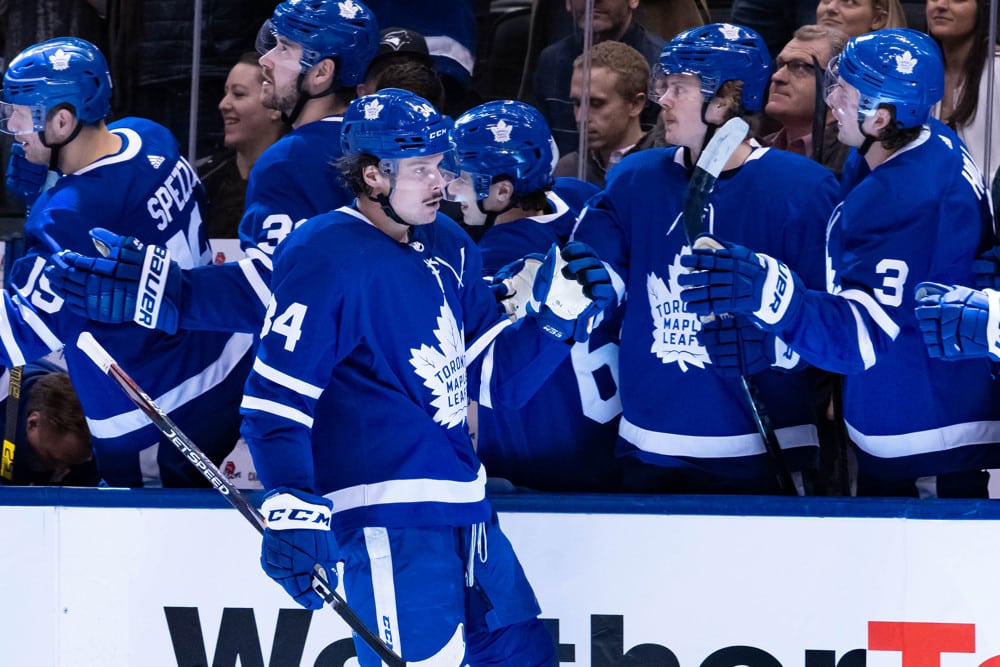 Interesting Stats
Leading Scorers
Both of these teams have two very different identities, with the Maple Leafs being more offensive-minded and the Blue Jackets being strong defensively. Auston Matthews led Toronto with 80 points (47 G, 33 A) and Pierre-Luc Dubois leading Columbus with 49 (18 G, 31 A).
Turning Over a… New Leaf?
The Maple Leafs have suffered three straight exits in the first round of the playoffs and haven't won a playoff series since 2004. With the NHL bubble residing in Toronto, could this be a sign that the times are changing? This isn't technically the playoffs but going home early here is certainly wanting to be avoided.
Betting Picks
Maple Leafs Puck Line -1.5 (+170)
The amount of value in this play should have people running to the internet today. Sure, the Blue Jackets play a tough defensive style of hockey, but that's not going to work against a free-wheeling Maple Leafs team that has tons of speed. Columbus can sit back and wait for things to happen, that's what it does best. However, goals will need to be scored and that's where Toronto will win the game big.