The New York Rangers will look to stay alive in the NHL's reboot, as they'll face the Carolina Hurricanes in an elimination-game scenario. The first two games of this series have been dominated by the Hurricanes, particularly yesterday's 4-1.
It will be interesting to see who is between the pipes for each team. After all, this is both teams' second game in as many days. It also goes without saying that the Rangers should just make a change regardless. I imagine it will be Petr Mrazek getting another start for Carolina while we could very well see Alexandar Georgiev. If possible, the Rangers should really go with Igor Shesterkin, but it appears like he may actually be injured.
Carolina Hurricanes at New York Rangers
East Qualifying – Game 3 (Carolina leads 2-0)
8:00 p.m. EST (Watch: NBCSN)
Starting Goalies
CAR: Petr Mrazek (21-16-2, 2.69 GAA/.905 SV% this season)
NYR: Igor Shesterkin (10-2-0, 2.52 GAA/.932 SV% this season)
Odds & Betting lines (According to William Hill Sportsbook)
Total: 5.5 goals | Over: -105 | Under: -115
CAR | Moneyline: -145 | Puck Line (-1.5): +175
NYR | Moneyline: +125 | Puck Line (+1.5): -200
Injury List
CAR: Dougie Hamilton -D (O)
NYR: Tony DeAngelo -D (DTD),Je sper Fast -F (O)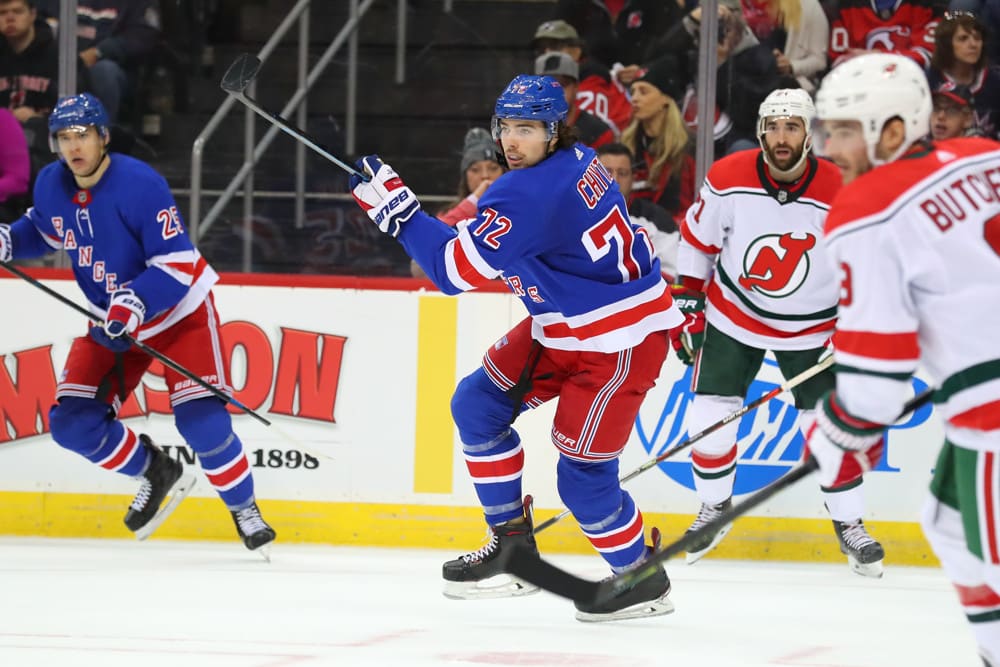 Interesting Stats
Rangers Goaltending Still Uncertain
As someone who has been very high on the Rangers (and even has a bet on them to win the Cup at +4000), the team has been unbelievably frustrating to deal with. I won't even get into the offensive zone mistakes just yet, but not knowing who is in net makes it impossible to knowledgeably bet on this team. The Rangers were 10-2 in Shesterkin's 12 starts so, hopefully, he's ready to go tonight.
Update: It will be Shesterkin getting the start for NYR.
Getting the Rangers Offense Going
During the regular season, the Rangers offense was incredibly dynamic – led by Artemi Panarin and Mika Zibanejad. However, Carolina has done a fairly decent job of neutralizing the two, allowing some points but not many. If the Rangers want to stay put in Toronto, these two will need to do more themselves and also get others going.
Hurricanes History Made in Game 2
With three goals in yesterday's game, Andrei Svechnikov became the first players in Hurricanes postseason history to record a hat trick. During the regular season, he posted 61 points on 24 goals and 37 assists.
Betting Picks
Rangers Moneyline (+125)
Here we go again. I was very heavy on the Rangers going into the reboot but Lundqvist playing in net has soured everything. It really doesn't make sense why he would be in there, especially if the Rangers wanted to win, because his best days are well behind him. Hopefully, a change is made and the Blue Shirts don't get swept right out of the reboot.