The Columbus Blue Jackets will look to finish off the Toronto Maple Leafs in Game 4 of the East Qualifying round, less than 24 hours after taking the 2-1 series lead in overtime. The Leafs actually had a 3-0 lead in the second period before the Blue Jackets came storming back. After having a heartbreaking loss like that, I find it very hard to believe Toronto will be there mentally tonight. Not to mention, Blue Jackets head coach John Tortorella is one of the best at his job.
Tonight's goaltending matchup should be a very interesting one, as Elvis Merzlikins will be between the pipes for Columbus and possibly Frederik Andersen again for Toronto. Merzlikins has been confirmed but there's no word yet on Anderson. After blowing a 3-0 lead and this game being the second in two days, it's fair to wonder if Jack Campbell will be in net.
Toronto Maple Leafs at Columbus Blue Jackets
East Qualifying – Game 4 (Columbus leads 2-1)
8:00 p.m. EST (Watch: NHL)
Starting Goalies
TOR: Frederik Andersen (1-2, 1.52 GAA/.948 SV% this series)
CBJ: Joonas Korpisalo (1-1, 2.05 GAA/.938 SV% this series)
Total: 5.5 goals | Over: +105 | Under: -125
TOR | Moneyline: -145 | Puck Line -1.5: +220
CBJ | Moneyline: +125 | Puck Line +1.5: -270
Injury List
­TOR: Jake Muzzin -D (O)
CBJ: none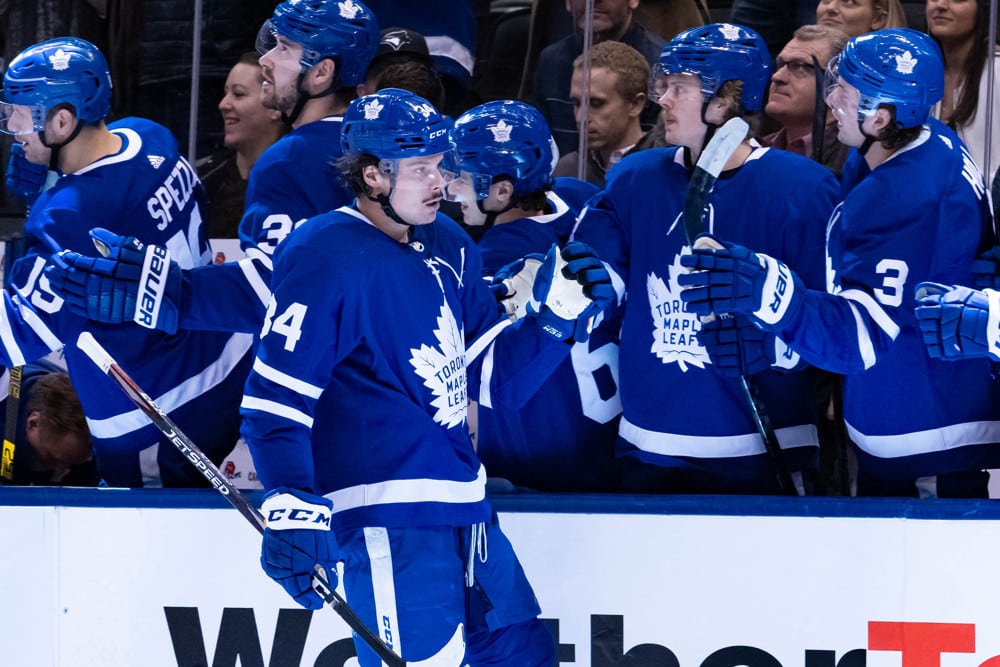 Interesting Stats
Elvis is in the Building
I mean, he's been there on the bench the whole time. But nowww, Elvis will be starting in net – something he was very accustomed to doing during the regular season, going 13-9-8 with a 2.35 GAA/.923 SV% and five shutouts. An injury sidelined him for a while going into the NHL's reboot, and it showed in his play before that in mid- to late-February. Nevertheless, Merzlikins is an absolute stud and the only reason he wasn't starting is because the goaltending depth is amazing in Columbus.
Dubois Shows Back in Form
Pierre-Luc Dubois hadn't scored yet in the series but had a hat trick, including the game-winner on a breakaway in Game 3. This guy is feeling it right now, just like the rest of the offense, and I wouldn't be surprised at all if he puts a goal or two in tonight.
Betting Picks
Blue Jackets Moneyline (+125)
About 30 minutes after last night's game ended, I took the Blue Jackets to win this one. I watched this game very closely, and it looks like the Blue Jackets may have found something offensively. This is a very well-coached team, so Tortorella will not let them ease up on the gas pedal. They have the Maple Leafs in a very crushing position and have to strike now while the iron is out.
The back-to-back scenario will help Columbus immensely, as Toronto will just be drained from last night. With that momentum, the Blue Jackets can keep it rolling and win a low-scoring game – exactly how they like it.