Looking for a more scientific approach to your hockey betting picks? In this article, we'll give you our top NHL Computer Pick for the New York Islanders at New York Rangers game on Monday, Jan. 13, 2020.
Our NHL computer picks are chosen using an algorithm that analyses historical sports data to give you the bets that offer the best value bets to beat the New Jersey sportsbooks.
Claim A Risk-Free Bet On This NCAAF Computer Pick
Fancy a free hit at this Computer Pick? Borgata Sportsbook is offering new customers a risk-free bet up to $300 on their first bet.
Create a Borgata Sportsbook account and place a bet. If your bet busts, Borgata will cover your stake up to $300!
New York Islanders at New York Rangers
New York Islanders | Money Line: -121 | Puck Line: – 1.5 goals (+215)
at
New York Rangers | Money Line: +104 | Puck Line: + 1.5 goals (-265)
Total: 6 goals
7:00 p.m. EST
Madison Square Garden – New York, NY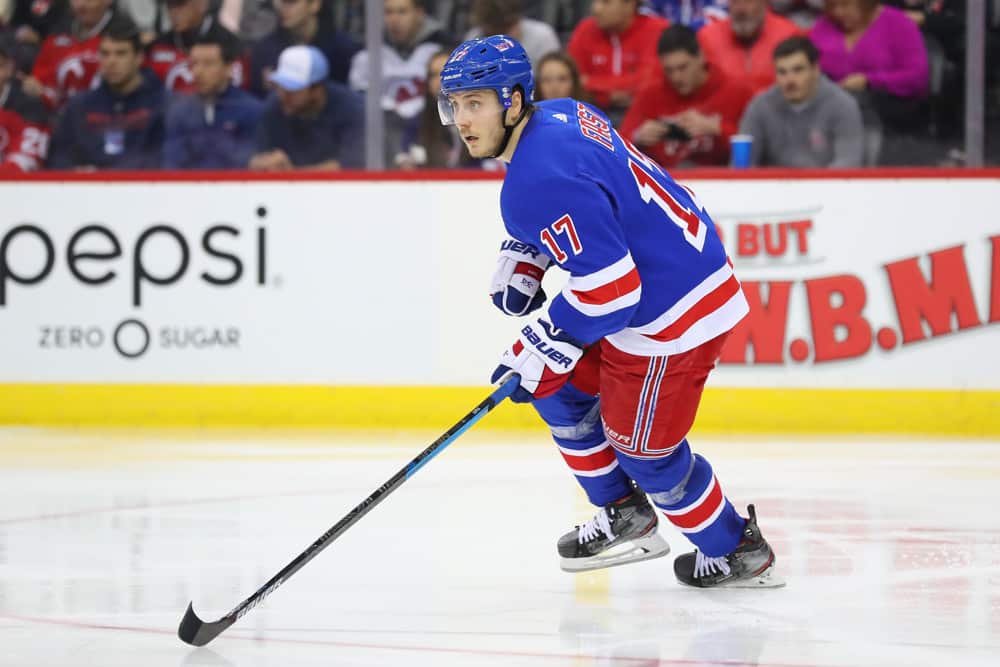 NHL Computer Pick: Over 6 goals
When the New York Islanders make the short trip into Manhattan against the New York Rangers, it'll be the first time these hated rivals face each other this season. The Islanders are faring much better at 27-12-4 (58 points) than the Rangers at 21-19-4 (46 points), but each of these teams has lost three of the last five games. Our top NHL betting pick is the total number of goals to go over six. Let's dive into the numbers to see why this will be a high-scoring game.
NHL Betting Line: Islanders at Rangers
The Islanders will obviously garner more of the public bets
as the better team overall. That's a good idea, considering they have an 18-5
record this season when the money-line spread is in the range of -125 to +115. With
the Rangers being an offensively-minded team, look for them to push the tempo as
the home team, and for the Islanders to follow suit.
Islanders Betting Form
Part of the Islanders scoring some goals tonight could be motivation.
Their starting goalie Semyon Varlamov only allowed seven goals over the last
four games and has a 1-3 record to show for it. Uncharacteristically, the
Islanders have allowed an average of 32.3 shots per game. It's worth noting,
though, that the Rangers have the largest negative shot-differential (-5.0 per
game). That means the Islanders should have their fair share of chances in this
one.
Look for guys like Mathew Barzal (17 G, 20 A), Brock Nelson
(15 G, 16 A) and Anders Lee (13 G, 12 A) to lead the way in scoring. Barzal
actually leads the Islanders in points over the last 10 games, with three goals
and six assists, while Nick Leddy and Jordan Eberle have chipped in a handful
of assists on the scoresheet as well over that same span.
Rangers Betting Form
The Rangers have scored at least five goals in six of their
last 10 games. Tonight's matchup against a defensively-minded Islanders team
will present challenges, as the Islanders are allowing the fourth-fewest goals
per game (2.56) in the NHL. However, the Rangers can pull teams into their offensive
mindset.
As for the Rangers' offense, they have some very talented players on the roster. Artemi Panarin (24 G, 38 A) and Mika Zibanejad (17 G, 18 A) lead the charge for the NHL's ninth-best offense – 3.32 goals per game. Tony DeAngelo recently had a game where he scored a hat trick and added two assists.
The Rangers have a logjam of goalies at the position and it looks like Alexandar Georgiev will be the odd-man-out. His name has been mentioned in recent trade rumors, with the Toronto Maple Leafs looking like the likely destination.
Recently called-up Igor Shesterkin had his first two NHL
wins in as many starts last week and could very well get the start tonight. Possible
future Hall-of-Famer Henrik Lundqvist hasn't been great of late, allowing a total
of 17 goals over the last four starts. It could very well be Shesterkin getting
the start, but even he has allowed three goals in each of his two starts. Only
one other team (Chicago) has allowed more shots per game this season.
NHL Computer Pick: Over 6 goals
One of the teams in each of the last six Rangers' home games has scored at least five goals. The Islanders have been playing a lot of unders lately (five of the last seven), but 12 of the last 14 Rangers' games have gone over the total number of goals scored – with one of those games ending in a "push" at six goals. We do have a couple of lifelines here, with the possibility of a 3-3 game heading into overtime and the Rangers' run-and-gun style of play. If the Islanders hold true to their well-being in closely-lined games, they'll likely have a good night on offense, just like the Rangers.