In this article, we'll give you our top NHL Computer Pick for the New York Rangers at New York Islanders game on Thursday, Jan. 16, 2020.
Our NHL Computer Picks are chosen using an algorithm that analyses historical sports data to give you the bets that offer the best value bets to beat the New Jersey sportsbooks.
New York Rangers at New York Islanders
7:00 p.m. EST
Nassau Veterans Memorial Coliseum – Uniondale, LI
NY Rangers | Money Line: +140 | Puck Line (+1.5): -195
at
NY Islanders | Money Line: -165 | Puck Line (-1.5): +160
Total: 6 goals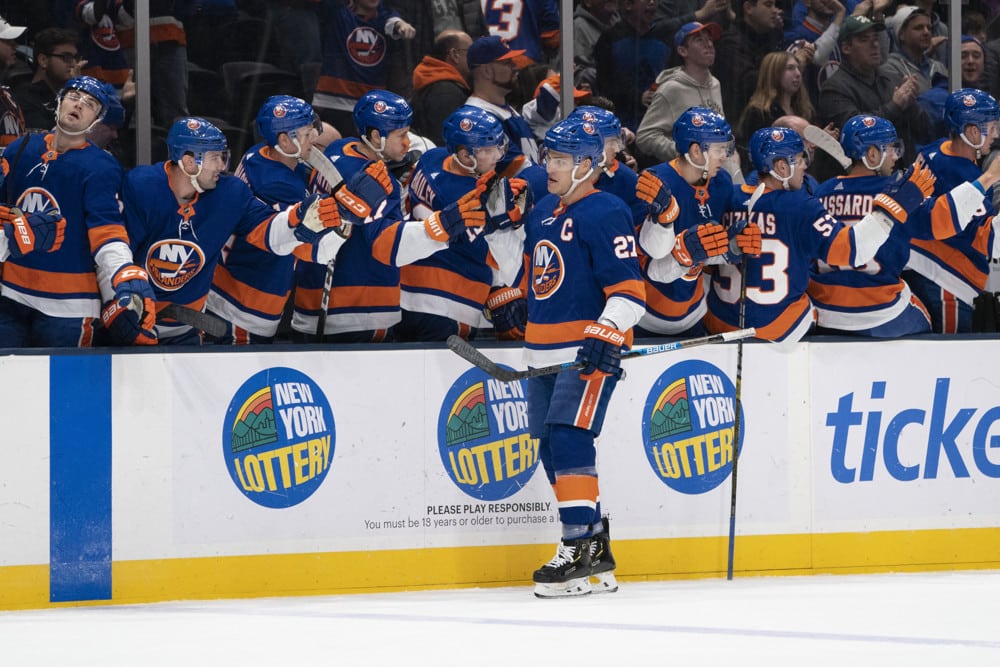 NHL Computer Pick (1/16/20): Islanders Puck Line -1.5 (+160)
We just saw this matchup on Monday night, as it was the New
York Rangers defeating the New York Islanders by the score of 6-2. In that
article, we correctly predicted the total to go over six goals, but tonight's
matchup will take on a different tone. Our betting pick is for the Islanders to
win by two or more goals cover the puck line. Let's take a look at some factors
that support our prediction.
NHL Betting Line: Rangers at Islanders
With the Islanders finally getting back on the good foot, it's
no surprise to see them favored by this much. In fact, we could've probably seen
it a bit higher but the Rangers did have two full days off prior to tonight's
game. The Rangers haven't been great with extended rest and don't play great
defense in that situation. Look for the Islanders to pounce on them early and
often.
Rangers Betting Form
The Rangers have one of the more entertaining offenses in
hockey, but this is a matchup that can certainly give them some headaches.
While it didn't look like that on Monday, it's incredibly tough to beat a team
twice in the same week. Expect the Islanders to put some serious clamps down a
Rangers' offense that doesn't get held down much. Teams like that usually get
frustrated and there was already plenty of fighting going on in the matchup
earlier this week. This could end putting the Rangers in plenty of short-handed
situations.
Coming off a 32-save performance in Monday's win against the
Rangers, Alexandar Georgiev will get the start in net once again. The Rangers'
goalie situation is a big mess right now, with Georgiev splitting time with
Henrik Lundqvist and Igor Shesterkin. Georgiev was reported to be heading to
Toronto but more playing time could be a move to showcase him for more talent
in return. Nonetheless, this won't help him much against an Islanders team that
will be out looking for blood.
Islanders Betting Form
The Islanders took Monday's frustrations out on the Detroit
Red Wings the next night. They won that game by the score of 8-2. Now, they get
to take those same frustrations out on the team that embarrassed them the night
before. As we mentioned in Monday's article, the Islanders are clearly the
better team in this matchup. However, they did not show that and we expect the
Rangers to get a fluid reminder.
In Tuesday's win, the Islanders broke out for a season-high
eight goals against the NHL's worst defensive team. Tonight, they'll be facing a
team that is the fifth-worst in terms of goals allowed per game (3.31). It'll
likely be Mathew Barzal (17 G, 22 A), Brock Nelson (18 G ,17 A), Anders Lee (14
G, 13 A) and Jordan Eberle (6 G, 16 A) getting busy on the scoresheet once
again.
Semyon Varlamov likely gets the start on Thursday night. The
Rangers did him dirty for six goals on 35 shots on Monday, so you know he'll be
looking for revenge. Varlamov was actually playing well prior to that loss. It
wouldn't surprise us at all if he pitched a shutout in this one.
This is also the first time the Islanders have hosted the Rangers at Nassau Coliseum since March 2015. That'll be more than enough to keep this Long Island crowd up and jumping throughout the contest. Rangers fans will certainly be in the building, but the hometown faithful certainly won't let this turn into the second-coming of Madison Square Garden.
NHL Computer Pick (1/16/20): Islanders Puck Line -1.5 (+160)
While it may not look like it from the outside, the Islanders are in an excellent spot. As we mentioned, it's so hard to beat a team twice and one week; the Rangers did so and were basically laughing it up. Don't think the Islanders took too kindly to that, and they'll be looking to make the Rangers pay for that — by enough to cover the spread of 1.5 goals and win the game. The Rangers Islanders rivalry even gets renewed once again on Tuesday, so the Islanders are expected to make a statement tonight.