Looking for a more scientific approach to your hockey betting? In this article, we'll give you our top NHL Computer Picks for two games on Tuesday, Jan. 7, 2020. All three of the tri-state area NHL teams are on the schedule, with the New York Islanders at New Jersey Devils and Colorado Avalanche at New York Rangers hitting the ice.
Our NHL computer picks are chosen using an algorithm that analyses historical sports data to give you the bets that offer the best value bets to beat the New Jersey sportsbooks.
Get a Sign-Up Bonus up to $1,000* For These NHL Picks
Make the most of our NHL Wild Card Computer Picks with this January offer from DraftKings Sportsbook. New customers can get a sign-up bonus up to $1000 when they create a new account and deposit. Offer ends 2/2/20
NHL Computer Picks for Tuesday, Jan. 7, 2020
New York Islanders at New Jersey Devils
New York
Islanders | ML: -129 | PL (-1.5): +200

at

New Jersey Devils | ML: +110 | PL (+1.5): -245

Total: 5.5 goals
Prudential Center – Newark, NJ
7:00 p.m. EST
NHL Computer Pick: Over 5.5 goals (-110)
The New York Islanders and New Jersey Devils will renew their
tri-state rivalry with the second meeting of the new year. It was the Devils
taking the 2-1 victory in Long Island on Thursday night. We have reasons to
believe there will be more scoring in Newark this time around. Our top betting
pick is for the total to go over 5.5 goals. Let's take a look as to why there
will be some tickling of the twine.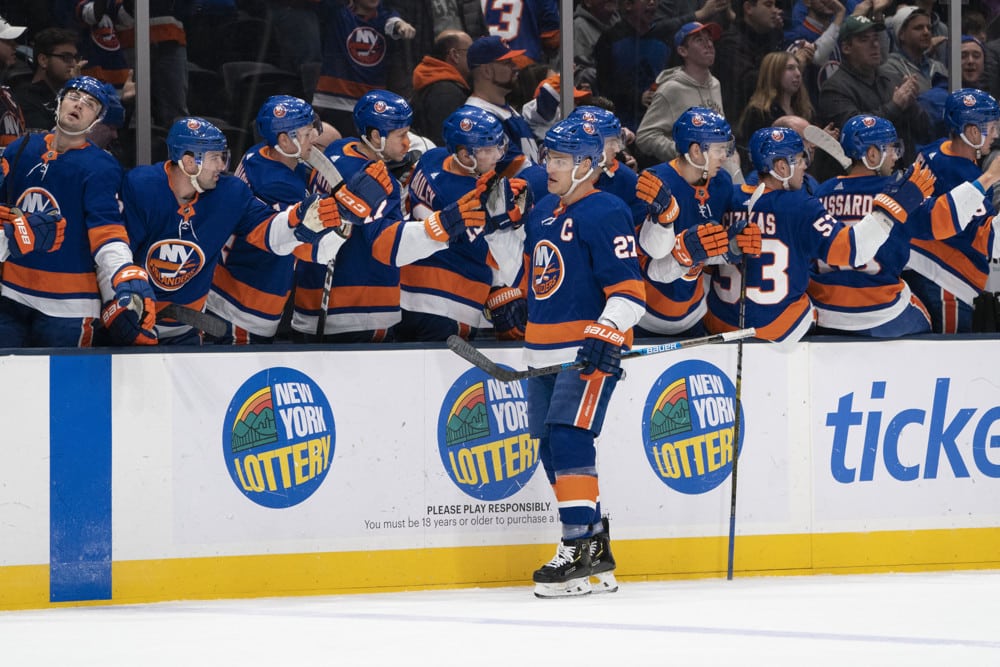 NHL Betting Line: Islanders at Devils
With the Islanders already announcing their backup goalie will
start this game and the Devils unsure if their No. 1 will be able to go, taking
the over on 5.5 goals sounds like a dream come true. The stats of each goalie will
make more sense in the betting forms, but this is the bet you need to take. Not
to mention, these teams just played a 2-1 game a few days ago. Typically, when
teams meet in such a short span, the results of those two games are drastically
different.
Islanders Betting Form
Thomas Greiss will make his first start since Dec. 27 and there's
a big reason for that. He initially had the starting job this season but Semyon
Varlamov took over with a stellar 15-5-3 record and 2.30 GAA/.924 save
percentage. Not to mention, he'll get the day off on the back-end of a
back-to-back set; the Islanders won a 1-0 game against the Avalanche on Monday.
Greiss, on the other hand, as been horrendous with 11 goals allowed in his last
three games (109 minutes). With Greiss in net, the Devils can certainly take
advantage and get the win.
With the Islanders playing their backup goalie, we have to expect some type of lag on the defensive end. Not to mention, this is a team that has lost five of the last seven games. The Islanders will have plenty of motivation to play a much better offensively with Greiss in net, and things can't get much worse after only scoring one goal over the last two games.
The Devils have not been good defensively, so this is certainly a get-right spot. Anders Lee had the only goal in Monday's win and this could be the start of something special for him going forward.
Devils Betting Form
Devils goalie MacKenzie Blackwood left practice early on Monday
with an illness. Backup Louis Domingue would take Blackwood's place if he's out.
It has been a tale of two cities, literally, for Domingue this season. In the
minors, he posted a solid 4-1-1 record and .930 save percentage. However, Domingue's
1-4-0 record and .862 save percentage in the NHL have fared much worse.
Since trading Taylor Hall away, the Devils have stopped losing games
in consecutive fashion. In fact, they have only lost consecutive games only
once and are actually winners in three of the last four. It doesn't matter much
on the total, but it does show they're a competent team at the moment. Rookie
Jack Hughes was in a groove, with two goals and an assist over the last four
games, but he'll miss this one with an upper-body injury.
NHL Computer Pick: Over 5.5 goals
Six of the last eight Devils' games have produced six goals or more. Wouldn't you know it? That's exactly the number we need to hit tonight. With both backup goalies possibly in net, look for this to be an unusually high-scoring matchup between the two.
The Devils have the second-fewest points in the Eastern Conference this season, but their 6-3-1 record over the last 10 games suggests they're not done fighting just yet. We'll be expecting a high number of goals scored from each side on Tuesday night.
Colorado Avalanche at New York Rangers
Colorado
Avalanche | ML: -159 | PL (-1.5): +155

at

New York Rangers | ML: +138 | PL (+1.5): -190

Total: 6.5
Madison Square Garden – New York, NY
7:30 p.m. EST
NHL Computer Pick: Avalanche Puck Line (+155)
The Colorado Avalanche will conclude their three-game tri-state road
trip with a matchup against the New York Rangers. While Colorado played last
night (in Long Island), New York will be playing its first game since Jan.4. We
believe the road team has an axe to grind before heading home. Nonetheless, the
Avalanche covering the puck-line is our top betting pick. Let's look at some
more numbers to validate our selection.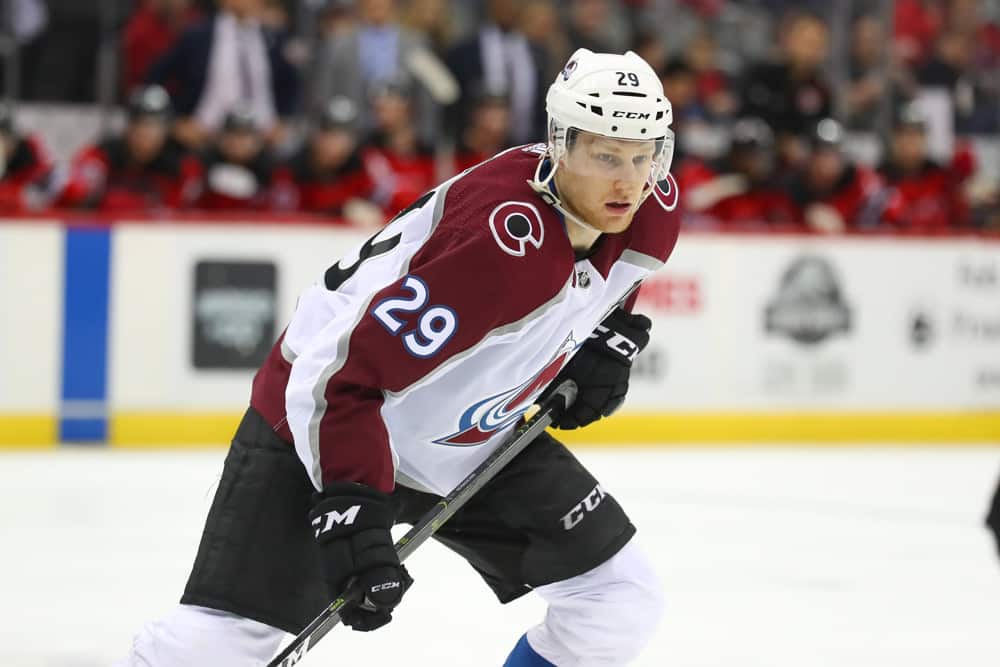 NHL Betting Line: Avalanche at Rangers
The Avalanche have a 3-1 record when favored by at least -135 on
the moneyline. All three of those wins have come by two goals or more. Public
bettors may have an affliction with them, considering the travel itinerary for
both sides. However, in more thorough research, there are reasons to believe
the Avalanche get back on track offensively and create a lead that the Rangers
cannot climb out of.
Avalanche Betting Form
Just like the previous game in this write-up, there's a team on
the back-end of a back-to-back set. It's wise to expect Avalanche backup-goalie
Philipp Grubauer in net on Tuesday night. Grubauer has won his last two starts
after losing the previous five. The Rangers are above-average in terms of goals
per game. However, the long layoff could have them a bit rusty.
Nathan MacKinnon has been an absolute stud for the Avalanche this
season with 25 goals and 39 assists. Colorado's top center had six points in the
three games prior to Monday's contest. He was kept off the scoresheet last
night, as was the rest of the team. Have no fear, this is a get-right spot. It was
certainly an off-game offensively for the Avalanche, who totaled 29 goals in
the six games before losing to the Islanders yesterday.
Rangers Betting Form
The Rangers' goaltending situation isn't as easy as most. Henrik Lundqvist and Alexandar Georgiev haven't done the job so Igor Shesterkin was called up to relieve that stress. This is an interesting move, considering Lundqvist's days are probably done in NYC. Most people think the rookie goaltender will be able to save the day but we don't think so. Shesterkin's call-up was a bit premature and he could very well be exposed in front of the MSG crowd for the first time in his career.
This will be the first game for the Rangers at home in the new year. After winning the first game of the four-game all-Canada road trip in Toronto, New York dropped three straight in Edmonton, Calgary and Vancouver. It's not the greatest of spots for them tonight, considering they've had two full days off after a road trip that saw them accumulate a ton of miles. We should certainly expect the Rangers to have dead legs here.
NHL Computer Pick: Avalanche Puck Line (+155)
Four of the Rangers' last six losses have come by two goals or
more. As we mentioned, their travel itinerary isn't great and the Avalanche are
a step up in class for them. Colorado leads the NHL with 3.71 goals per game
while the Rangers allow the fifth-most goals per game (3.32). Look for the
Avalanche to get back in a scoring groove early and keep that going throughout the
game.
Get a Sign-Up Bonus up to $1,000* For These NHL Betting Picks
Make the most of our NHL Computer Picks with this January offer from DraftKings Sportsbook. New customers can get a sign-up bonus up to $1000 when they create a new account and deposit. Offer ends 2/2/20